Author: Adam Simmons
Date published: July 26th 2021

Introduction
The level of detail and immersion provided by ~32" screens with the 3840 x 2160 ('4K' UHD) resolution makes this combination extremely attractive to some users. Until very recently this combination was limited to a refresh rate of 60Hz. The ASUS PG32UQX of the ROG Swift Series bumps this up to 144Hz, whilst adding 'G-SYNC Ultimate' capability into the mix. In addition to the VRR (Variable Refresh Rate) element of the technology, this model also sports VESA DisplayHDR 1400 support – the highest level VESA currently certifies for. We put this intriguing monitor through its paces with our usual series of 'real world' tests to see those impressive on-paper attributes brought to life.


Specifications
The monitor uses a 32" IPS (In-Plane Switching) type panel – more specifically an AU Optronics AHVA (Advanced Hyper-Viewing Angle) panel. A 144Hz refresh rate is supported alongside 10-bit colour. A 4ms grey to grey response time is specified, but as usual don't put too much weight on such figures. Some of the key 'talking points' for this monitor have been highlighted in blue below, for your reading convenience.

Panel:
AU Optronics M320DAN02.2 AHVA (Advanced Hyper-Viewing Angle) LCD
Native resolution:
3840 x 2160
Typical maximum brightness: 500 cd/m²

(1400 cd/m² HDR)
Colour support:
1.07 billion (10-bits per subpixel without dithering)*
Refresh rate:
144Hz (variable, with G-SYNC)
Weight: 10.9kg
Contrast ratio: 1000:1

400,000:1 HDR
Viewing angle:
178º horizontal, 178º vertical
Power consumption: <58.47W (typical)
Backlight:
1152-zone Mini QD LED (Quantum Dots + blue LED)
Typical price as reviewed:
$2999 USD

*Using DP 1.4 (with DSC), Full Range RGB 10-bit can be selected in the graphics driver at any refresh rate, up to the native resolution. For bandwidth reasons 8-bit + FRC is employed by the monitor at 144Hz for the native resolution via DP, whereas for lower refresh rates or resolutions true 10-bit is supported. The difference between the two implementations is negligible in practice. 12-bit can also be selected, which adds a 2-bit GPU dithering stage for all refresh rates (up to 144Hz).
*Using HDMI 2.0, the monitor supports Full Range RGB 10-bit and 12-bit at up to 60Hz for the native resolution. 12-bit again includes an additional 2-bit dithering stage offloaded to the GPU.

As an Amazon Associate I earn from qualifying purchases made using the below link. Where possible, you'll be redirected to your nearest store. Further information on supporting our work.


Features and aesthetics
The monitor has signature ROG SWIFT styling, with solid footing provided by a medium-light grey powder-coated metal stand base with tripod design. And a central plastic copper-coloured element for a bit of visual interest. A down-firing projector casts a ROG logo or design of your choice onto the desk, with colours and effects customisable using software such as 'Armory Crate' or 'Aura Creator'. Or with some preset options in the OSD. The bottom bezel is moderately chunky, ~33mm (1.30 inches) at thickest point including the OSD (On Screen Display) control dial. A central 'Live Dash' OLED display is included in the centre of the bottom bezel. This can show information such as the FPS of the content, CPU temperature or a design of your choice – or you can leave it off if preferred. These features are explored in the OSD video. The top and side bezels are slender, with a dual-stage design. This encompasses a slim panel border that's flush with the rest of the screen plus a slender hard plastic outer part. Including both components, the bezels are ~6.5mm (0.26 inches) at the top and ~7.5mm (0.30 inches) at the sides. The main feature from the front is the large screen, which includes a light to very light matte anti-glare screen surface as explored shortly.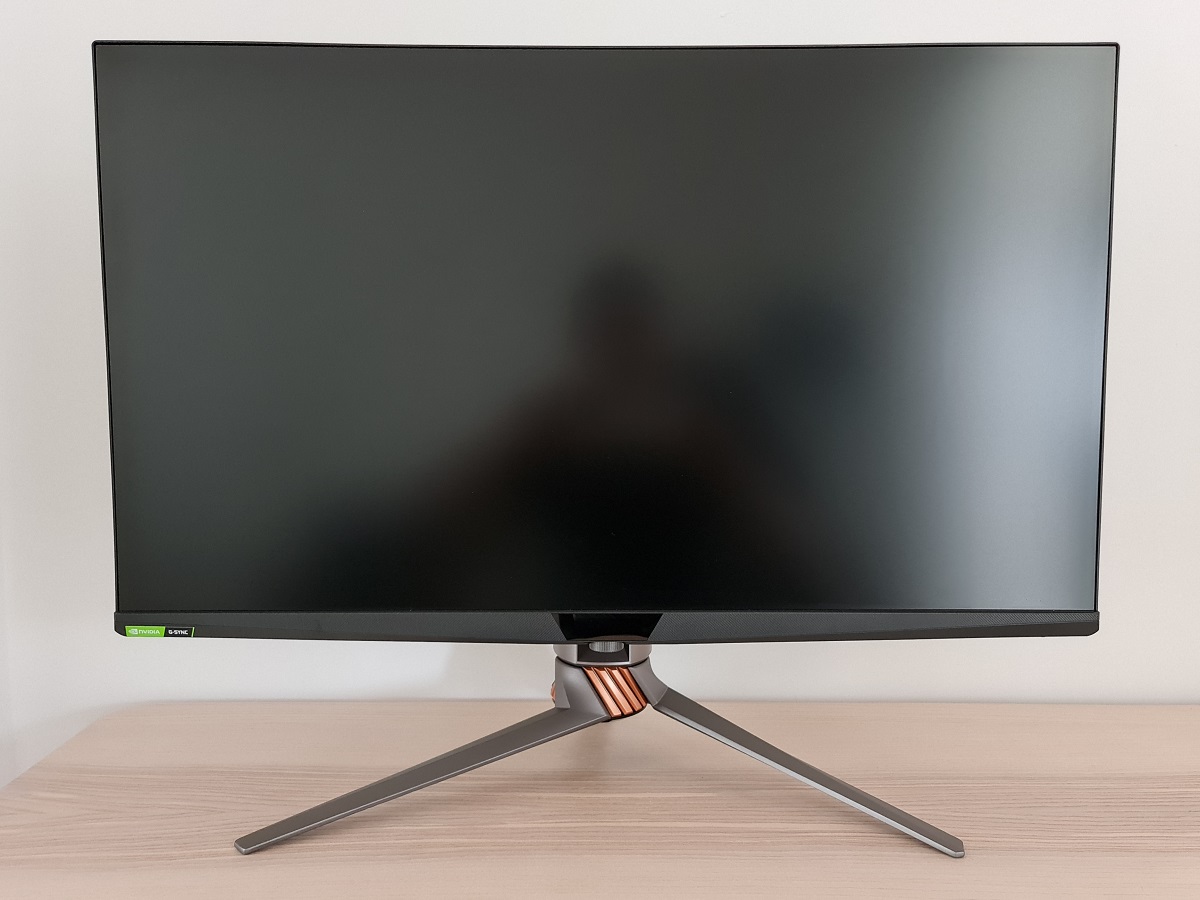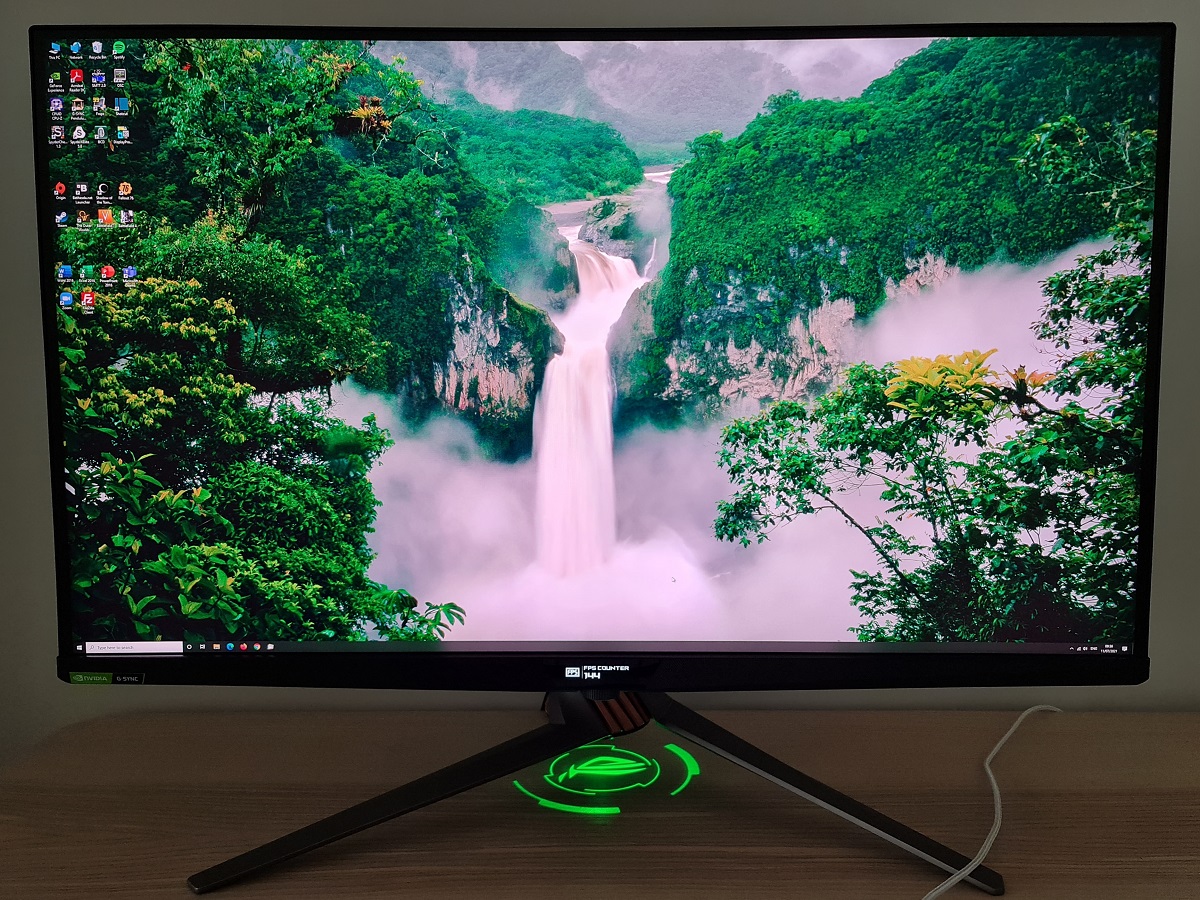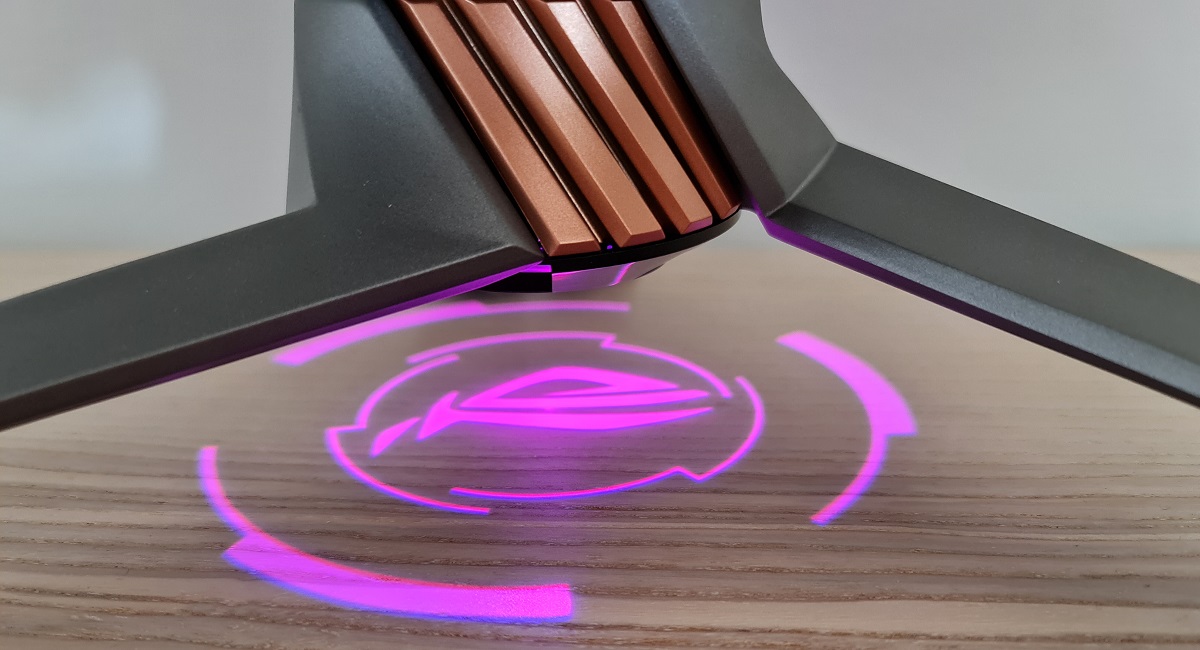 The OSD is controlled by a dial and accompanying buttons beneath the 'LiveDash' screen on the bottom bezel. A power LED is located towards the right side of the bottom bezel, changing colours depending on the state of the monitor:
White = On (SDR)
Amber = Standby (low power state)
Red = G-SYNC (SDR)
Green = HDR (with or without G-SYNC)




From the side the monitor is quite chunky, particularly centrally where it lumps out. With the complex backlighting solution and other internal goodies, this isn't too surprising. At thinnest point the screen is ~25mm (0.98 inches). The robust stand is also visible from this angle, with reasonable ergonomic flexibility offered; tilt (5° forwards, 20° backwards), height adjustment (70mm or 2.76 inches) and swivel (20° left, 20° right). At lowest stand height the screen clears the desk by ~70mm (2.76 inches) or ~63mm (2.48 inches) if you include the control dial. The top of the screen sits ~503mm (19.80 inches) above the desk surface. The total depth of the monitor plus stand is ~306mm (12.05 inches) with the screen sitting ~40mm (1.57 inches) from the frontmost edge of the stand legs. So not the most compact design and a bit of a depth desk hog.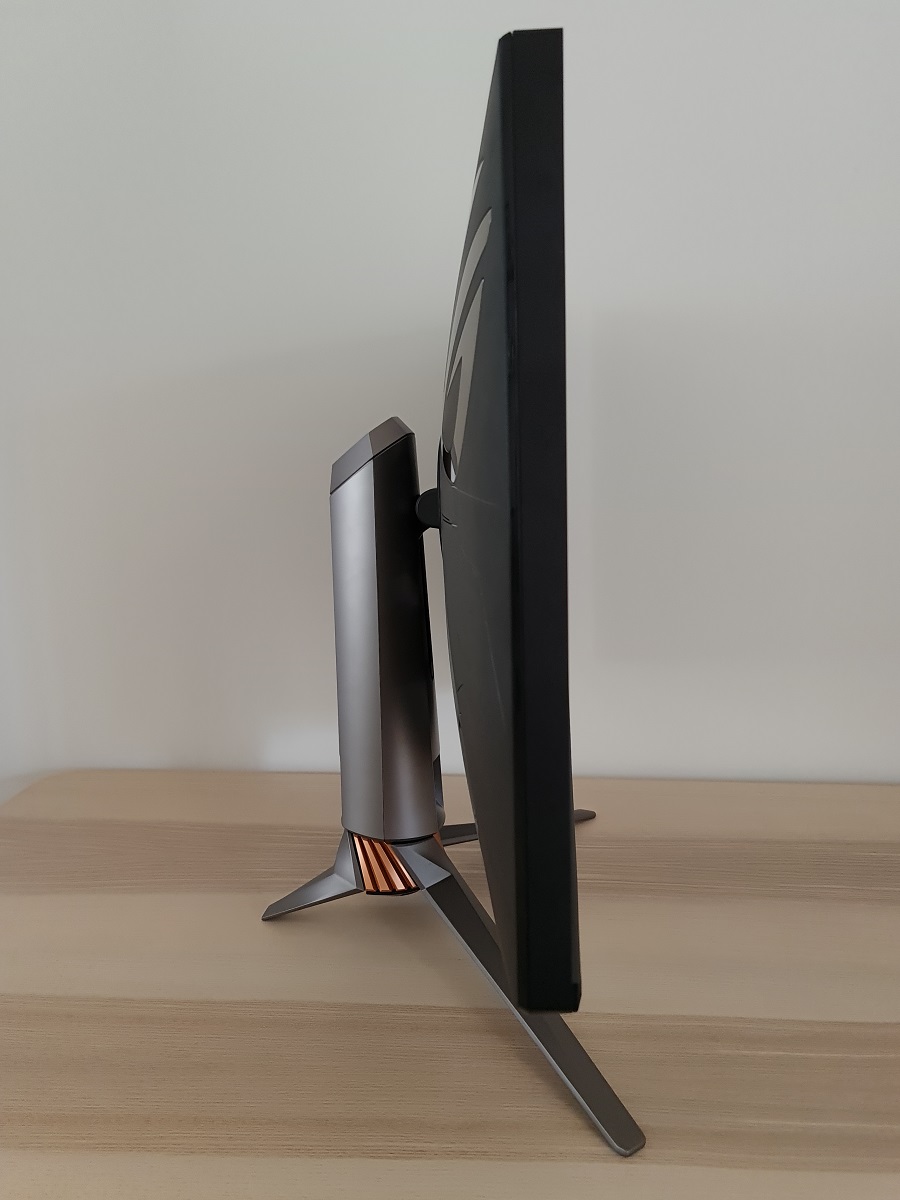 The rear of the monitor continues the ROG styling, with patterned matte black towards the right and plain-textured matte black plastic towards the left, with a diagonal line splitting the two textures. Another 'Aura Sync' lighting feature is found here in the form of a ROG motif at the top right, customisable via the OSD or software. The top of the stand includes a small ROG motif which can be set to light up in red at 3 different brightness levels (or disabled), labelled 'LIGHT IN MOTION' in the OSD. The stand attaches centrally using a quick-release mechanism and can be removed to reveal 100 x 100mm VESA holes for alternative mounting. The bottom of the stand includes a cable-tidy feature, whilst a K-Slot is located towards the bottom right. The ports face downwards beneath a removable plastic port cover and include; DC power input (external 'power brick', 3 HDMI 2.0 ports, DP 1.4 (with DSC), 2 USB 3.1 ports (plus upstream) and a 3.5mm headphone jack. At the top of the screen a USB 2.0 port is located alongside a tripod socket for easy camera connectivity and mounting, although this port could be used for other purposes as well. The USB port here has a removable rubber cover to neaten it up when not in use. Standard accessories include; a power adaptor and cable, DP cable, HDMI cable and USB 3.0 cable but may vary by region.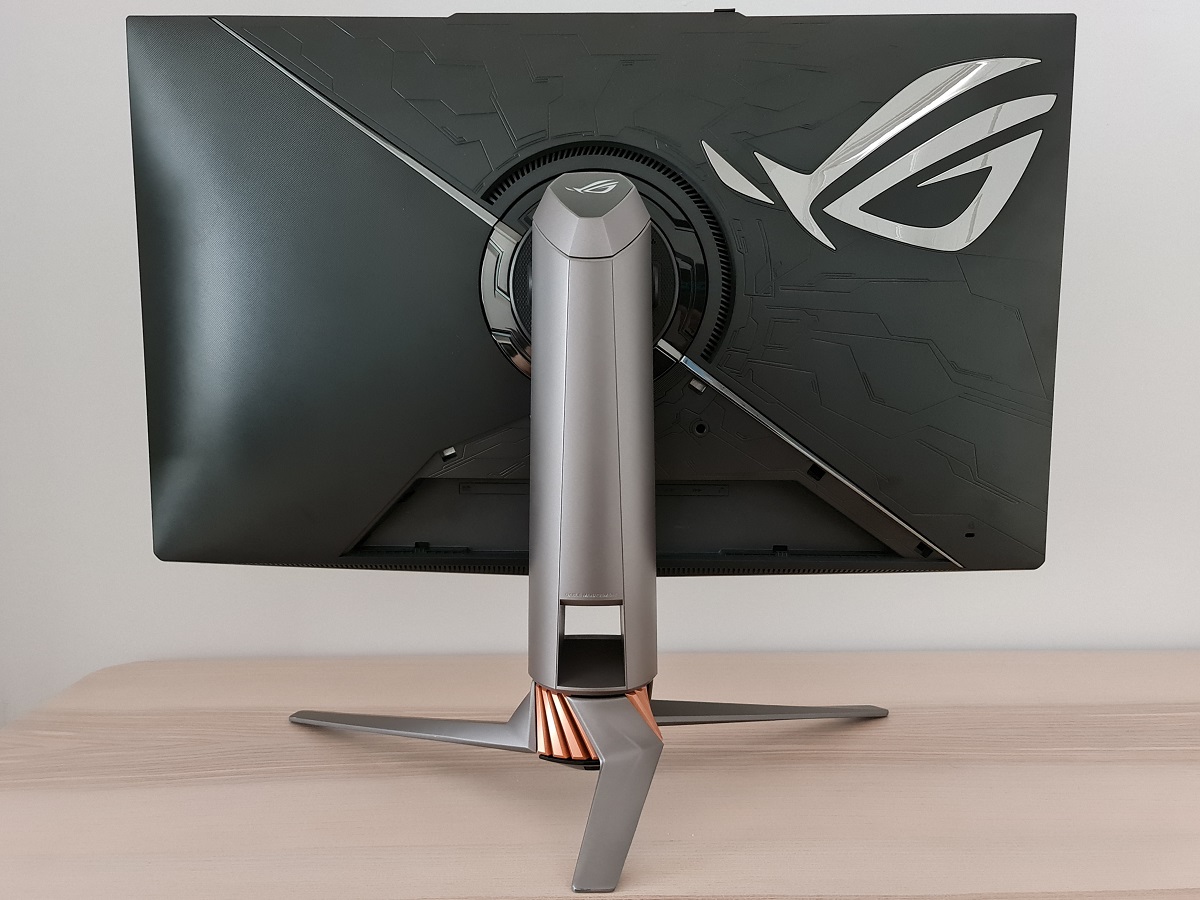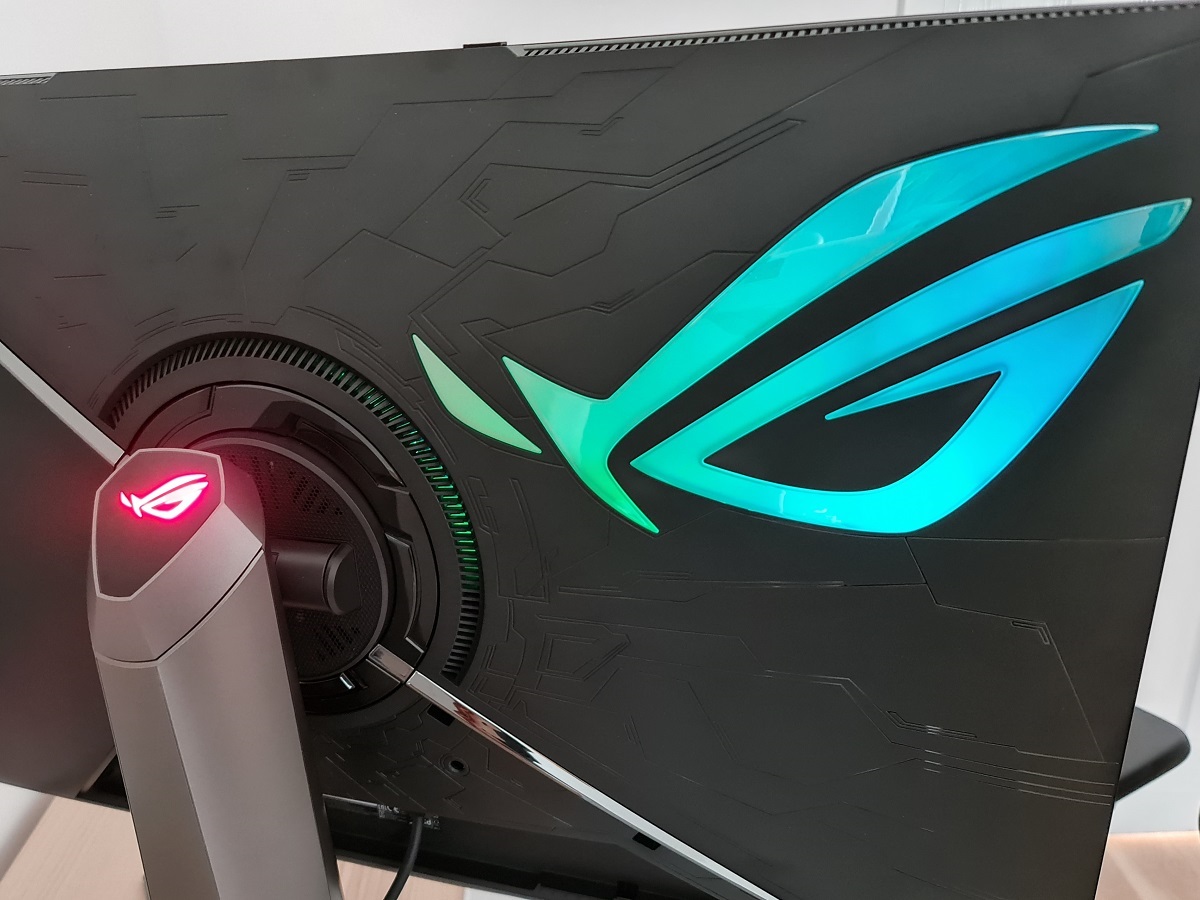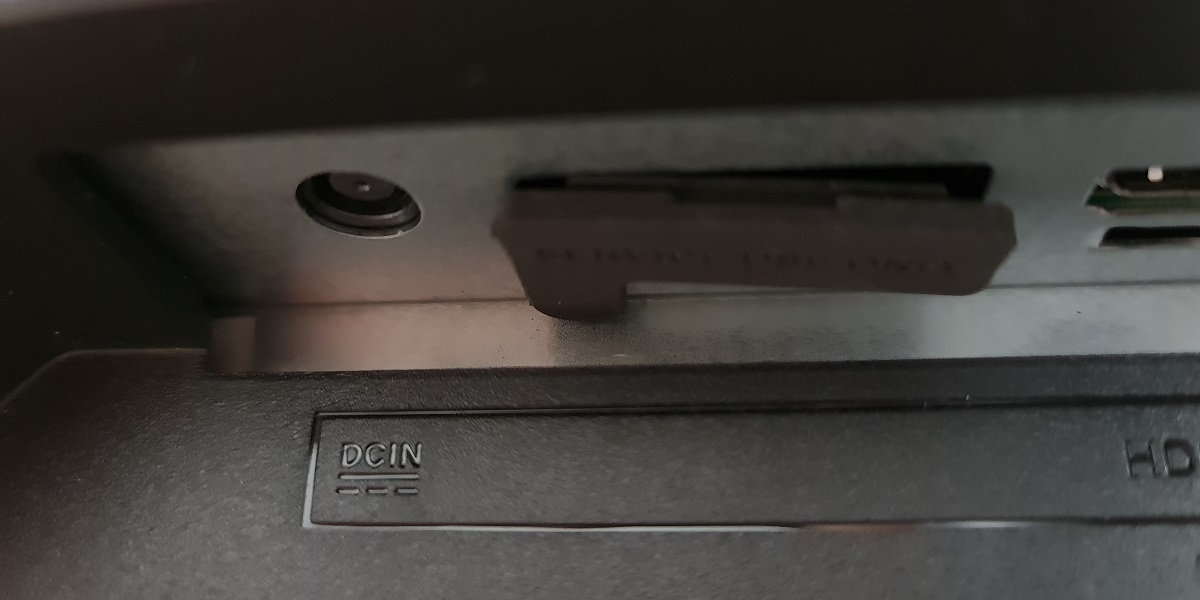 This monitor includes an active cooling solution to cool the powerful backlight and G-SYNC module, in the form of a small fan. The fan was audible when the system was idle, but not clearly audible on our unit above our normal system noise under load. This includes with HDR (High Dynamic Range) active on the monitor at high brightness. It didn't ever seem to spool up and suddenly become much loader like a GPU fan would under load, for example. Ideally this fan wouldn't be required and we can appreciate some users dislike this being there and see it as something to worry about. It could be particularly bothersome if you have a silent PC or simply favour very quiet experience on the desktop. But for most people we don't feel this should be a significant concern.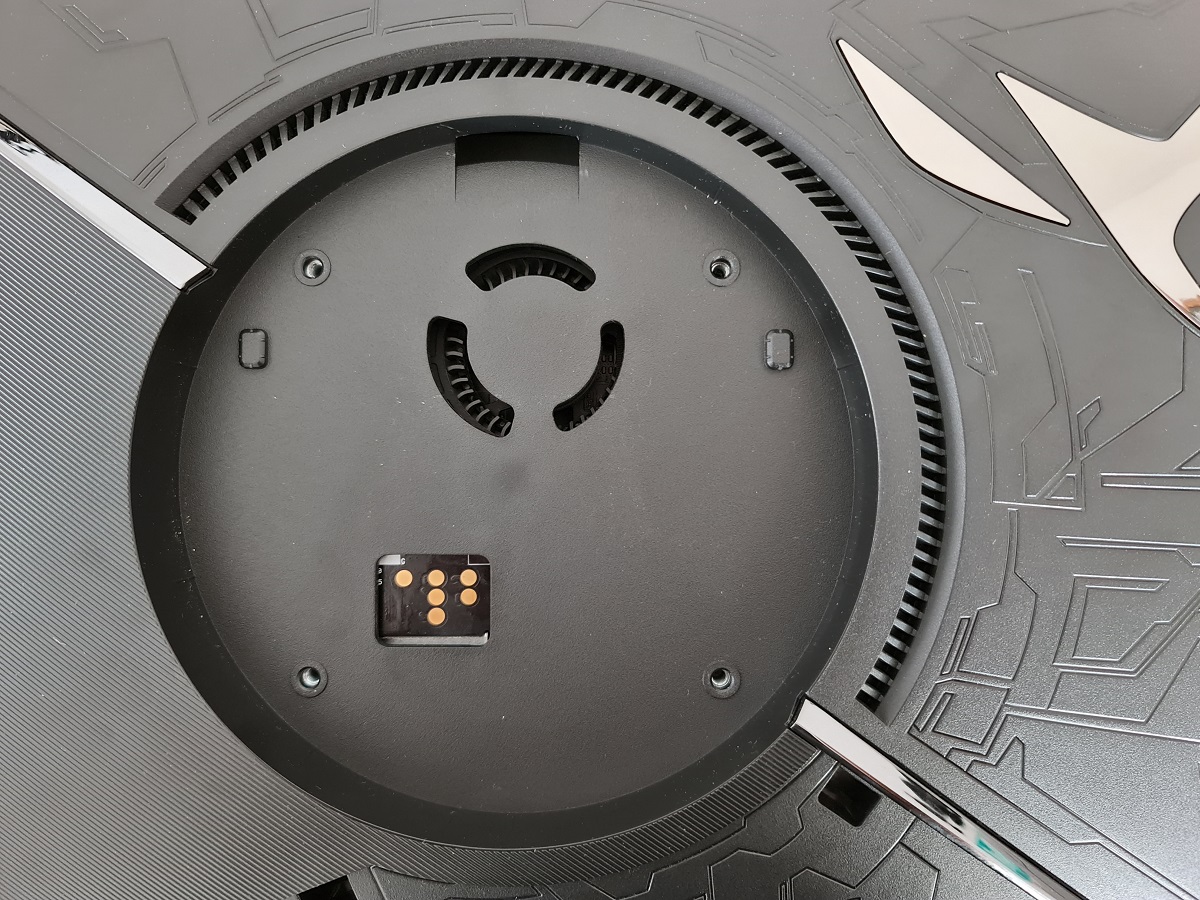 3840 x 2160 @144Hz plus HDR and G-SYNC (or FreeSync via Adaptive-Sync) can be leveraged via DP 1.4 (with DSC). HDR and G-SYNC can also be leveraged via HDMI 2.0. According to the manufacturer VRR is also supported for the Xbox Series X via HDMI, using Adaptive-Sync. The monitor supports 3840 x 2160 @120Hz via HDMI 2.0 using chroma subsampling (YCbCr420 4:2:0 reduced chroma). This is designed primarily to allow games consoles such as the Xbox Series X to run '4K' @120Hz and works well for SDR gaming with limited visual impact at this resolution. You can't enable HDR with this reduced chroma signal, however. As covered earlier, the PG32QX will happily run with a 10-bit Full Range RGB signal at up to 144Hz via DP. This article from the manufacturer covers the resolution and refresh rates supported for the Xbox Series X and PS5. It confirms Full HD, WQHD and '4K' UHD supported @120Hz for the Xbox Series X. And Full HD @120Hz for the PS5 – '4K' UHD @60Hz is also supported.
The images below show the refresh rates supported for the native 3840 x 2160 ('4K' UHD) resolution. The first image shows the available refresh rates when connected via DP, categorised in the EDID and listed here as 'PC' resolutions. The second image shows the resolutions categorised in the EDID of the monitor as 'TV' resolutions and listed here under 'Ultra HD, HD, SD', when connected via HDMI. The third image shows the resolutions categorised as 'PC' resolutions for HDMI. Only 120Hz is listed here and as noted above this enforces a reduced chroma signal.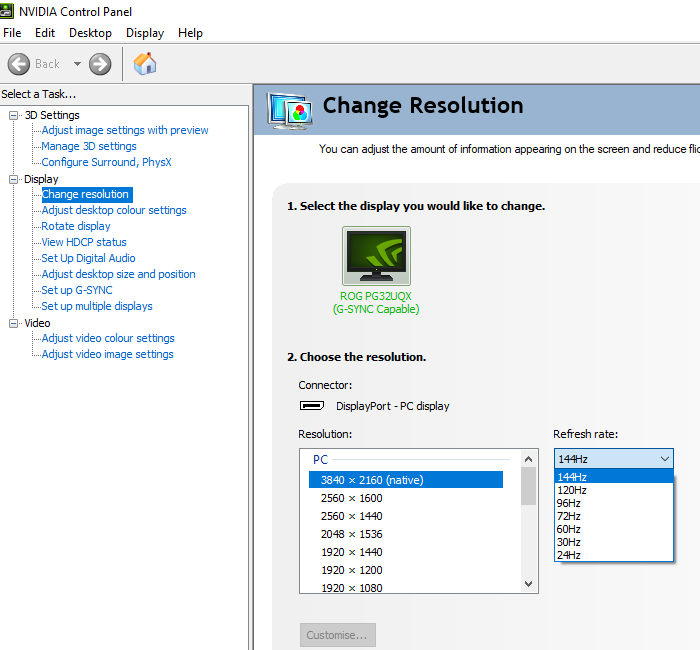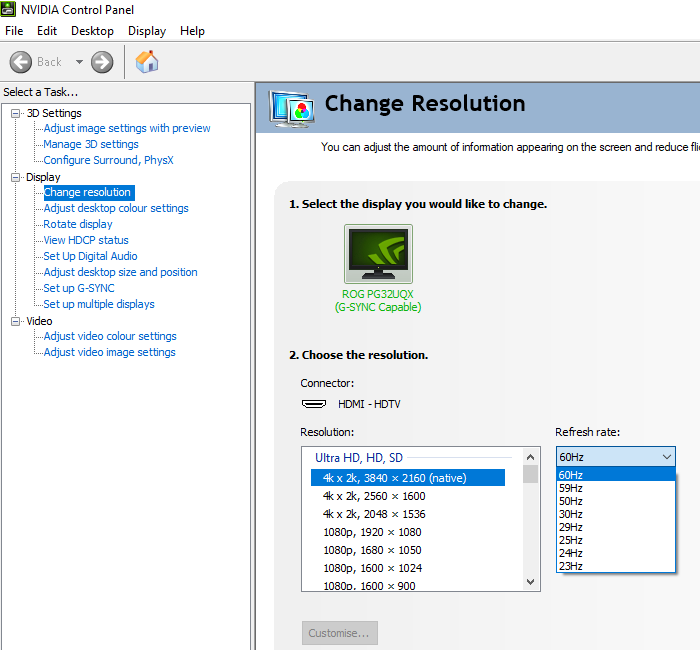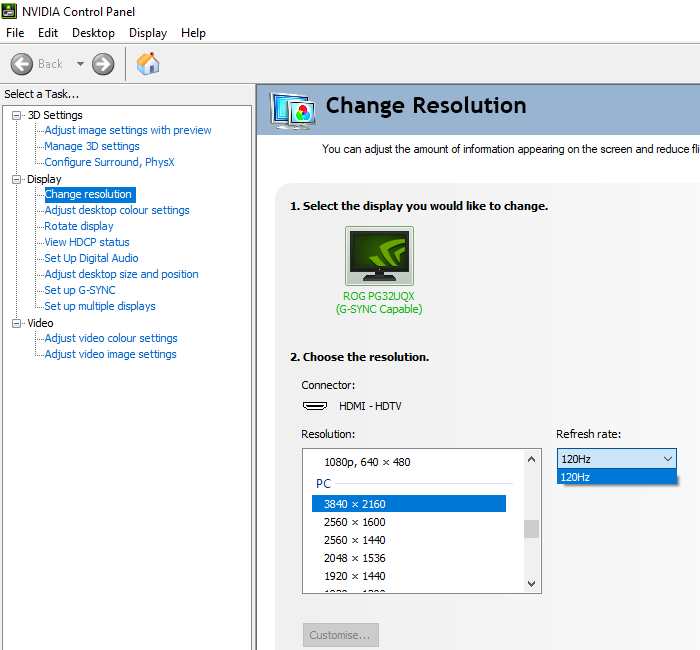 At lower resolutions such as 2560 x 1440 (WQHD or 1440p) and 1920 x 1080 (Full HD or 1080p) only 120Hz and 144Hz is listed via DP. For WQHD via HDMI – 60Hz, 120Hz and 144Hz is listed. For Full HD using HDMI a wide range of refresh rates are supported. The first image shows the 'TV' resolution list and the second the 'PC' list. Note that 120Hz appears in the 'TV' list, which can be accessed by other devices such as the PS5 and Xbox Series X.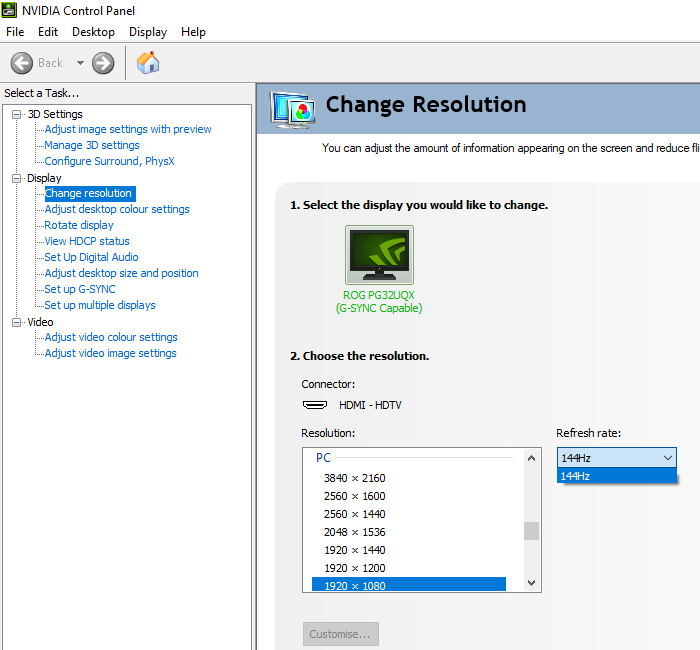 If you're intending to use the monitor with the PS5 or Xbox Series X/S, be aware that a small settings tweak may be required to ensure 120Hz is selectable for supported resolutions. Details can be found in this article.


Calibration
Subpixel layout and screen surface
The image below is a macro photograph taken on Notepad with ClearType disabled. The letters 'PCM' are typed out to help highlight any potential text rendering issues related to unusual subpixel structure, whilst the white space more clearly shows the actual subpixel layout alongside a rough indication of screen surface. This model uses a light to very light matte anti-glare screen surface. This screen surface provides decent glare handling, although not at the level of stronger matte screen surfaces. Strong direct light striking the screen can create reflections, whilst the screen can have a slightly 'glassy' appearance to darker shades in bright rooms. Such lighting for stronger matte surfaces is diffused across the surface in a softer way, dulling the image rather than providing distinct reflections. The light to very light matte quality to the screen surface means light emitted from the monitor is diffused less than on more aggressive matte surfaces, enhancing the clarity and vibrancy potential whilst avoiding a layered appearance in front of the image. The screen surface texture imparted a slightly sandy appearance when observing lighter content, but not the stronger smeary graininess associated with some matte surfaces. This level of graininess won't bother most users and isn't something everyone will really notice.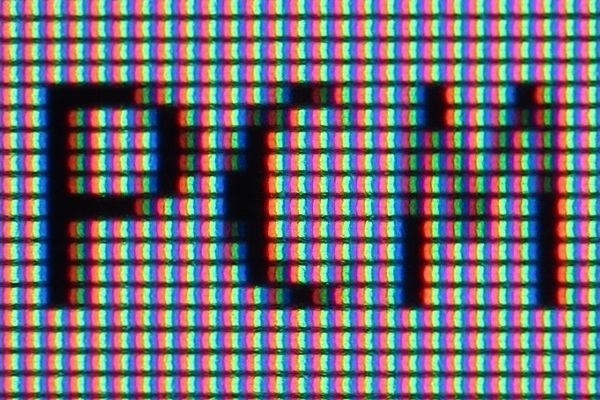 As shown above the standard RGB (Red, Green and Blue) stripe subpixel layout is used. This is the default expected by modern operating systems such as Microsoft Windows. Apple's MacOS no longer uses subpixel rendering and therefore doesn't optimise text for one particular subpixel layout at the detriment of another. You needn't worry about text fringing from non-standard subpixel layouts and won't need to change the defaults in the 'ClearType Text Tuner' as a Windows user. You may still wish to run through the ClearType wizard and adjust according to preferences, however. The subpixel layout and arrangement is normal and we had no subpixel-related concerns related to sharpness or text clarity on this model.


Testing the presets
The ASUS PG32UQX features various 'GameVisual' modes; 'Scenery', 'Racing', 'Cinema', 'RTS/RPG', 'FPS' and 'sRGB'. These presets alter the default values for various settings in the OSD, whilst some lock off various settings and may make changes to things such as gamma behaviour and colour balance which can't be counteracted by manual adjustment in that preset. We run through these in the OSD video, but will instead focus on manual adjustment of various other settings for this section. The table below provides key readings (gamma and white point) taken using a Datacolor SpyderX Elite alongside general observations.
Our test system runs Windows 10 with an Nvidia RTX 3090 connected using the included DisplayPort cable. Additional testing was performed with an AMD Radeon RX 580 and also using HDMI, but our observations on this table were not significantly affected by this. No additional monitor drivers or ICC profiles were specifically loaded and the monitor was left to run for over 2 hours before readings were taken or observations made. The monitor was set to 144Hz in Windows, although that didn't significantly affect the values or observations in this table. When viewing the figures in this table, note that for most PC users '6500K' for white point and '2.2' for gamma are good targets to aim for. Individual targets depend on individual uses, tastes and the lighting environment, however. Aside from our 'Test Settings' where various adjustments are made, assume factory defaults under 'Racing Mode' are used. The following adjustments apply in the OSD unless stated otherwise:
'Eco Mode' was disabled as this limits luminance and locks off various settings.

Variable Backlight was set to 'OFF' as this feature affects various readings and observations. As usual the setting is explored separately elsewhere in the review.

'Display SDR Input' was set to 'Wide Gamut' as we prefer testing monitors using their full native gamut. 'sRGB' is explored separately in-line with our other reviews.
The monitor provided a highly vibrant image out of the box and using its full native gamut, with strong saturation but excellent variety and consistency. By default 'Display SDR Input = sRGB' is set to 'sRGB' which clamps the colour gamut close to sRGB. Reducing saturation significantly and providing more faithful output of standard sRGB content. The monitor is factory calibrated with a claimed DeltaE <2 using this setting. A report is included individual to each unit – although a previous reviewer's dog seems to have eaten the calibration report for our unit. We prefer to analyse things in a more visual and qualitative way, but can confirm an average DeltaE of 1.06 recorded with our SpyderX Elite, using the same 24 test patches analysed visually deeper into the review (SpyderCHECKR 24). This qualitative analysis confirmed that this was quite a well-calibrated sRGB emulation mode on our unit. Gamma behaviour under our 'Test Settings' is shown below.


Gamma 'Test Settings'
Our unit showed strong adherence to the '2.2' curve, with equally strong gamma performance without the colour channel tweaks made to our 'Test Settings' and using either 'Display SDR Input' setting. With the 'Variable Backlight' setting in use the gamma tracking behaviour was changed so it more closely resembled the 'sRGB' gamma curve rather than '2.2'. There was an uplift for dark shades that enhanced visibility. This made sense when used in conjunction with this mode as luminance levels were carefully controlled by all but the most intricate shade mixtures. Ensuring the darkest shades looked very deep. The gamma curve for 'Variable Backlight = Level 2' is shown below – other levels offered similar gamma behaviour.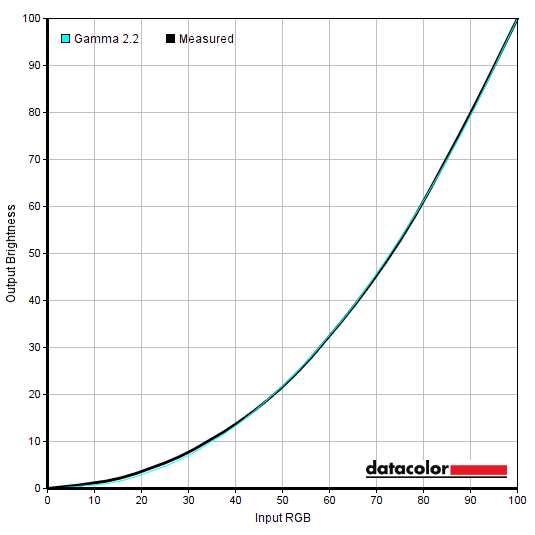 Gamma 'Variable Backlight'
Given inter-unit variation and strong adherence to our preferred targets using OSD adjustments, we will not be using any ICC profiles in this review or including measurements or graphs using them. We wouldn't recommend using them unless created for your specific unit using your own calibration device. But we appreciate some users still like to use profiles and some aspects such as gamut mapping for colour-aware applications can be useful. You can download our ICC profile, which was created using our 'Test Settings' as a base. You can also download our sRGB profile which was created using and designed for the 'Display SDR Input = sRGB' setting (sRGB emulation mode). Be aware of inter-unit variation and note again that these ICC profiles are not used in the review.
The monitor includes various 'Blue Light Filter' Low Blue Light (LBL) settings. These range from 'Level 1' (weakest effect) to 'Level 4' (strongest effect) – plus 'Level 0', which disables the filter. These settings reduce the blue colour channel and therefore reduce blue light output from the monitor, especially 'Level 4' which is highly effective. Minimising exposure to blue light output is particularly important in the hours leading up towards sleep as blue light is stimulating to the body and disrupts sleep hormones. The green colour channel remains fairly strong, so you end up with a warm and yellow-green tinted image – your eyes adjust to this to some extent over time, but never fully. Especially for the most effective setting, 'Level 4'. We preferred an alternative LBL setting on this monitor, setting 'Color Temp.' to '4000K'. This was more effective in reducing blue light than the main setting even at 'Level 4', didn't lock brightness and didn't impart a green tint. You can also easily activate or deactivate this using the 'Shortcut' function of the OSD, unlike with the regular LBL settings. We used this setting for our own viewing comfort in the evenings, but not for any testing aside from that specifically involving the setting.


Test Settings
For our 'Test Settings' we reduced brightness and made some further tweaks as noted below. This included setting 'Display SDR Input' to 'Wide Gamut' for reasons noted earlier. This is ultimately something you need to set according to your own usage and preferences. We've included our preferred 'OD' setting, just for reference. Note that individual units and preferences vary, so these settings are simply a suggestion and won't be optimal in for all users or units. These settings only apply to SDR (Standard Dynamic Range), HDR has separate settings associated with it (is far more restrictive) and is explored in the relevant section of the review.


Monitor Setup (defaults used for remaining settings)
OD= Normal
GameVisual= Racing Mode
Brightness= 28 (according to preferences and lighting)
Variable Backlight= OFF
Display SDR Input= Wide Gamut
Color Temp.= User Mode
R= 100
G= 88
B= 92
Refresh rate (Windows setting)= 144Hz
Contrast and brightness
Contrast ratios
An X-Rite i1Display Pro Plus was used to measure the luminance of white and black using various settings, including those found in the calibration section. From these values, static contrast ratios were calculated. The table below shows these results. Blue highlights indicate the results under our 'Test Settings' and with HDR active. Black highlights indicate the highest white luminance, lowest black luminance and highest contrast ratio recorded under SDR with 'Variable Backlight' disabled. Assume any setting not mentioned was left at default for 'Racing Mode', aside from the exceptions noted here or in the calibration section.
For HDR testing and where the 'Variable Backlight' setting was specifically tested under SDR, this was set to 'Level 2'. Having it set to 'Level 1' or 'Level 3' didn't affect these readings. Under HDR, disabling the setting provided similar behaviour to SDR with the monitor set to 100% brightness. We didn't feel it was worthwhile documenting these observations on the table.
*This HDR measurement was made using this YouTube HDR brightness test video, running full screen at '2160p 4K HDR' on Google Chrome. The maximum reading from the smallest patch size (measurement area) that comfortably covered the entire sensor area and colorimeter housing was used for the white luminance measurement, which was '4% of all pixels' in this case. The black luminance was taken at the same point of the video with the colorimeter offset to the side of the white test patch, equidistant between the test patch and edge of the monitor bezel.
**This HDR measurement was taken using the above test video. A reading was taken using a white screen fill ('all pixels'), 30 seconds after it was displayed. This is used to represent the sustained luminance level the monitor is capable of sustaining under HDR, rather than the peak luminance achieved for smaller sections of the screen. Because the entire screen is white for this test, black luminance levels can't be read and an HDR contrast reading can't be ascertained.
***These readings were taken in the same way as the first (peak) HDR reading, except the monitor is running in SDR.
The average static contrast with only brightness adjusted was 1296:1, which is pleasing for an IPS-type panel. The maximum contrast recorded under SDR was 1333:1. Under our 'Test Settings', which involved moderate colour channel adjustments, we recorded 1127:1 which is still quite respectable. Contrast only dropped below 1000:1 with the 'Color Temp. = 4000K' setting, which involves extreme colour channel adjustment. The gamma setting and whether the screen was set to 'sRGB' or 'Wide Gamut' did not significantly affect contrast. The highest white luminance recorded under SDR was 568 cd/m², exceeding the specified 500 cd/m². The minimum white luminance recorded was 40 cd/m². This provides an exceptional brightness adjustment range of 528 cd/m², with a very bright maximum and a fairly dim minimum. To suit a wide range of light sensitivities and lighting environments.
The monitor includes a 1152-zone Mini LED backlight FALD (Full Array Local Dimming) solution. With the 'Variable Backlight' setting enabled under SDR we recorded a significant boost in contrast, to as high as >49,600:1 with maximum brightness set in the OSD. Regardless of brightness setting used in the OSD, a black point of <0.01 cd/m² was recorded. A very deep, inky and pure black. Under HDR we recorded a very impressive contrast ratio of >171,300:1, with a peak luminance of 1713 cd/m² – exceeding the already exceptionally bright 1400 cd/m² specified. A black point of <0.01 cd/m² was again recorded. We recorded a sustained luminance of 1230 cd/m², exceeding the specified 1000 cd/m². This is a very impressive performance in this test and allows the monitor to provide a very dynamic and engaging HDR contrast experience.


PWM (Pulse Width Modulation)
The PG32UQX does not use PWM (Pulse Width Modulation) to regulate backlight brightness at any level. Instead, DC (Direct Current) is used to moderate brightness. The backlight is therefore considered 'flicker-free', which will come as welcome news to those sensitive to flickering or worried about side-effects from PWM usage.


Luminance uniformity
Whilst observing a black background in a dark room, using our 'Test Settings', we noticed slight backlight bleed and some clouding, mainly towards the corners of the screen. It's important to note that individual units vary when it comes to all aspects of uniformity, including backlight bleed and clouding. The following image was taken a few metres back to eliminate 'IPS glow'. This is a haze emanating from the edges of the screen, particularly the bottom corners from a normal viewing position. It can appear warm or cool depending on angle. This 'IPS glow' blooms out more strongly from steeper angles, as demonstrated in the viewing angles video later.
As with most of our testing, we had the 'Variable Backlight' setting disabled here. With the setting active, the dimming zones of the backlight essentially shut off so it looked like the monitor was switched off here. The bright spot towards the top of the screen is pressure damage caused by a previous reviewer.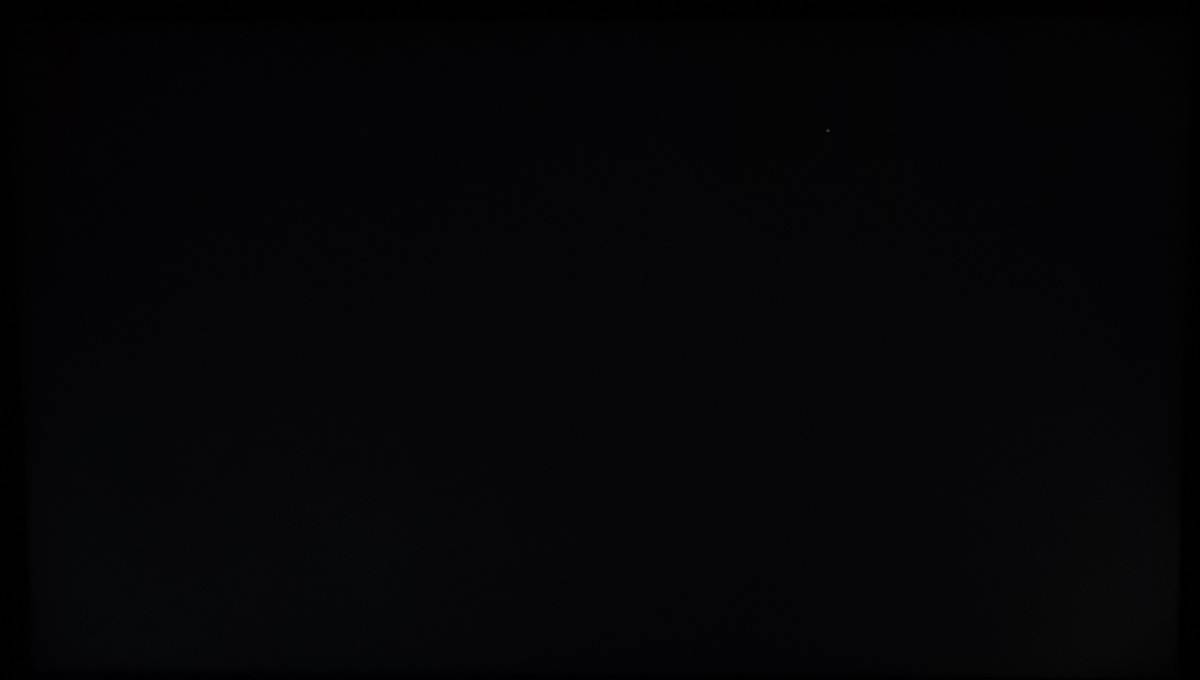 The SpyderX Elite was used to assess the uniformity of lighter shades, represented by 9 equally spaced white quadrants running from the top left to bottom right of the screen. The tables below shows the luminance recorded at each quadrant as well as the percentage deviation between each quadrant and the brightest recorded point. The table below shows the luminance recorded at each quadrant as well as the percentage deviation between each quadrant and the brightest recorded point.


Luminance uniformity table
The luminance uniformity here was excellent. The maximum luminance was recorded at 'quadrant 8' below the central region (162.1 cd/m²). The greatest deviation from this occurred at 'quadrant 1' towards the top left (155.8 cd/m², which is 4% dimmer). The average deviation between each quadrant and the brightest recorded point was 2.13%, which is exceptional. Remember that individual units vary when it comes to uniformity and you can expect further deviation beyond the points measured. The contour map below shows these deviations graphically, with darker greys representing lower luminance (greater deviation from brightest point) than lighter greys. 0The percentage deviation between each quadrant and the brightest point recorded is also given.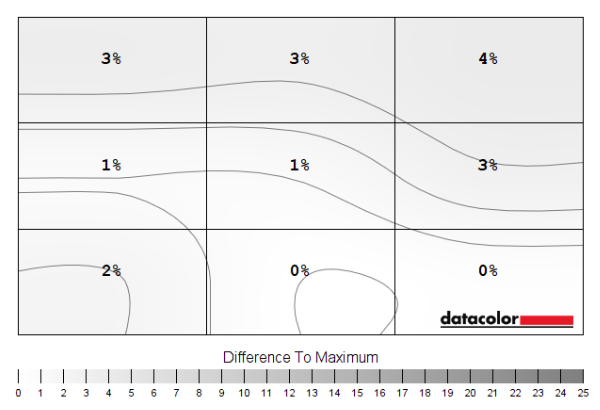 Luminance uniformity map
The SpyderX Elite was also used to analyse variation in the colour temperature (white point) for the same 9 quadrants. The deviation between each quadrant and the quadrant closest to the 6500K (D65) daylight white point target was analysed and a DeltaE value assigned. Darker shades are also used on this map to represent greater deviation from 6500K. A DeltaE >3 represents significant deviation that may be readily noticed by eye.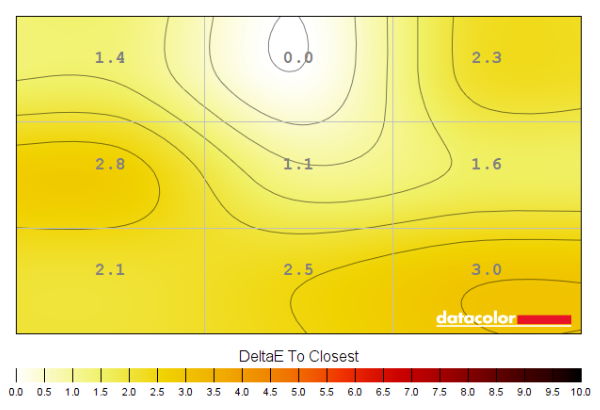 Colour temperature uniformity map
Results here were quite good. The region above centre was recorded as closest to 6500K, with borderline significant deviation recorded towards the bottom right (DeltaE 3.0). No further significant deviations were recorded. Note again that individual units vary when it comes to uniformity and that you can expect deviation beyond the measured points. The extreme side edges of our sample appeared slightly cooler (higher white point), for example. And there were some central points between measurement sites that appeared somewhat cooler or warmer to the eye, which isn't reflected by these readings. These sorts of deviations are often more common with complex FALD backlight solutions such of this but can occur on other monitors as well.


Contrast in games and movies
The monitor provided a reasonable contrast experience on Battlefield V. At a static contrast of 1127:1 under our 'Test Settings', you aren't provided a deep and atmospheric experience for darker scenes or darker elements within scenes. This is particularly true if you're sitting in a dimly lit room. It's still a bit stronger than some IPS models and the contrast ratio was dragged down a touch due to the colour channel adjustments made to our 'Test Settings'. But it's still some way off what VA panels can provide. There's also 'IPS glow' to contend with. This was a bit less intense than we'd usually see, but was certainly still there. Visible as a bloom or haze, emanating from the corners of the screen. And generally with a cool or slightly greenish grey hue. The excellent gamma consistency helped the screen maintain detail levels in a more consistent way than VA or TN models. Where perceived gamma shifts depending on the section of the screen you're looking at, masking detail or revealing too much unintended detail. IPS glow naturally masked some of this detail detail, but the shifts are more pronounced with the other LCD panel types. Brighter shades appeared with a sandiness to them rather than appearing entirely smooth, but didn't appear with the thick-layered graininess of some matte surfaces.
The contrast experience was similar on Shadow of the Tomb Raider. With plenty of dimly lit areas such as caves and tombs, this title looks its best where contrast is strong. This wasn't a look that was really delivered here, especially in a dim room. The slightly subdued 'IPS glow' and marginally stronger static contrast than on some IPS models did help out a bit, but didn't perform miracles. The strong gamma consistency was again nice to see. Brighter content again appeared with a bit of graininess, but nothing most people would find bothersome. We also viewed Star Wars: The Rise of Skywalker, which was filled with scenes of heavy contrast. Such as explosions and light sabers lighting up dim backdrops. The look wasn't particularly cinematic and 'IPS glow' ate away a bit at atmosphere, as did the limited static contrast. The reduction in 'IPS glow' and stronger static contrast than some IPS models was still of benefit, however. As a title captured in a 'letterboxed' format rather than 16:9, there are black borders at the top and bottom which didn't exactly look particularly black in most lighting conditions. For black border connoisseurs, the 'Variable Backlight' setting explored below may be of interest as it can significantly improve the depth of these black borders.


Lagom contrast tests
The Lagom tests for contrast allow specific weaknesses in contrast performance to be identified. The following observations were made.


The contrast gradients were displayed with appropriate brightness steps in all cases.

Performance on the black level test was strong. The first few blocks blended into the background readily rather than being distinctly visible, which is normal for a monitor tracking the '2.2' gamma curve accurately. The remaining blocks showed good distinct steps up in brightness. There was no obvious dithering.

Performance on the white saturation was quite good. All but the final pattern was quite clearly visible against the background. The final pattern was faintly visible but fainter than it could be and masked somewhat by a bit of graininess from the screen surface.

The greyscale gradient appeared smooth without obvious banding or dithering.
Variable Backlight (SDR)
The 1152-zone Mini LED backlight is a key feature of this model, helping define its HDR performance such that disabling it under HDR would be heresy. Under SDR you can also enable the 'Variable Backlight' feature so that these dimming zones can be independently controlled. Rather than just as a single backlight. And doing so will provide a contrast enhancement, as we explored numerically a little earlier. You can set the brightness according to your own preferences, which will act as a limit to how bright any of the dimming zones get. Some may like to crank it up for a more dynamic experience, knowing the darker elements will still be relatively dim. But we preferred having this set similarly to how we'd set the brightness without the feature enabled, which we set in the first place as it suited our own preferences and viewing environment for normal SDR viewing. Most will likely want to do the same or have the brightness raised just a bit beyond their normal level.
There are three levels available for this setting; 'Level 1', 'Level 2' and 'Level 3'. These levels change how reactive or 'aggressive' the dimming algorithm is. Regardless of 'Level', we found the zones reached their desired luminance very rapidly, without associated persistence issues. 'Level 1' is the gentlest with its adjustments, trying to reduce the luminance difference between a given dimming zone and its direct neighbours. 'Level 2' will make more pronounced brightness changes to directly neighbouring dimming zones and with this you can notice some elements become very dim indeed whilst others right next to these elements remain very bright. It certainly gives a well-defined edge to contrast in some situations. 'Level 3' is the most reactive and aggressive setting and will happily make fairly extreme adjustments to dimming zones. We found 'Level 1' too gentle and its attempts at creating gentler 'gradients' of brightness sometimes worked against it. By keeping dimming zones some distance away from brightly lit zones quite a bit brighter than they should be. It didn't really drive home the advantages expected of local dimming with this many dimming zones. 'Level 3' was generally too aggressive for mixtures of lighter to medium content. 'Level 2' was the best balanced in general. The content being displayed and your own preferences might mean you find one of the other settings more suitable.
When you're on the desktop, there are plenty of large mainly static areas of a given shade with smaller areas of contrasting shades intertwined. For example, a background shade on a website with lighter text or dividing lines – or even your bright mouse cursor moving against large areas of darker shade. Whilst 1152 dimming zones is a decent number and a significant boost over the likes of the PG27UQ with its 384 dimming zones, it's still a very small number compared to the ~8.3 million pixels of the screen. There will therefore be dimming zones which have a mixture of bright and dark content covering them and they'll brighten themselves up for that brighter content. Making the darker elements also contained on that zone brighter than they should be and brighter than for neighbouring dimming zones which just contain this darker content. This produces a so-called 'halo' or 'blooming' effect, with that brighter dimming zone visible against neighbouring dimly lit zones. The 'halo' was generally not too bright or noticeable using our preferred brightness level, particularly when sitting in a well-lit environment. It was only solid areas of medium shade with brighter content (such as the mouse cursor moving against it) that exhibited this in a clear way. The inverse can also occur, where a given dimming zone may be dimmer than its surroundings, sort of like an 'inverse halo'. These effects is explored in the section of video featured shortly. Very dark content with much brighter content right next to it dragged down the luminance of the lighter content, too. And in some cases, such as a block of white or light grey against a very dark background, we sometimes observed a dulling and increased colour temperature (cool tint) to the inside edge of the lighter shade. We generally preferred leaving the 'Variable backlight' setting disabled on the desktop as we found things more consistent that way, but some will happily leave it enabled even on the desktop.
Games and movies are generally far more dynamic with complex mixtures of shade throughout the screen. It's here where the technology really comes into its own, with 'Level 2' again being our preference. On the desktop with windowed video content we also enjoyed leaving this setting enabled. There are still times where these large areas of darker shade with smaller brighter elements present themselves. This will include HUD elements or perhaps your crosshair in a game, which is usually designed to stand out against the main game scene by being brighter a lot of the time. Or scenes in games or movies with small bright elements such as street lamps or candles against a much darker background. So you can still notice the 'halo' effect in places, more so if your room is dimly lit or you have the monitor brightness set quite high. And 'inverse halos' in places, too. We found the overall edge in contrast with the setting active easily outweighed these negatives. Many scenes contain darker elements, such as a dimly lit interior location in a game. Or even shaded areas of ground in an exterior location, with a mixture of medium and dark shades. Such elements had much greater depth them with this setting active. And 'IPS glow', which was by no means extreme on this screen in general, was minimised further due to the dimming zones covering this content being much dimmer than they otherwise would be.
Flicking the setting off then on again was like seeing a veil of fog was lifted from many scenes due to the overall perceived contrast improvement. Halos aside, which were slight with our preferred settings and viewing environment, this really added to the overall atmosphere. It also helped brighter elements to stand out nicely against these relatively dark shades. These extremes in contrast weren't the same as under HDR where the dimming zones are really brought to life, though. And with 1152 zones the most intricate shade mixtures couldn't be accounted for. Cracks in rocks and heavily shaded areas of vegetation where very dark and somewhat brighter shades intertwined, for example, could've had even more depth to them. But there was still a definite boost in contrast that we appreciated having in most cases. The section of video review below shows this feature in action on Shadow of the Tomb Raider.


Colour reproduction
Colour gamut
The monitor uses a Quantum Dot (QD) backlight solution to enhance the gamut, employing blue LEDs and a layer of red and green Quantum Dots. This creates much larger peaks of green and red light than you'd see on your typical standard gamut monitor. These strong green and red peaks enhance the colour gamut whilst also creating a more balanced and less blue-biased spectral profile, potentially aiding viewing comfort. The ASUS PG32UQX's colour gamut (red triangle) was compared with the sRGB (green triangle) and DCI-P3 (blue triangle) reference colour spaces using our 'Test Settings', as shown in the first image below. The gamut fully covers sRGB with significant extension beyond. We measured 97% DCI-P3 coverage, close to the specified 98%. There's generous extension beyond for some red-biased shades and very generous extension beyond in the green to blue region of the gamut. The second image shows the monitor's colour gamut (red triangle) compared to Adobe RGB (purple triangle). We recorded 100% Adobe RGB coverage with some extension beyond, particularly towards the red corner of this representation. This gamut is very generous, so for standard sRGB content outside of a colour-managed environment things are presented in a highly vibrant way with strong saturation.


Colour gamut 'Test Settings'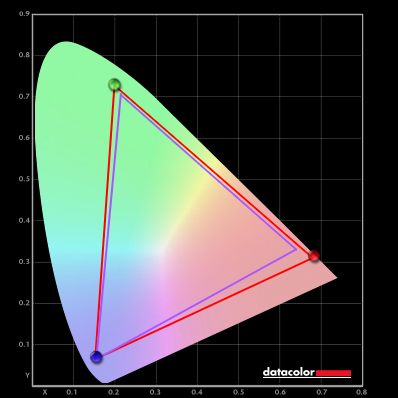 Colour gamut 'Test Settings' vs. Adobe RGB
The monitor also offers an sRGB emulation setting, which is enabled out of the box but was disabled for most of our testing. 'Display SDR Input' set to 'sRGB' in the 'Image' section of the OSD. This cuts down the colour gamut so it follows sRGB much more closely, with just a little under-coverage (97%) and a mere sliver of over-extension. Some units may come closer to 100% sRGB coverage. Unlike most sRGB emulation settings, it doesn't lock off your adjustments. So brightness, gamma and colour channels as well as other OSD settings are open to adjustment. This very flexible setting is useful for more faithful representation of content within the sRGB colour space even in non colour-managed applications and without profiling of the monitor.
To maximise colour accuracy within the sRGB colour space, for colour-managed workflows, full calibration and profiling with a colorimeter or similar device using the full native gamut is recommended. Using the flexible 'sRGB' setting as a base of calibration will also work well, although in our case there was that minor under-coverage (97%) which calibration wouldn't address. The 'Wide Gamut' setting provides 100% sRGB coverage. The generous DCI-P3 and Adobe RGB coverage using the 'Wide Gamut' setting would also make the monitor suitable for work within those wider colour spaces. You may try the ICC profile featured in the calibration section which includes gamut mapping for colour-aware applications, but best results are always obtained by calibrating your own unit with your own hardware.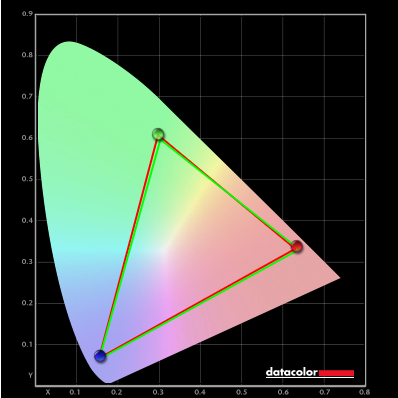 Colour gamut 'sRGB'
As usual we also tested the 'CTC disabled' method on our AMD GPU, as described in our sRGB emulation article. The measured gamut was similar to using the dedicated 'sRGB' setting of the monitor, but it's based on readings from the EDID and could vary between units. Just like the dedicated 'sRGB' setting can vary a bit between units. If you use the 'CTC' setting to cut down the colour gamut for SDR, you'd need to remember to change it when running HDR to avoid extreme oversaturation. Given this plus the flexibility of the monitor's 'sRGB' setting, we don't see good reason to use the 'CTC' setting in this case and won't be analysing it further.


Colour in games and movies
On Battlefield V the monitor produced a very vibrant and varied palette of shades. As with most content viewed under SDR, the game developers are designing the content around the sRGB colour space. When the gamut of the monitor extends beyond this, oversaturation is introduced. This is very different to a digital saturation boost, which is achieved by increasing saturation in the OSD of the monitor or in the graphics driver. As that simply pulls shades closer to the edge of the gamut without expanding the gamut itself, crushing things together and not achieving any boost for the saturated shades on the edge of the gamut. With appropriate spacing on the gamut maintained, the ASUS maintained strong shade variety with a very vivid and lively look to things. Reds were brought out very strongly, giving fires a very rich and eye-catching look – with deeper oranges than intended and some oranges verging on red. Red hues were brought out too strongly for some earthy browns as well, providing a red cast but a very rich look. The gamut is particularly generous at the green to blue edge. There were some exceptionally lush-looking forest greens, some of which had very impressive depth to them. Some of the shades looked less muted than they should, though, with some yellowish green shades tending to appear quite neon for example. Sky blues were also very vivid, which added to things looking highly vibrant but not exactly 'as the developers intend'.
Similar observations were made on Shadow of the Tomb Raider. Earthy and woody browns tended towards a reddish hue, whilst Lara Croft's skin tone appeared overly tanned. Although not completely overdone. There was again an excellent variety of lush greens alongside more muted shades, with yellowish greens tending to stand out more than intended and some shades verging too much on the neon side. Flames appeared very lively and various painted artifacts showcased some very eye-catching reds, purples and blues. Some people will really admire this highly vibrant look to things, but others will prefer things to look more as the developers intend. Something we like to refer to as 'rich and natural'. Simply setting 'Display SDR Input' to 'sRGB' achieves that on this model as explored earlier – with full control over your usual monitor settings. Regardless of whether this restricted gamut or native gamut is used, the IPS-type panel also showcased its strong colour consistency on both titles. You didn't get the losses of saturation you'd observe on VA models towards the edges or vertical saturation gradients of TN models. Instead, the richness was maintained very well throughout the screen.
To help explore the idea of colour consistency and the overall colour characteristics of the monitor, we also observed the animated TV series Futurama. This has large areas of individual shade, making it a particularly unforgiving test for colour consistency. The monitor performed very well here, maintaining saturation throughout the screen much more effectively than VA and moreover TN models. There was a slight darkening of some shades towards the extreme side edges of the screen, but nothing major. Neon shades such as electric pinks and bright greens were presented in a very lively way. There's a broad range of pastel shades on this title, given a boost in saturation that made them appear less muted than they should. But with appropriate variety maintained and a muted look relative to neon shades and others that should look more highly saturated. The 'sRGB' setting again tones things down so things look more as the creators intend – it's personal preference as to which look is preferred.


Shade representation using SpyderCHECKR 24
The image below shows a printed reference sheet of 24 'sRGB' shades, included as part of the Datacolor SpyderCHECKR 24 package. The screen is displaying reference photographs of this printed sheet, in both the same order as printed (right side) and reverse order (left side). The camera is mounted slightly above centre so that the image is representative of what the eye sees from an ergonomically correct viewing position. This, coupled with the inclusion of a flipped version of the shade sheet, allows both accuracy and colour consistency to be visually assessed. Bracketed numbers in our analysis refer to shades on the printed sheet or right side of the screen if they're ordered consecutively from top left to bottom right. Interlaced lines visible in some places on the image are moiré from the camera, not observed on the monitor itself.
Note that there is always some disparity between how emissive objects (monitor) and non-emissive objects (printed sheet) appear. The representation of shades in this image depends on the camera and your own screen, it's not designed to show exactly how the shades appear in person. It still helps demonstrate some of the relative differences between the original intended sRGB shade and what the monitor outputs, however. Full profiling and appropriate colour management on the application would provide a tighter match, our intention here is to show what can be expected in a non colour-managed environment.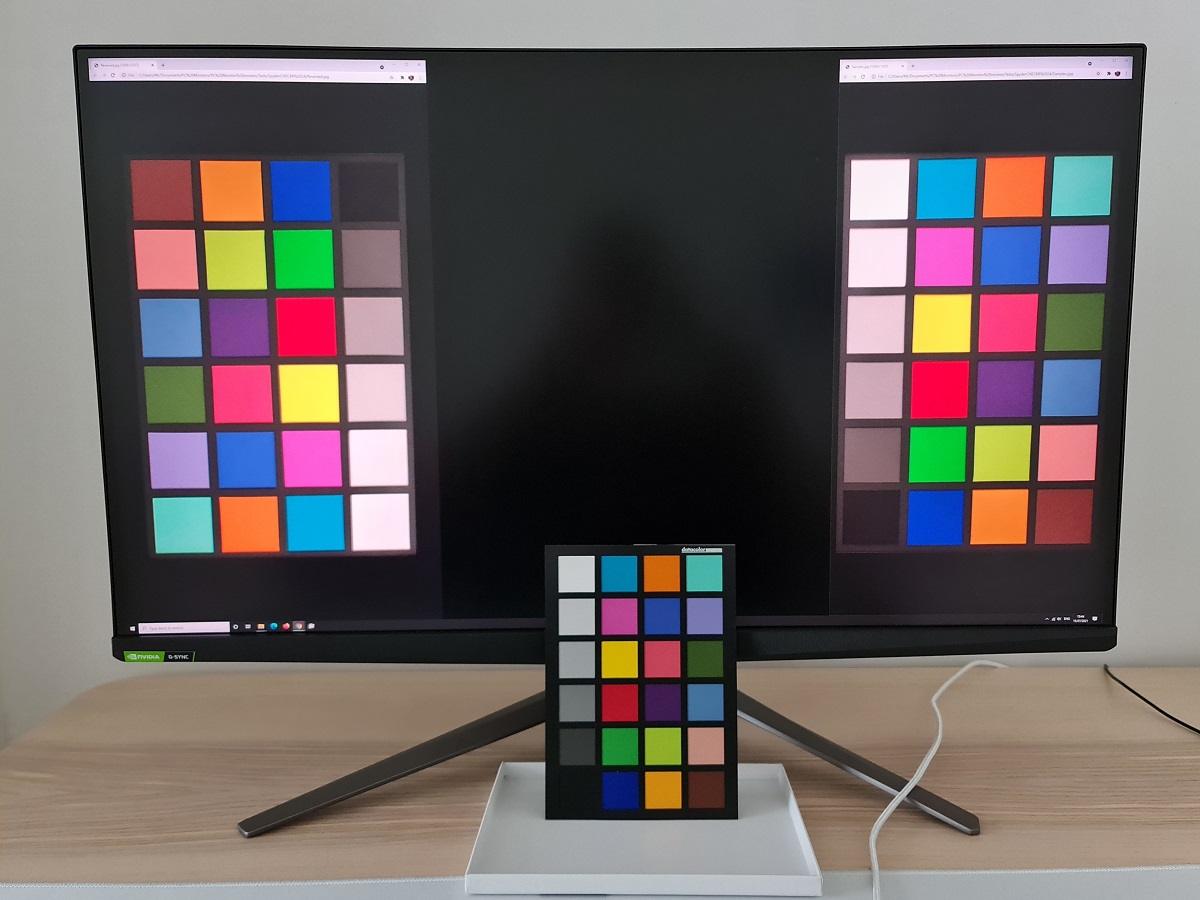 The monitor shows shades in a highly saturated and vibrant way, using our 'Test Settings'. The generous extension in the colour gamut in the green to blue region makes dark lime green (18) look rather punchy and oversaturated. Grey blue (16) and royal blue (22) also appear somewhat oversaturated, but to a less extreme degree. The colour gamut is also generous in the red region, inviting significant extra 'pop' to shades such as medium orange (3), tango pink (11) and candy apple red (14) – with the latter being quite a neon variant of the intended shade. Peach pink (20) and light chocolate brown (24) also appear with a fairly strong red hue. Some shades such as Cerulean (2), lilac (8) and grape purple (15) are represented quite faithfully. The consistency of the screen was strong without the sort of clear saturation shifts you'd observe on a VA or TN model depending on the on-screen shade position. The image below shows how things appear using the sRGB emulation mode (setting 'Display SDR Input' to 'sRGB' in the 'Image' section of the OSD).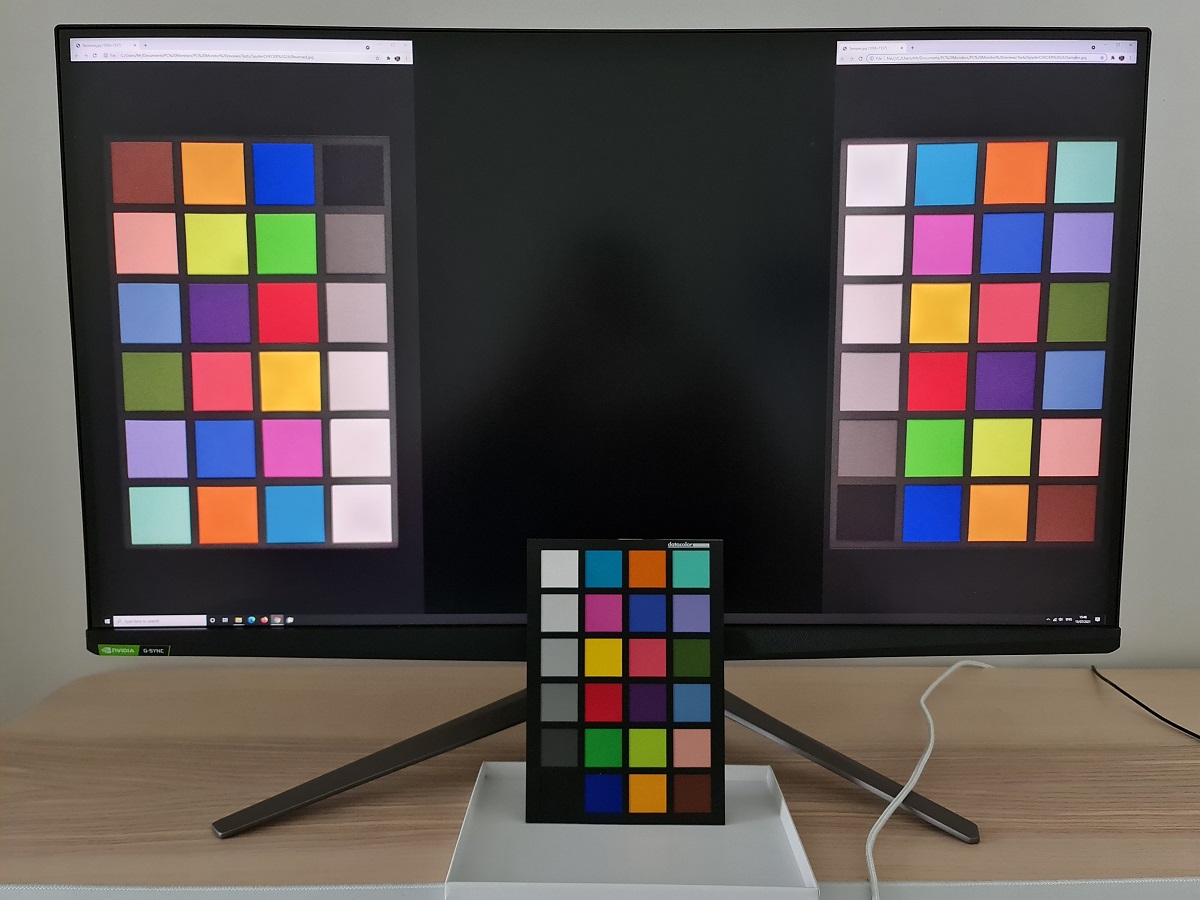 The saturation levels are significantly reduced now, primarily due to restriction in the colour gamut which more closely maps sRGB. There is a touch of undersaturation to some shades, most notably aquamarine (4) which appears more of a faded aqua shade. The discrepancy is exaggerated somewhat in the photo, however. Most of the remaining shades are faithfully represented, with the red tones and overly punchy greens appropriately dialled down. Overall things match the printed sheet well in this mode, whilst the strong colour consistency is also evident. And it's good to see such excellent flexibility with OSD setting adjustments retained when using the setting. As always, we'd recommend profiling the monitor with your own colorimeter or spectrophotometer using the native gamut if you require the highest level of colour accuracy with 100% sRGB coverage and no over-coverage. But the included 'sRGB' setting is much better implemented than on most models we've come across.


Viewing angles
Lagom's tests for viewing angle tests help explore the idea of colour consistency and viewing angle performance. The following observations were made from a normal viewing position, eyes ~70cm from the screen.
The purple block appeared a pinkish purple throughout the screen. The generous colour gamut brought out the pink hue more strongly. There was slight dimming towards the extreme side edges, with far superior consistency than VA or TN models.

The red block appeared a rich and vivid red throughout the screen. There was minor dimming towards the extreme side edges. There were no shifts between a more burnt red or pink hue as you'd see on VA or TN models, even from a normal viewing position.

The green block appeared a consistent saturated green chartreuse green throughout. It did not shift between a more yellowish green and purer green as you'd observe on models with weaker colour consistency.

The blue block appeared a consistent royal blue throughout the screen.

The Lagom text appeared blended grey throughout the screen, with a subtle green tint to the striping across most of the screen and a slight red hue towards the left side. There were no obvious flashes of saturated green, orange or red nor clear shifts between these with slight head movement. This indicates a low viewing angle dependency to the gamma curve of the monitor, typical for an IPS-type panel.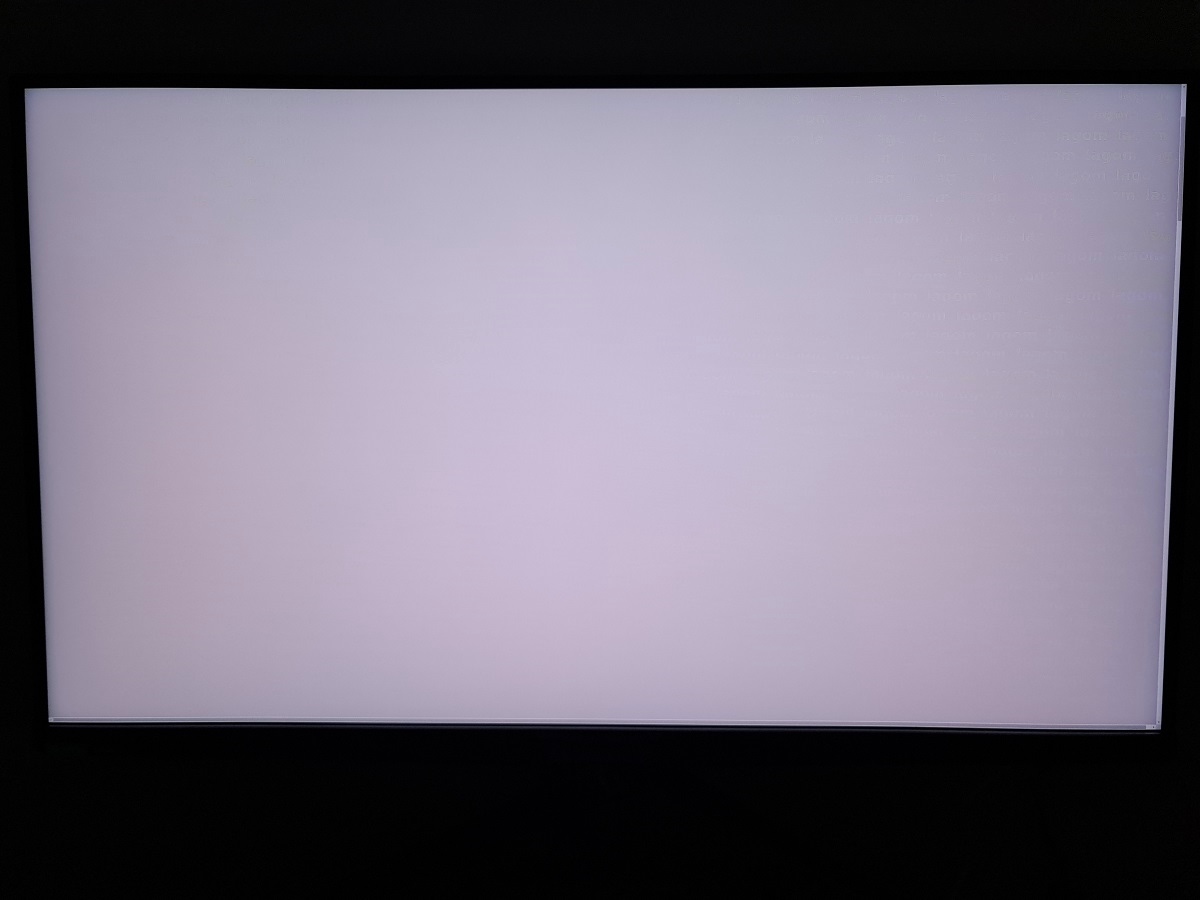 The video below shows the Lagom text test, a mixed desktop background, game scene and dark desktop background from a variety of viewing angles. You can see some shifts in contrast and colour for the mixed desktop background and game scene. These shifts are less pronounced than you'd see on TN or VA models, with less of a 'hazing' effect at sharper viewing angles compared to some IPS models as well. The dark desktop background highlights 'IPS glow', which creates a 'bloom' with a cool purple to greenish grey or sometimes warmer amber quality to it, depending on angle. This 'IPS glow' is more subdued than on some IPS models.




Interlace pattern artifacts
On some monitors, particularly but not exclusively those with high refresh rates, interlace patterns can be seen during certain transitions. We refer to these as 'interlace pattern artifacts' but some users refer to them as 'inversion artifacts' and others as 'scan lines'. They may appear as an interference pattern or mesh or interlaced lines which break up a given shade into a darker and lighter version of what is intended. They often catch the eye due to their dynamic nature, on models where they manifest themselves in this way. Alternatively, static interlace patterns may be seen with some shades appearing as faint horizontal bands of a slightly lighter and slightly darker version of the intended shade. Some extremely faint dynamic interlace patterns were observed, but these were virtually invisible at any refresh rate. So not something to worry about and just something we're mentioning for completeness.


Responsiveness
Input lag
A sensitive camera and a utility called SMTT 2.0 was used to analyse the latency of the ASUS PG32UQX. Over 30 repeat readings were taken to help maximise accuracy. Using this method, we calculated 2.57ms (under ½ a frame at 144Hz) of input lag with 'Variable Backlight' disabled. With the 'Variable Backlight' function active, we recorded a moderate increase in input lag of 12.68ms. These figures are influenced by both the element of input lag you 'see' (pixel responsiveness) and the main element you 'feel' (signal delay). They indicate an exceptionally low signal delay with the 'Variable Backlight' setting disabled, which even sensitive users shouldn't find bothersome. And a reasonable signal delay with the setting enabled that most users won't take issue with – especially for the more casual gaming this monitor is designed for. Note that we don't have the means to accurately measure input lag with G-SYNC active in a VRR environment or HDR active in an HDR environment.


Perceived blur (pursuit photography)
Our article on responsiveness explores the important factors surrounding monitor responsiveness. A key concept explored there is 'perceived blur', contributed to by both the pixel responses of the monitor and the eyes as you track motion on the screen. Both factors play an important role, but the second factor is usually dominant on modern monitors. A photography technique called 'pursuit photography' is also explored. This uses a moving rather than stationary camera to capture motion on a screen that reflects both aspects of perceived blur. Rather than simply reflecting the pixel response element.
The images below are pursuit photographs taken using the UFO Motion Test for ghosting, with the test running at its default speed of 960 pixels per second. This is a good practical speed to take such photographs at and highlights both elements of perceived blur well. The UFOs move across the screen from left to right at a frame rate matching the refresh rate of the display. All three rows of the test are analysed to show a range of pixel transitions. The monitor was tested at 60Hz (directly below), 120Hz and 144Hz using all available 'OD' settings; 'OFF', 'Normal' and 'Extreme'. The final columns include some reference screens for comparison. The ViewSonic XG270QC, which offers quite typical pixel responsiveness for a high refresh rate VA model. And the ASUS PG27UQ, a fairly aggressively tuned IPS model that the PG32UQX can be considered the successor to.
Note that the 'Variable Backlight' feature was disabled for this testing, but having the setting enabled did not affect the pixel response behaviour observed. Any wavy patterns surrounding some UFOs in the background are slight image retention. This was only observed during this test and is something we've seen on various monitors before. It disappeared after using the monitor normally for a few minutes.


At 60Hz, above, the UFO appears soft and unfocused without clear internal detailing. This reflects a moderate amount of perceived blur due to eye movement. The 'Off' setting shows some 'powdery' trailing behind the UFO, particularly for the dark background (top row). This is cut down effectively using the 'Normal' setting, with very little of this remaining. Performance here quite in-line with the IPS reference and superior to the VA reference which shows some quite bold trailing. The 'Extreme' setting introduces overshoot without offering any real advantage for the transitions shown. The overshoot appears particularly inky behind the UFO cockpit with the dark background. For the medium background (middle row) and bright background (top row) it appears brighter than the background, as 'halo' trailing. We consider the 'Normal' setting optimal here. Below you can see how things look with refresh rate doubled to 120Hz.


At 120Hz, above, the UFO appears significantly narrower with clearer internal detail. This reflects a significant decrease in perceived blur due to eye movement. The pixel response requirements for optimal performance here are raised substantially. The 'Off' setting is again plagued by 'powdery' trailing, quite bold in its appearance directly beyond the UFO body for the dark and medium background. Even this is much less bold than the VA reference, however. The 'Normal' removes most of this trailing, with a bit remaining for the dark background in particular. A bit of overshoot is also introduced, particularly below the legs of the UFO plus a bit elsewhere for the light background. The IPS reference shows stronger overshoot but doesn't show any real conventional trailing for these transitions. The 'Extreme' setting doesn't eliminate the trailing for the dark background, whilst it introduces overshoot here and moreover for the medium and light background. This is quite bright and colourful. We again consider the 'Normal' setting optimal here. Below you can see how things appear with a slight boost in refresh rate to 144Hz.


At 144Hz, above, the UFO appears very slightly narrower with slightly clearer internal detailing. This reflects a slight reduction in perceived blur to eye movement – with only an extra 24Hz, this difference is not huge. Trailing behaviour is quite comparable to 120Hz. The 'Normal' setting cuts out quite a bit of the conventional trailing, although some does still remain. Particularly for the dark background. The overshoot is a bit more pronounced as well, but it's minor compared to using the 'Extreme' setting. The 'Normal' setting is again optimal here and this is something we'd certainly agree with based on a broader analysis using a greater variety of pixel transitions. The VA reference shows much clearer weaknesses, with distinct 'smeary' trailing for the dark and medium backgrounds. The IPS reference shows less conventional trailing but does have more overshoot in comparison. Particularly behind the UFO body where it has quite an inky look – something we often refer to as 'shadowy' overshoot trailing.


Responsiveness in games and movies
The monitor provided a fairly fluid experience on Battlefield V, with the frame rate keeping up with the 144Hz refresh rate. Compared to a 60Hz monitor or running this one at 60Hz, 2.4 times as much visual information is outputted each second. This bolsters the 'connected feel', or the precision and fluidity felt when interacting with the game. This is particularly true when coupled with the very low signal delay of this model. The other benefit of the high frame and high refresh rate combination is a significant decreased in perceived blur due to eye movement, something demonstrated earlier using Test UFO. The pixel responses also need to be rapid to make best use of the refresh rate and minimise that side of perceived blur. For most medium to lighter shades, this was the case and pixel responses were quite respectable. Without substantial 'powdery' trailing and just a touch of overshoot in places. Nothing that really stood out too much, mainly 'halo' trailing that's just a touch brighter than the object or background shade.
Where darker or very bright shades were involved, though, some clearer weaknesses manifested themselves. This is due to some transitions being significantly slower than optimal and certainly not up there with the strongest IPS-type performers. Some of this sort of behaviour was demonstrated with the dark background of Test UFO. Providing what we'd describe as a 'heavy powdery' trailing for some transitions. Where very bright shades such as white or heavily saturated shades moved against a significantly darker background, the weaknesses were even more pronounced. The trailing here was distinct but not as extensive or 'smeary' in appearance as the slowest transitions typically performed by high refresh rate VA models. Slim very bright elements sometimes became more colourful during movement, as some shades contained within them (reds for warmer whites, blues and cyans for cooler whites etc.) appeared to leach out. The weaknesses didn't always manifest as a distinct trailing, they also affected the clarity of dark shadow detailing which are basically dark shades intertwined with lighter ones. We didn't observe the sort of 'flickering' effect common on VA models whereby some shades significantly darken during movement. And then brighten up appropriately when the movement ceases.
We made similar observations on Shadow of the Tomb Raider. The benefits of the high frame rate and high refresh rate experiences could again be seen and felt. And many pixel transitions were performed pretty quickly. There are many very dark and very bright shades on this title, touching on the slowest pixel transitions performed by this model. It's always going to be subjective, but we didn't find them distracting on this game. This title has a very different gameplay style and is very much more on the casual than competitive end when compared with the likes of the Battlefield series. This sort of title and gameplay style is really what this monitor is designed for. Some will find it perfectly fine for a bit of competitive play on the side and we'd again stress it's better in that respect than most high refresh rate VA models.
We also observed video content at a range of frame rates, including ~24-30fps content on platforms such as Netflix and 60fps content on YouTube. For the 60fps content there were slight weaknesses for the troublesome transitions highlighted earlier and also some traces of overshoot in places. The weaknesses from slow pixel responses were less distinct than during the much higher framerate gameplay. The pixel response requirements for good performance are lowered significantly in comparison, so this shouldn't be too surprising. The majority of pixel responses were performed well and really the overall experience was pretty solid here. For the lower frame rate (24-30fps) content, pixel response requirements are reduced further. There were no significant weaknesses here, nothing that really stood out in terms of overshoot or conventional trailing.
As an Amazon Associate I earn from qualifying purchases made using the below link. Where possible, you'll be redirected to your nearest store. Further information on supporting our work.


VRR (Variable Refresh Rate) technology
G-SYNC – the technology and activating it
Nvidia G-SYNC is a variable refresh rate technology that can be activated when a compatible Nvidia GPU is connected to a compatible monitor (such as the ASUS PG32UQX). Our article on the technology explores the principles behind the technology and its benefits, so we won't be repeating too much of that. Essentially the technology allows the monitor to dynamically adjust its refresh rate to match, where possible, the frame rate outputted by the GPU. When the two are in sync it gets rid of the tearing (VSync off) and stuttering (VSync on) that occurs when the two are desynchronised. An additional benefit for those who hate tearing and usually like to use VSync is a reduction in latency compared to 'VSync on' in the variable frame rate environment. Due to the HDR capabilities of the monitor and G-SYNC module used, this model is marketed as a 'G-SYNC Ultimate' model.
This monitor supports G-SYNC via DP 1.4 and HDMI, when connected to a compatible Nvidia GPU such as the RTX 3090 used in our test system. Note that HDR can be activated at the same time as G-SYNC. Once connected up, G-SYNC should be automatically configured and ready to use. There's usually even a little notification icon in the system tray telling you that a G-SYNC compatible display is detected. To check everything is configured correctly, open Nvidia Control Panel and navigate to 'Display – Set Up G-SYNC'. Ensure that the checkbox for 'Enable G-SYNC' is checked, then select your preferred operating mode. As the image below shows, this technology works in both 'Full Screen' and 'Window' modes, provided the correct option is selected for this. If the G-SYNC options seem to be missing from Nvidia Control Panel, this may be remedied by reconnecting the GPU or possibly connecting the monitor to a different DP output if there's one available. If the options are still missing, reinstalling the GPU driver or updating this is recommended.


Enable G-SYNC
The ASUS supports a variable refresh rate range of 1 – 144Hz (1-120Hz via HDMI at the native resolution). That means that if the game is running up to 144fps, the monitor will adjust its refresh rate to match. When the frame rate rises above 144fps, the monitor will stay at 144Hz and the GPU will respect your VSync in the graphics driver. With 'VSync on' the frame rate will not be allowed to rise above 144fps, at which point VSync activates and imposes the usual associated latency penalty. With 'VSync off' the frame rate is free to climb as high as the GPU will output (potentially >144fps). Technically it appeared that the monitor stuck to a multiple of the frame rate with its refresh rate if frame rate dipped below 10fps. But this did the trick to remove tearing and stuttering and was essentially seamlessly integrated – we wouldn't have known it was doing this if not indicated by the 'FPS Counter' feature of the display.
VSync behaviour is configured in the 'Manage 3D settings' section of Nvidia Control Panel. It's labelled 'Vertical sync' and can be set to one of the following; 'On', 'Use the 3D application setting', 'Off' or 'Fast' (GPU dependent). The 'Use the 3D application setting' largely works as you'd expect, but the general recommendation is to set VSync in the graphics driver if you wish to use it as in-game implementations can interfere with the smooth operation of G-SYNC. The 'Fast' option enables a technology called 'Fast Sync', which only applies above the refresh rate and frame rate ceiling (>144Hz / 144fps). Below this G-SYNC operates as normal, whereas above this a special version of VSync called 'Fast Sync' is activated. This is a GPU rather than monitor feature so isn't something we will explain in detail, but it is designed to reduce tearing at frame rates well above the refresh rate of the monitor. If you're interested in this technology, which may be the case if you play older or less graphically demanding games at very high frame rates, you should watch this section of a video by Tom Petersen.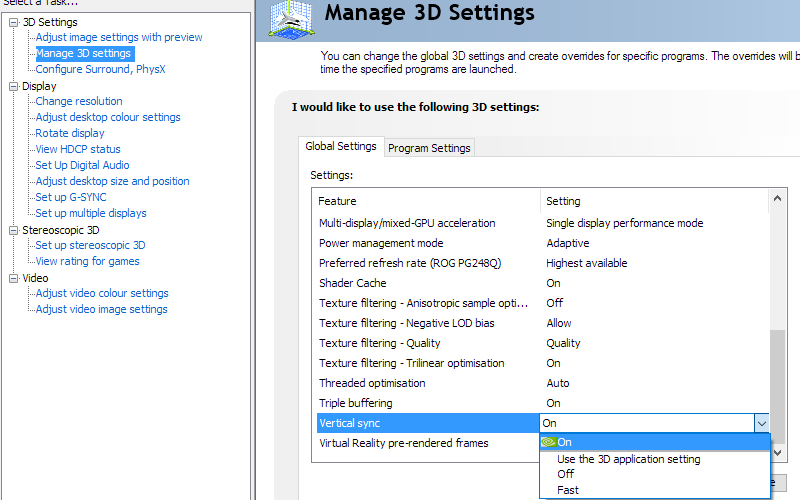 Set VSync according to preferences
Some users prefer to leave VSync enabled but use a frame rate limiter set a few frames below the maximum supported (e.g. 141fps) instead, avoiding any VSync latency penalty at frame rates near the ceiling of operation or tearing from frame rates rising above the refresh rate. If you activate the 'FPS Counter' feature in the 'GamePlus' section of the OSD or use the feature with the 'LiveDash', this will indicate the frame rate of your content if G-SYNC is active. If G-SYNC isn't active it will simply show the static refresh rate the monitor is running at. The final point to note is that G-SYNC only removes stuttering or juddering related to mismatches between frame rate and refresh rate. It can't compensate for other interruptions to smooth game play, for example network latency or insufficient system memory. Some game engines will also show stuttering (or 'hitching') for various other reasons which won't be eliminated by the technology.


G-SYNC – the experience
As usual we tested various games using G-SYNC and found the experience similar in all cases. Any issues affecting one title but not another suggests a game or GPU driver issue rather than a monitor issue. For simplicity we'll just use Battlefield V as our example in this section. The game offers sufficient flexibility with its graphics options for a broad range of refresh rates to be analysed, even with our RTX 3090. Where the frame rate dipped below 144fps, you'd observe tearing (VSync off) or stuttering (VSync on) without a VRR technology like G-SYNC. With the technology active the refresh rate adjusted appropriately to match the frame rate, so such interruptions were removed. Sensitivity to stuttering and tearing varies, but for people like us sensitive to such things G-SYNC is very much appreciated. The dips in frame rate still negatively affect 'connected feel' and increase perceived blur, which VRR technologies like this can't counteract.
Regardless of how far frame rate dropped, the technology worked as intended to remove tearing and stuttering from the mismatches that would otherwise occur. A key advantage of models like this with the G-SYNC module is that variable overdrive is supported, so the pixel response behaviour was dynamically adjusted as refresh rate dipped. This ensured appropriate acceleration levels were used as refresh rate dipped, avoiding significantly stronger overshoot being introduced. A common issue with models that lack the module and support VRR by alternative means such as Adaptive-Sync. The experience was also seamless throughout the VRR range, rather than there being a defined LFC boundary which you'd get on Adaptive-Sync models. This boundary is typically 48Hz (48fps) and when you pass it in either direction slight momentary stuttering can be observed.


FreeSync
In addition to supporting G-SYNC on compatible Nvidia GPUs, AMD FreeSync can be used. The monitor includes Adaptive-Sync support via both DP and HDMI, which allows compatible GPUs and systems to use FreeSync. To enable FreeSync as a PC user open 'AMD Radeon Software'. Then click 'Settings' (cog icon towards top right) and click on 'Display'. You should then ensure that the first slider is set to 'Enabled'. The setting is referred to as 'Adaptive Sync Compatible' here, although the exact wording may depend on the driver version you're using. With our Radeon RX 580, we were able to activate the technology via DP (first image) but not HDMI (second image). According to ASUS the Xbox Series X can use make use of Adaptive-Sync via HDMI for VRR support on this model, however.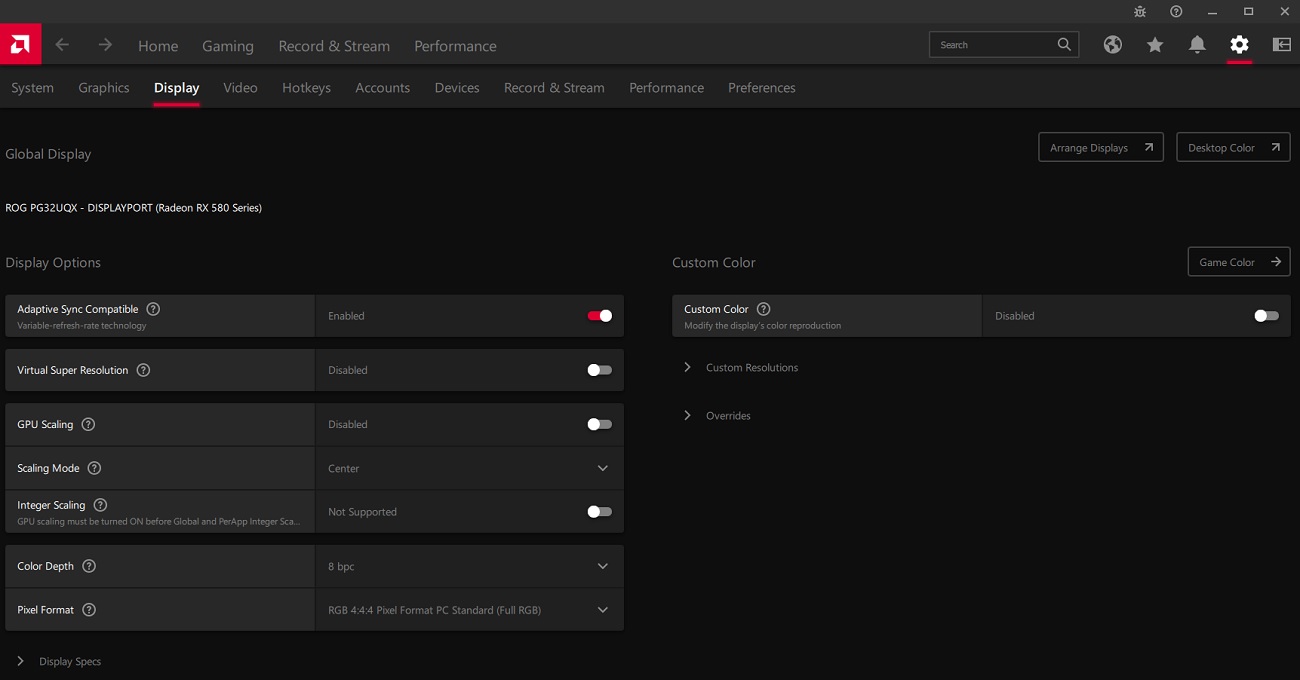 The experience was very much the same as it was with G-SYNC. A caveat here being that our RX 580 was limited to 96Hz maximum via DP 1.4 – as the GPU itself lacks the DSC feature of later models. The full features of the G-SYNC module are accessible, with Adaptive-Sync simply being an alternative way to access the module for compatible AMD hardware. This included variable overdrive and seamless operation throughout the very generous VRR range. Our suggestions regarding use of VSync also apply, but you're using AMD Radeon Software rather than Nvidia Control Panel to control this. Open up AMD Radeon Software and click 'Settings' (cog icon towards top right), then 'Graphics'. The setting is listed as 'Wait for Vertical Refresh'. This configures it globally, but if you wish to configure it for individual games click 'Game Graphics' towards the top right. Above this dropdown list there's a toggle for 'Radeon Enhanced Sync' which is AMD's version of Nvidia's 'Fast Sync'.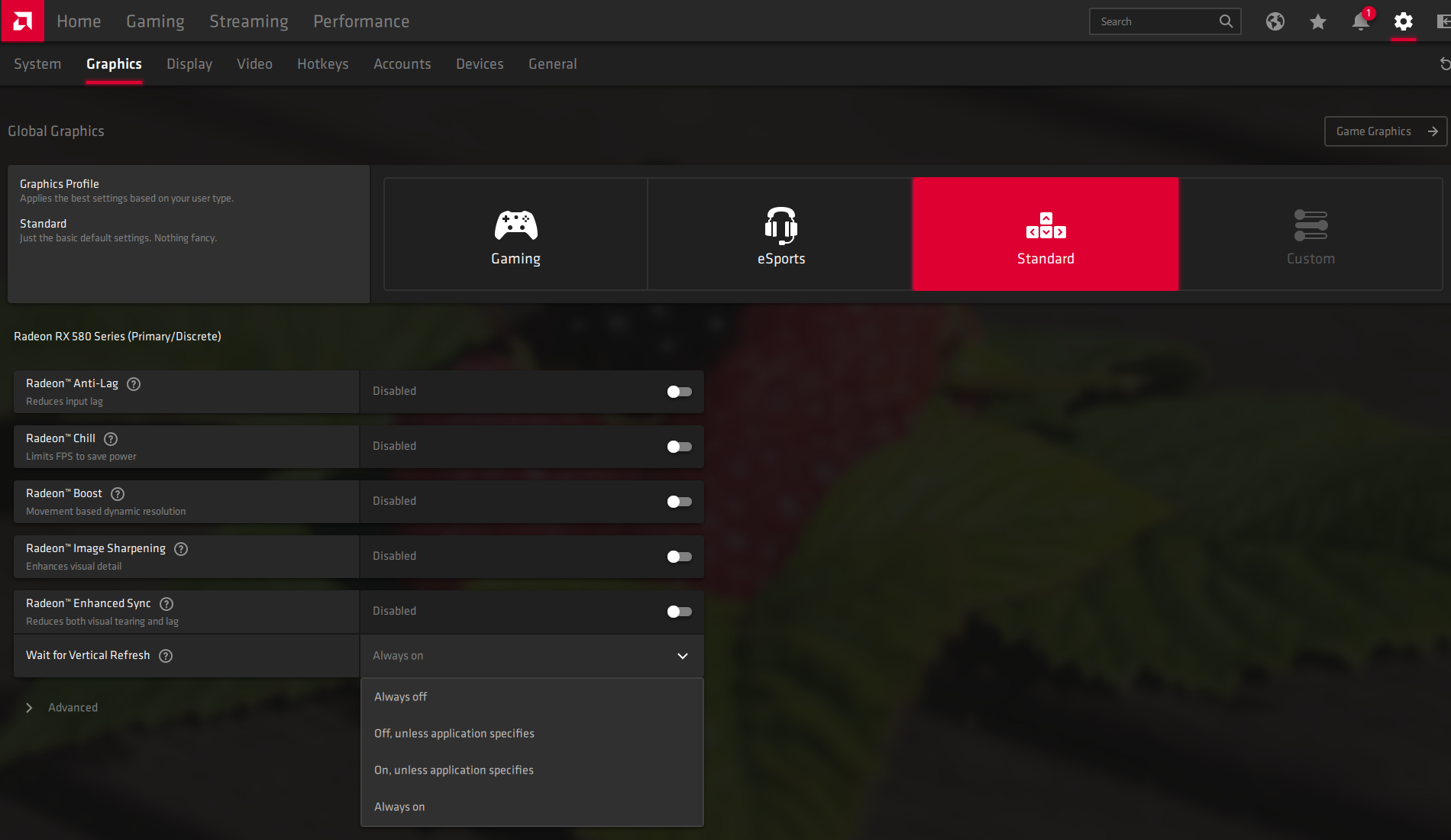 Note again that you can activate the 'FPS Counter' in the 'GamePlus' section of the OSD or use the feature with 'LiveDash'. This will show the refresh rate of the display and therefore reflect frame rate if Adaptive-Sync is doing its thing. HDR can be used at the same time as Adaptive-Sync, too.


HDR (High Dynamic Range)
The ideal HDR (High Dynamic Range) monitor can simultaneously display very bright light shades and very deep dark shades. Plus an excellent range of shades between these extremes, from very muted shades to eye-catching vibrant shades. Ideally, per-pixel illumination would be used – backlightless technology such as OLED, for example. Failing that, a backlight solution such as FALD (Full Array Local Dimming) with a great number of dimming zones is desirable. This allows some areas of the screen to display very deep dark shades whilst other areas display brilliant bright shades. Colour reproduction is also an important part of HDR. The long-term goal is support for a huge colour gamut, Rec. 2020. A more achievable near-term goal is coverage of at least 90% DCI-P3 (Digital Cinema Initiatives standard colour space). Finally, HDR makes use of at least 10-bit precision per colour channel, so its desirable that the monitor supports at least 10-bits per subpixel.
The most widely supported HDR standard for games and movies is HDR10, and that's what's supported here. For most games and other full screen applications that support HDR, the ASUS automatically switches into its HDR operating mode when an HDR signal is detected. As of the latest Windows 10 update, relevant HDR settings in Windows are found in 'Windows HD Color settings' which can be accessed via 'Display settings' (right click the desktop). Most game titles will activate HDR correctly when the appropriate in-game setting and monitor setting is selected. A minority of game titles that support HDR will only run in HDR if the setting is active in Windows as well. Specifically, the toggle which says 'Play HDR games and apps'. If you want to view HDR movies on a compatible web browser, for example, you'd also need to activate the 'Stream HDR Video' setting. These settings are shown below. Also note that there's a slider that allows you to adjust the overall balance of SDR content if HDR is active in Windows. This is really just a digital brightness slider, so you lose contrast by adjusting it. The balance of the image was better than some screens whilst displaying SDR content with HDR enabled. But you lose adjustment to settings such as gamma and brightness. We'd recommend only activating HDR in Windows if you're about to specifically use an HDR application that requires it, and have it deactivated when viewing normal SDR content on the monitor.



For simplicity we'll focus on our two key test titles for this section; Battlefield V and Shadow of the Tomb Raider. We've tested a large number of HDR monitors with these titles and know they're good at highlighting strengths and weaknesses in HDR performance. With the monitor and its capabilities being the limiting factor. Our testing here is focused on HDR PC gaming using DisplayPort, but we made similar observations when viewing HDR video content on the Netflix app. There are some additional points to bear in mind if you wish to view such content. We made similar observations using HDMI, which would be used when viewing HDR content on an HDR compatible games console for example. Testing on both our Nvidia and AMD GPUs confirmed that the HDR implementation was similar in both cases, too. Under HDR you can't change presets or adjust things like gamma or brightness – which is locked at 'Peak White (nits) 1400'. You can adjust the colour channels, however. Unlike some implementations, the HDR on this model has good neutral sharpness – with the high pixel density providing a naturally strong performance there without an artificially oversharpened look.
The ASUS PG32UQX is VESA DisplayHDR 1400 certified. This is the highest VESA DisplayHDR certification level currently offered. Focusing first on the colour gamut, this certification level requires a minimum 95% DCI-P3 coverage. In this case we recorded 97% DCI-P3 with significant extension beyond DCI-P3 in some regions. With such generous DCI-P3 coverage and a good push towards the longer-term Rec. 2020 target for some shades, the monitor presented strong vibrancy where the developers intended it to be. There were some very lush and deep-looking green shades well beyond the boundaries of sRGB (and indeed DCI-P3 in some cases). Whilst more muted shades appeared in-place and natural, without the somewhat neon appearance observed using the native gamut under SDR. On both Battlefield V and Shadow of the Tomb Raider there were some really nice licks of vibrancy. This included very rich orange flames, some intensely vivid red painted objects and some rather striking purple and blue flowers. Meanwhile, skin tones plus earthy and woody browns appeared appropriately neutral without the red push observed under SDR. The enhanced dimming precision, which we'll come onto shortly, also helped invite good levels of depth to many shades.


Colour gamut 'Test Settings'

The VESA DisplayHDR 1400 level requires a relatively complex local dimming solution with good precision as well as a high peak and sustained luminance. That is offered by the 1152-zone Mini LED backlight, achieving a 1713 cd/m² peak luminance and 1230 cd/m² sustained luminance under HDR in our testing. Earlier, we explored the local dimming capability with respect to SDR in the 'Variable Backlight' section. This is controlled in a similar way under HDR and we again found 'Level 2' the best balanced overall. This is just our preference, as with SDR, and some may be happy using 'Level 3' (the most 'aggressive' setting) for some content. The local dimming is much more reactive and dynamic under HDR, with more intense luminance changes owing to the much greater peak luminance levels achieved. Bright elements such as explosions, roaring flames and even the moon in the night sky were truly spectacular and stood out very nicely against darker surroundings. With vastly superior overall depth to these dark elements than we'd typically see under HDR on a monitor. This 'pop' to the bright elements and overall contrast enhancement is something that could be appreciated even in a well-lit room – and for viewing comfort reasons and depending on sensitivity to brightness this might be preferred when using HDR in this case.

The HDR10 pipeline also makes use of 10-bits per colour channel, which this monitor supports either with true 10-bit or 8-bit + FRC (3840 x 2160 @144Hz with Full Range RGB). As we noted earlier, the end result is very similar with both and we wouldn't hesitate to use the full 144Hz at the native resolution. The enhanced precision this offers helps the monitor put its very generous gamut to good use. It also enhances the nuanced shade variety for both dark and bright shades. For dark shades, there's a natural uplift in detail due to the greatly enhanced subtle shade variety. Something you can't achieve under SDR with a gamma enhancement, giving a 'flooded' look instead. For bright shades there are much smoother subtle shade progressions, including the gradients used for smoke, weather and various lighting effects. The capabilities of the backlight further accentuated these differences due to the depth it gave to most darker content. And the ability to use appropriately bright to very bright to exceptionally bright luminance levels for most brighter content. The image below is taken from one of our favourite scenes on Shadow of the Tomb Raider for HDR testing. Remember that the photo is purely for illustrative purposes and in no way represents how the monitor appeared running HDR in person.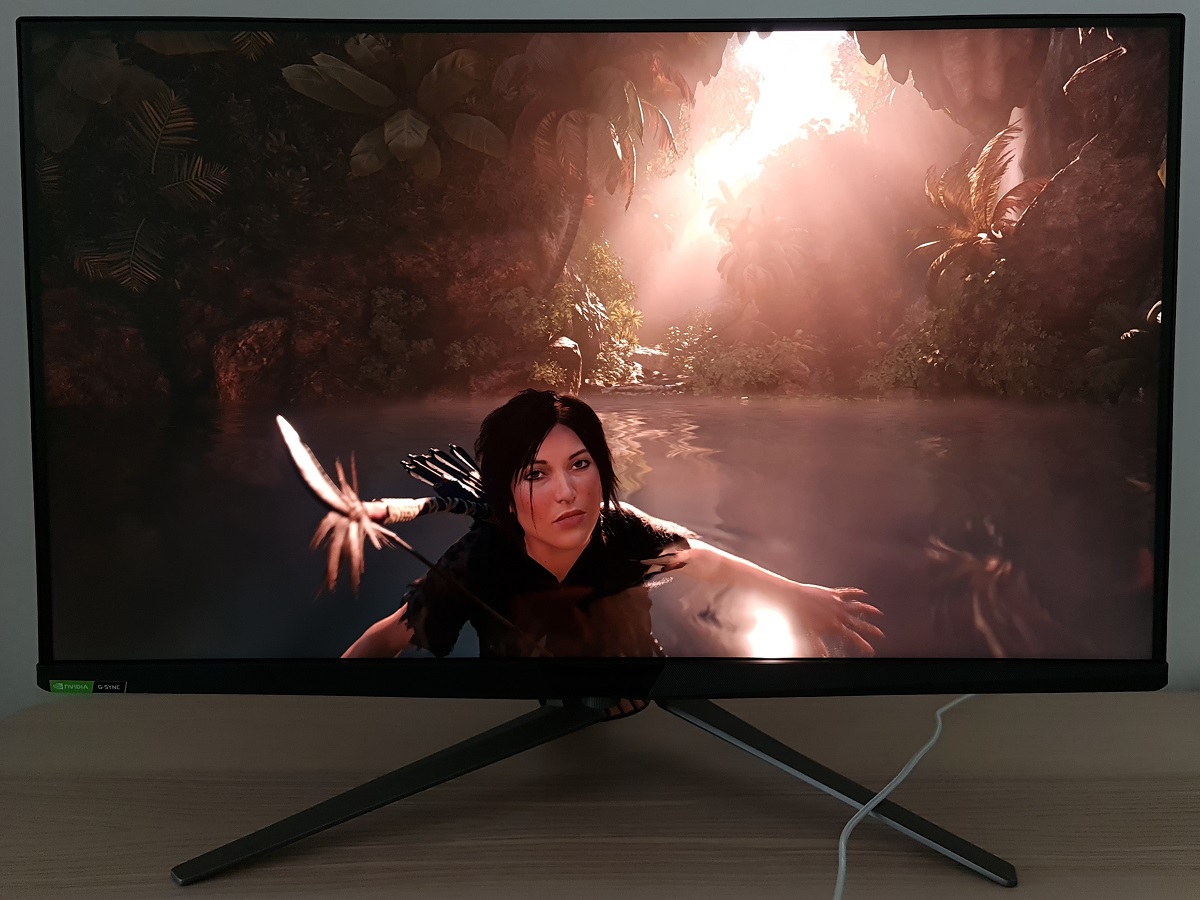 This scene highlighted the strengths of the monitor's HDR performance nicely. The enhanced nuanced shade variety was there as described earlier, for darker shaded sections and also the brighter elements. Particularly near the waterfall, with very fine gradients used for the spray and indeed light streaming in from above. The local dimming helped bring these bright elements to life, with the light glint on the water surface and streaming up from above exceptionally eye-catching. With a mixture of somewhat dimmer to much dimmer shades surrounding it. Even the shadowy areas of vegetation appeared with greater depth than would usually be seen due to the dimming zones there remaining relatively dim. In many scenes, including this one, there are also plenty of bright to medium shades which don't require extreme luminance levels but should still show a mixture of luminance levels. The effective local dimming helped give a nice natural and believable look to the sky and daylight cast on various objects, for example. Some scenes, which we explore in the video section shortly, show exceptionally deep dark shades and look very atmospheric indeed. The monitor is able to respond to HDR metadata. This tells the monitor that any dimming zones covering such elements should dim significantly – even if there are quite a few medium shades which would lift up luminance levels under SDR. The 10-bit processing and enhanced nuanced shade variety helps ensure subtle details are still visible.
It's worth being aware, though, that 1152 dimming zones is still a very small number when compared to the ~8.3 million pixels of the monitor. As we explored with respect to this dimming solution under SDR, it can't account for the most intricate mixtures of light and dark. Some dimming zones brighten themselves up a lot to account for some of the brighter content contained there. At the expense of any darker content also contained on that zone. And adjacent zones may be covering significantly dimmer content on average, so will be dimly lit in comparison. This forms a 'halo' or 'blooming' effect – and because of the extreme luminance levels used under HDR, this can be much more pronounced than under SDR. For most scenes we found this to be something we could happily ignore – although we certainly did notice it in places, even in a well-lit room. Even with this 'halo' effect for some shade mixtures, we found the overall HDR experience to be stunning and dramatic – something that really needs to be witnessed in person to be appreciated. We were more impressed in this respect than we've been with any other HDR monitor we've tested, including the PG27UQ with 384 dimming zones. It's something we very much enjoyed for both games and movie content. This is of course highly subjective and not everyone will be so quick to overlook such visual disturbances, but we've tested many monitors under HDR and found this one to be the most visually stunning and dynamic that we've witnessed to date. The HDR experience using various scenes from Shadow of the Tomb Raider is shown in the section of video review below.


The '4K' UHD experience
Our 3840 x 2160 '4K' UHD experience article explores the resolution from the perspective of a ~28" screen with a pixel density of 157.35 PPI (Pixels Per Inch). With its larger 32" screen size, the ASUS delivers a pixel density of 137.68 PPI – somewhat lower but still high for a monitor. This still gives a distinct '4K' look to suitably high-resolution content, the sort of look described in the article. This includes high resolution image and video content. This sort of look is not provided by models with a significantly lower pixel density, including 27" 2560 x 1440 (WQHD) models. The larger size of the screen also lends itself well to viewing without requiring as much scaling or application-specific zoom compared to the 28" '4K' screen used as an example in the article. We found the screen very useable without any scaling at all from our preferred viewing distance of ~70 – 80cm. This provided an excellent level of 'desktop real-estate' and great multi-tasking potential, with strong text clarity. Individual preferences will vary when it comes to scaling levels, but as noted in the article the high pixel density is still vitally importance when it comes to text representation regardless of this. So provided text scales 'cleanly' (it does in most cases), the strong clarity and 'crisp' look is there all the same. The following 4 images show the screen on the desktop natively (100%, no scaling) and a small amount of scaling applied (125%). The final image shows the monitor beside a 27" WQHD model, both running without scaling.
Note that these images are just for illustrative purposes and don't accurately reflect how the monitor appears in person. Any banding and patchiness on solid backgrounds are artifacts in the image, not observed in person.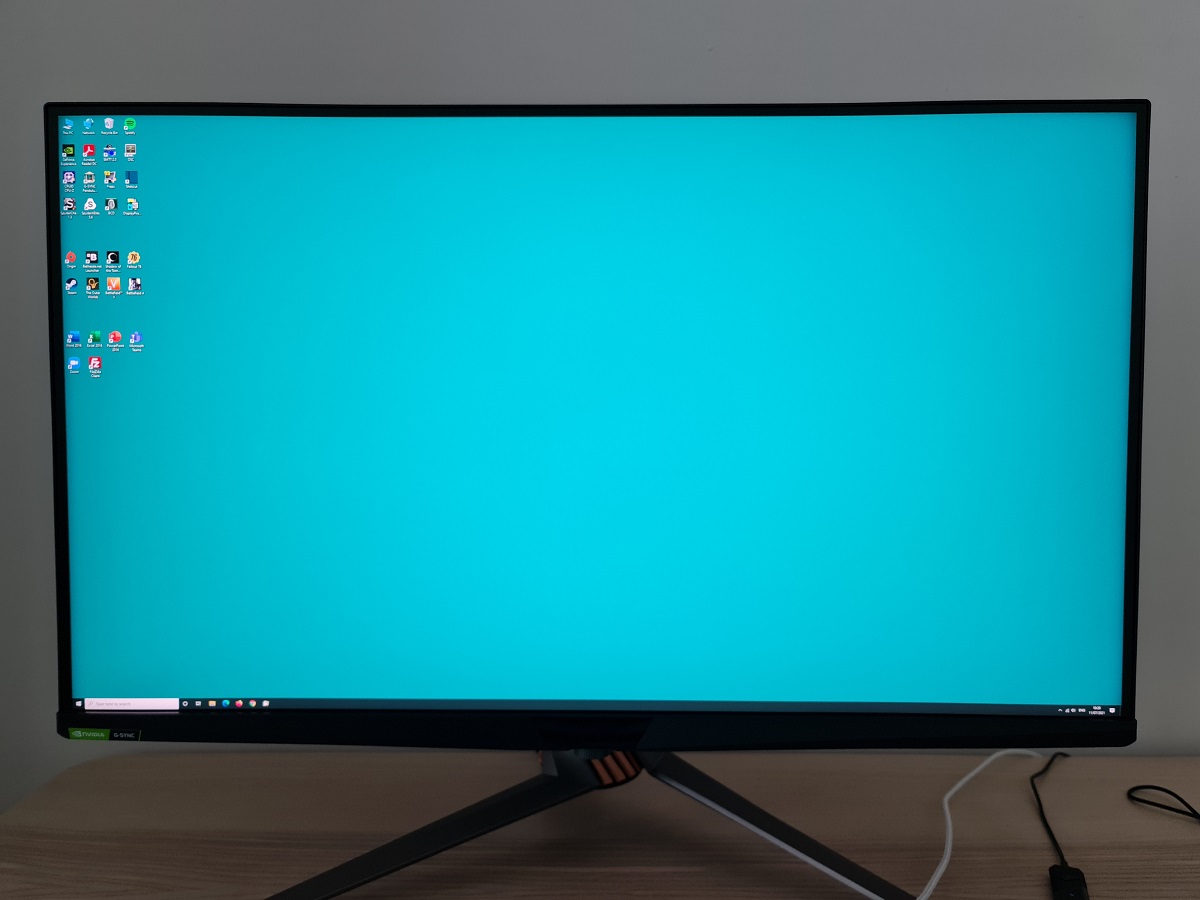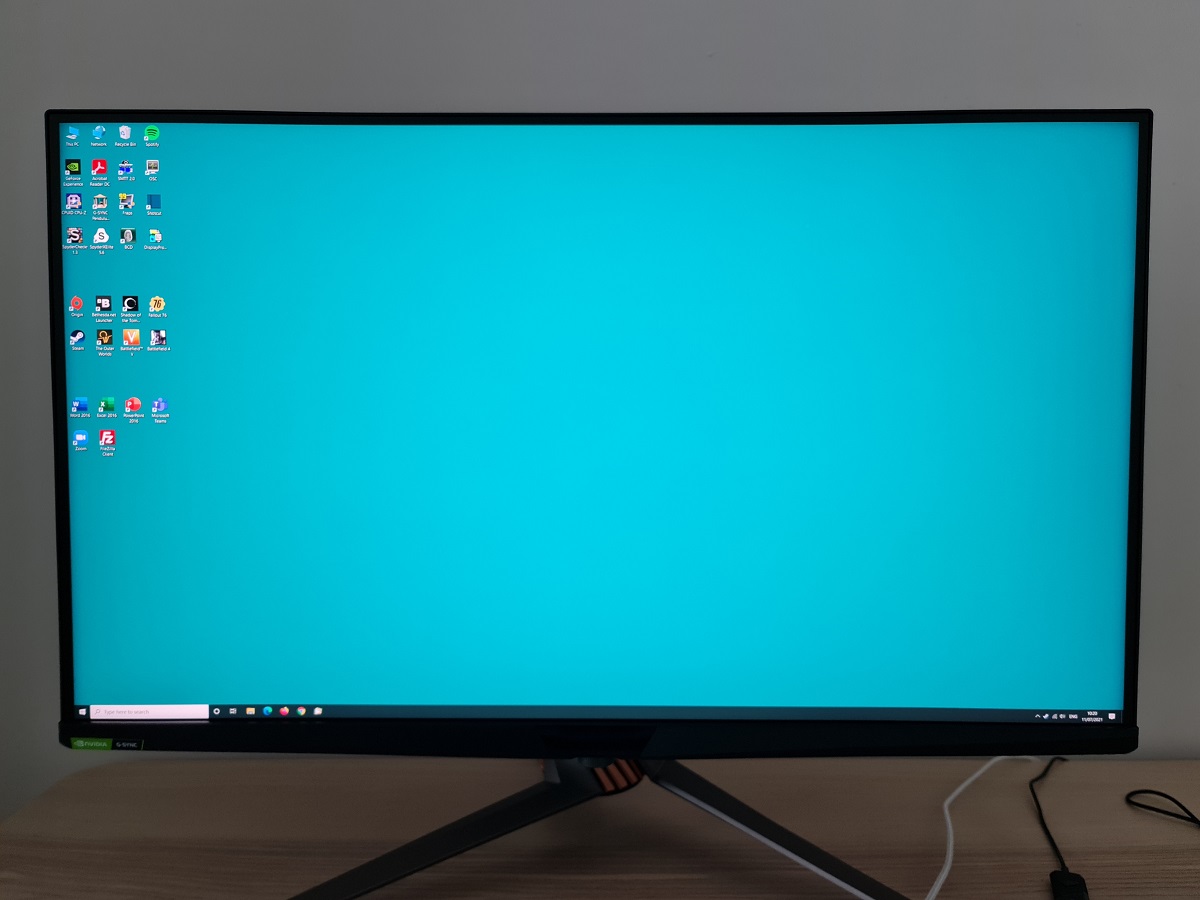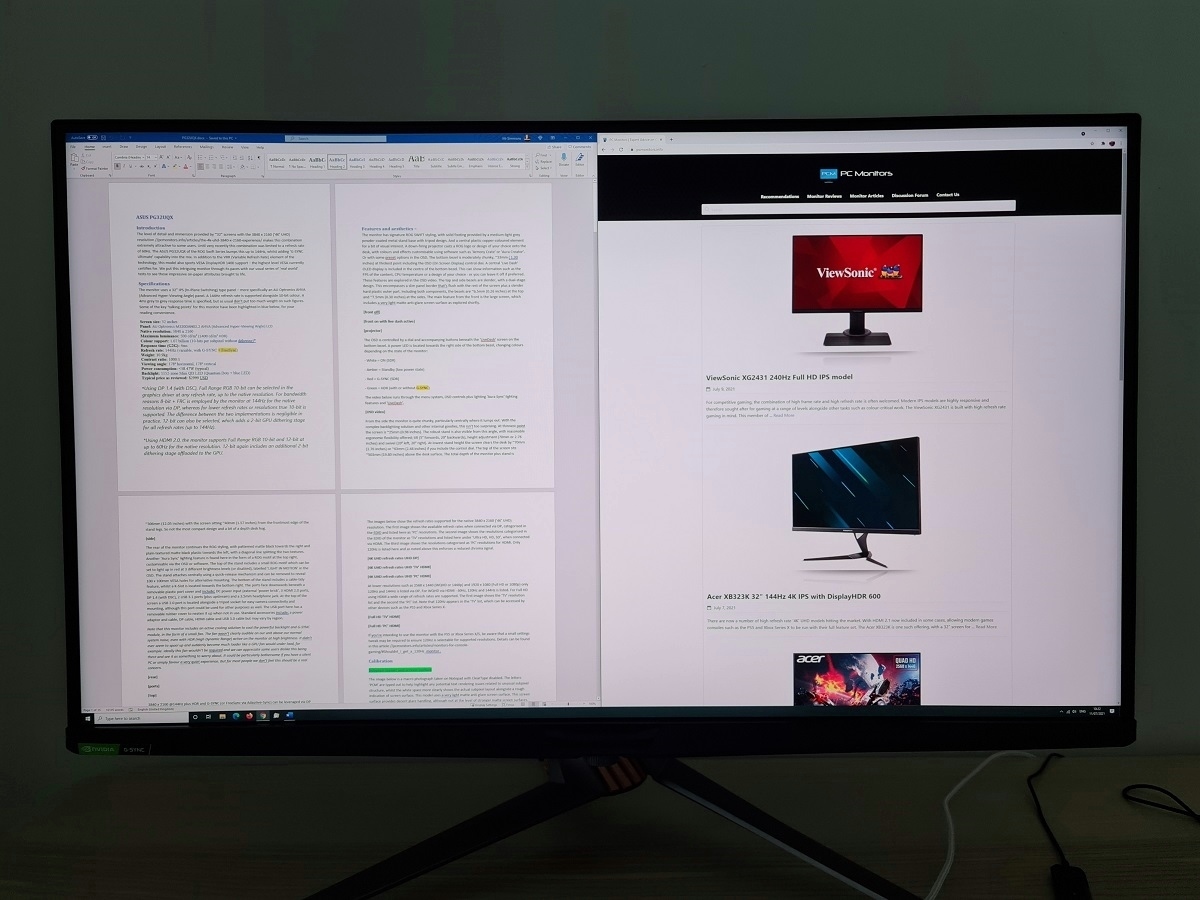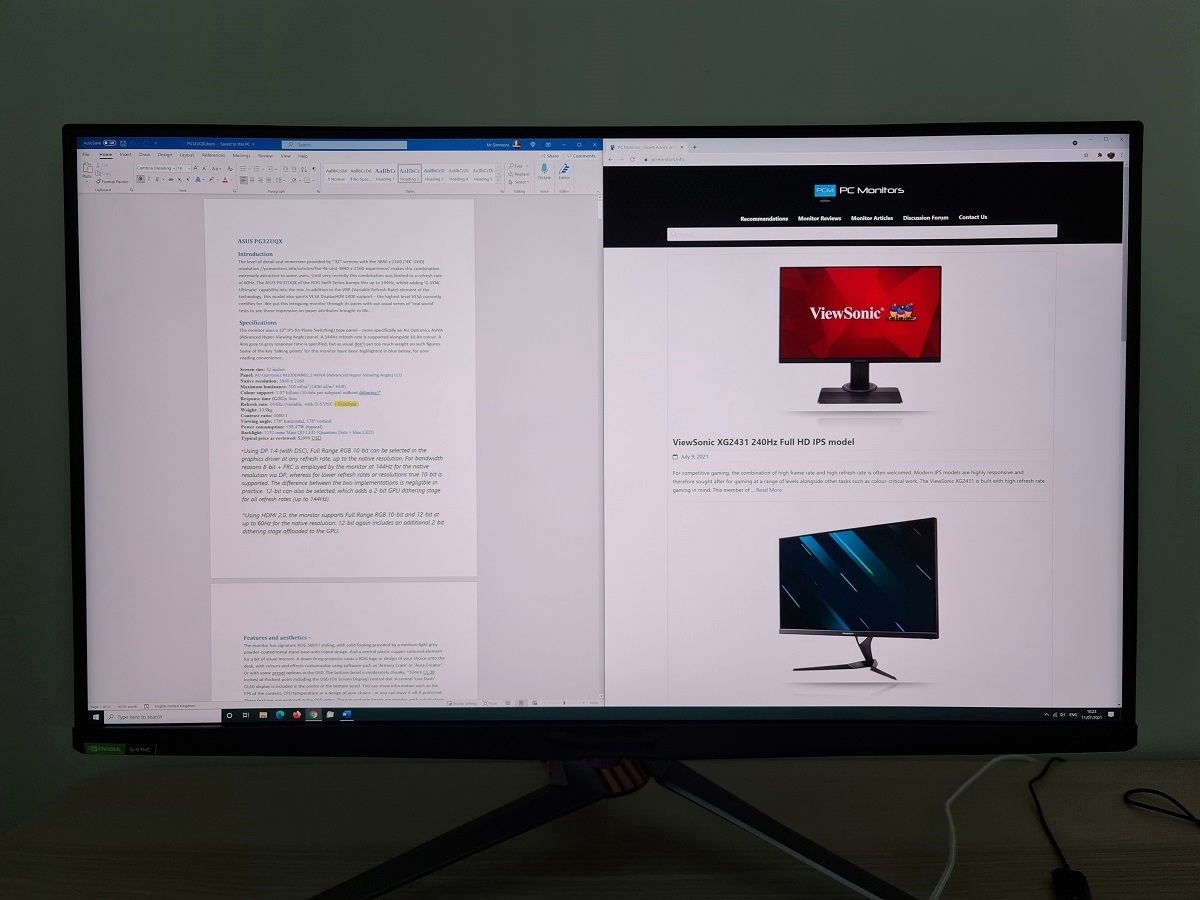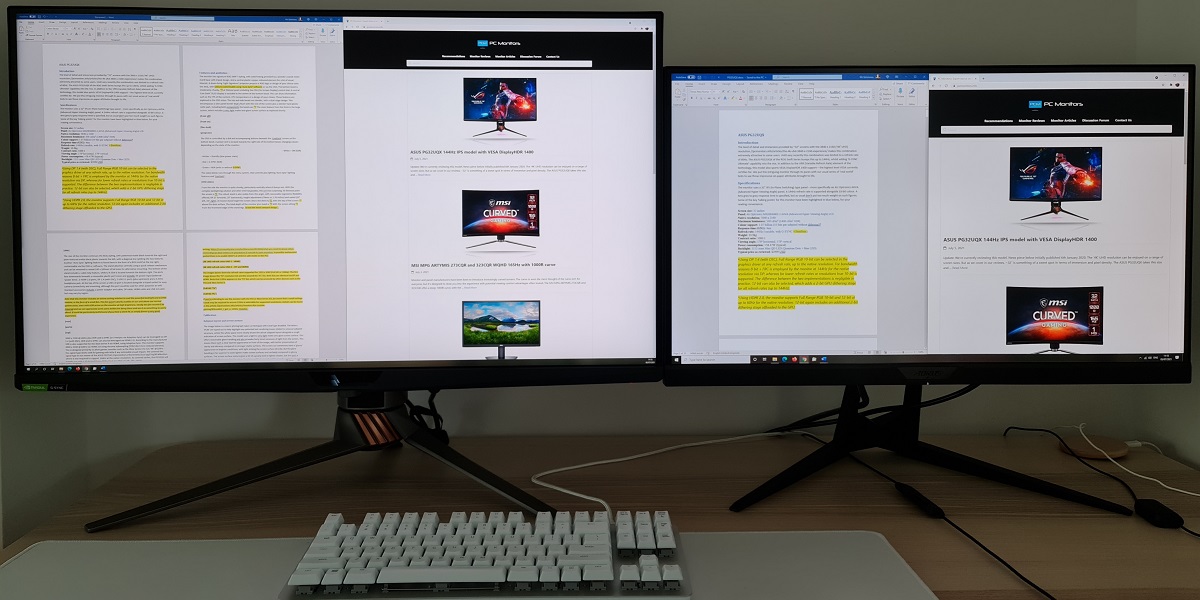 The 32" '4K' UHD experience was also something we enjoyed when gaming. The large screen provides strong immersion, but was not something we found overwhelming from our preferred viewing distance. The large screen also facilitated sitting a bit further back from the screen than you might do with significantly smaller screens. The high pixel density provided a well-defined and clear look to objects that was quite in-line with what we described in the article. Something that was certainly well beyond what would be observed on models with significantly lower (but still quite respectable) pixel densities such as 27" WQHD models. It was also nice seeing these detailed game scenes spread out across a relatively large area. There were benefits even for less graphically impressive game titles, with a distinct look to objects and a certain clarity as you look into the distance on the game. Things naturally became even more impressive with more graphically demanding titles or with the graphics settings ramped up, with high-resolution textures and lighting effects benefiting from the pixel density. The images below show the monitor running various game titles at the native resolution. These are purely for illustrative purposes and in no way indicate how the monitor appears in person.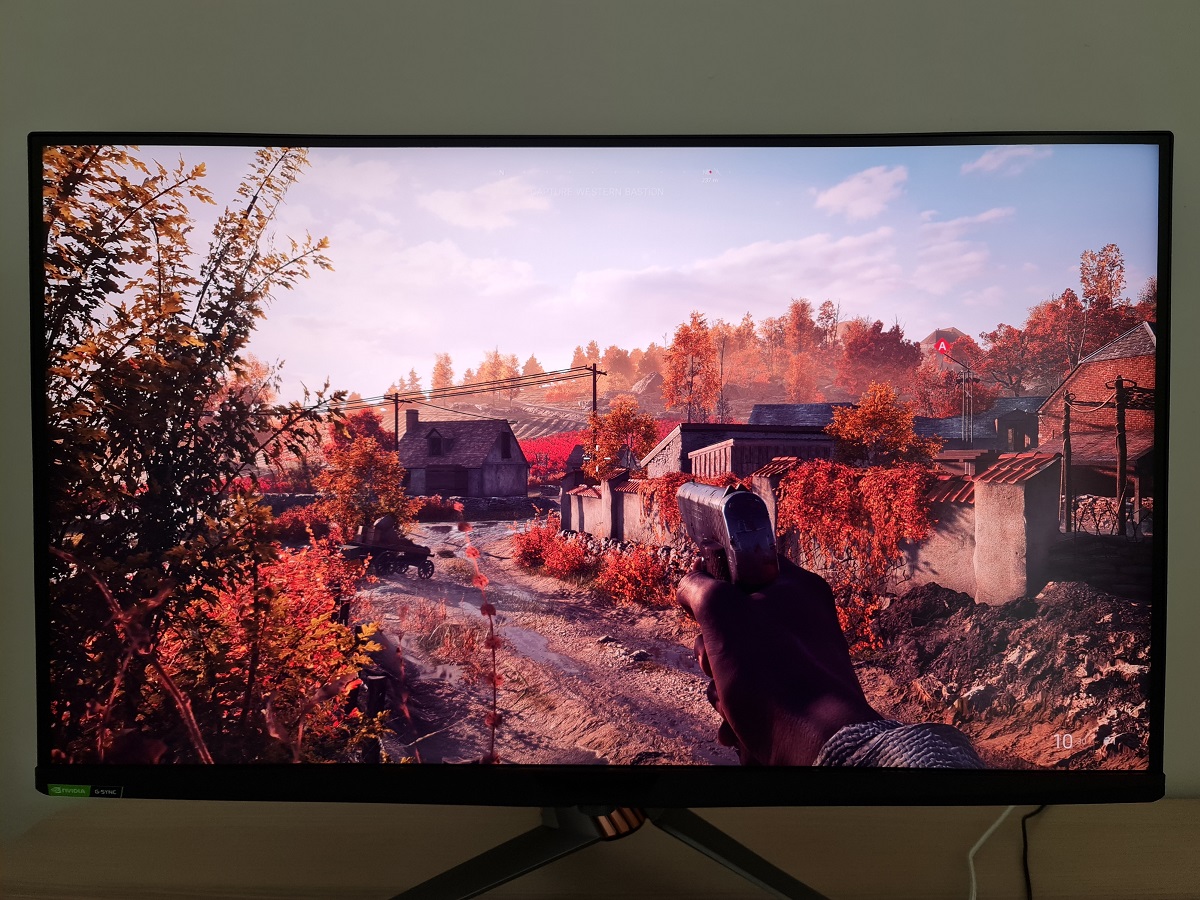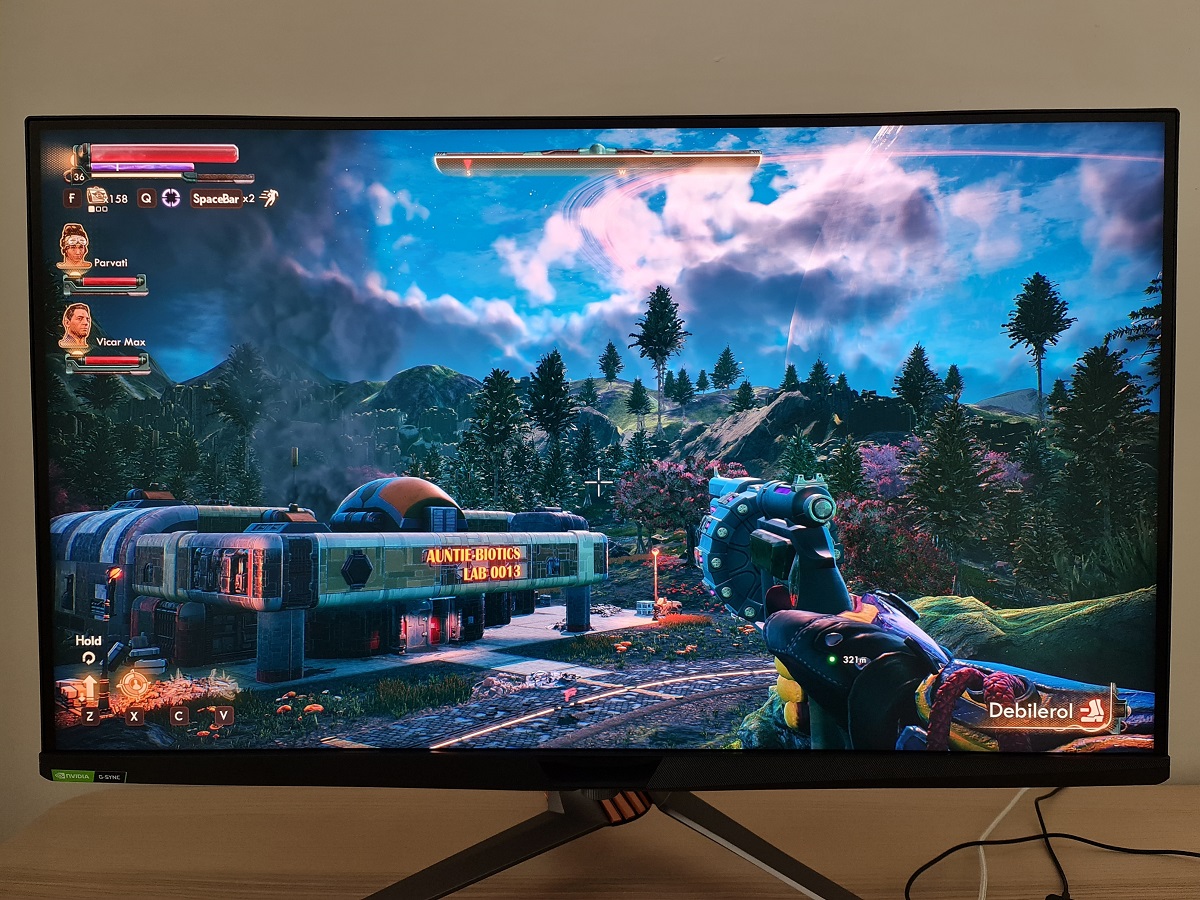 Interpolation and upscaling
3840 x 2160 ('4K' UHD) is a taxing resolution, so it may be preferred to run graphically intensive tasks (including some games) at lower refresh rates. Or a drop in resolution may be necessary as you're using a device such as games console that doesn't run at the '4K' UHD resolution. The monitor can use an interpolation (scaling) process to map lower resolutions such as 1920 x 1080 ('1080p' Full HD) onto all 3840 x 2160 pixels. As a PC user, you need to make sure the GPU rather than monitor is handling the scaling. For AMD GPU users the monitor will handle the scaling by default, when gaming at non-native resolutions. Nvidia users should open the Nvidia Control Panel and navigate to 'Display – Adjust desktop size and position'. They should ensure that 'No Scaling' is selected and 'Perform scaling on:' is set to 'Display' as shown below.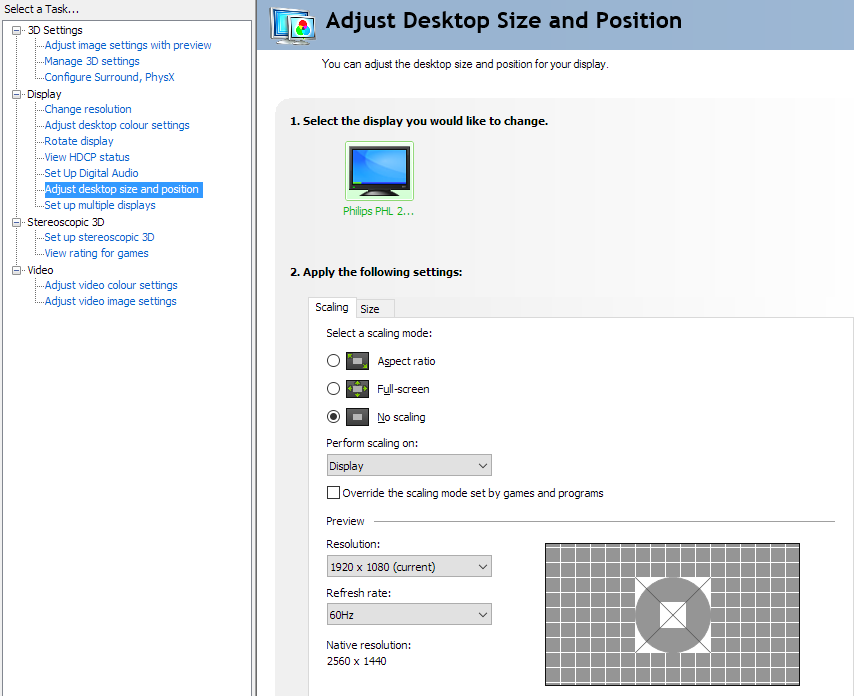 As usual for a monitor with G-SYNC module, the scaling options are rudimentary. In 'Aspect Control' in the 'Image' section of the OSD allows you to select either 'Aspect' or 'Full'. 'Aspect' is designed to use as many pixels of the screen as it can, whilst respecting the aspect ratio of the resolution selected to avoid stretching or distorting. 'Full' will use all pixels of the screen regardless of the aspect ratio of the resolution selected. When running the monitor at either 1920 x 1080 (Full HD or 1080p) or 2560 x 1440 (WQHD or 1440p), the interpolation process gave a bit of a softer look to the image compared to running that resolution natively on a screen of this size. This was not extreme softening, particularly at the WQHD resolution. Unlike some models you can't adjust sharpness or apply any sort of sharpness filter, which some may find useful to help fine-tune the interpolated image to taste. But things appear to be quite well-optimised as they are. We'd generally advise dropping other graphics settings before touching the resolution, but if you need to drop the resolution or you're forced to do so then this monitor does still handle that fairly well.
As usual, if you're running the monitor at 3840 x 2160 and viewing 1920 x 1080 content (for example a video over the internet or a Blu-ray, using movie software) then it is the GPU and software that handles the upscaling. That's got nothing to do with the monitor itself – there is a very small amount of softening to the image compared to viewing such content on a native Full HD monitor, but it's slight and shouldn't bother most users.


Video review
The video below summarises some of the key points raised in this written review and shows the monitor in action.





Timestamps:
Features & Aesthetics
Contrast
Variable Backlight (Desktop)
Variable Backlight (In-game)
Colour reproduction
HDR (High Dynamic Range)
Responsiveness (General)
Responsiveness (G-SYNC)


Conclusion
With a 32" screen size and '4K' UHD (3840 x 2160) combination, the ASUS PG32UQX delivers a detailed and immersive experience. This is a combination we really appreciate for both work and play. Whilst some will admire them, it's fair to say that the quite bold ROG styling elements, lighting features and 'Live Dash' display won't be universally appreciated. Although we might've preferred a simpler design that's less of a desk hog, the monitor certainly had a solid feel with its large powder-coated metal stand base. And decent ergonomic flexibility was provided with a comprehensive OSD – controlled in a novel way, but one we soon adapted to. Most of our time was spent appreciating the monitor whilst it was switched on, however.
The monitor provided a generous colour gamut and very flexible and well-implemented sRGB emulation setting. The contrast performance was generally above average for the panel type, with decent static contrast and somewhat subdued 'IPS glow'. But the real magic happened by using the 'Variable Backlight' setting, allowing its 1152 dimming zone Mini LED backlight to be employed. This was a bit hit and miss on the desktop, but far more enjoyable to use for more dynamic content such as games and movies. This was really brought to life under HDR, with an experience that was nothing short of spectacular in that respect. Exceptional bright elements, very deep dark elements and an exceptional gamut of colours all displayed at the same time. There were some issues with 'halos' in certain scenarios, but we found these undistracting and for us it didn't take anything away from the overall experience.
The G-SYNC module worked as intended – including when accessed with an AMD GPU via Adaptive-Sync (FreeSync). Input lag was low with the variable backlight setting disabled. And the monitor certainly provided plenty of benefit from its 144Hz refresh rate. There were some niggling weaknesses in pixel responsiveness in places, so it isn't a model we could give our blessing for when it comes to more competitive gaming. But it was certainly better in that respect than most high refresh rate VA models – and fine for more casual gaming, in our view. Given the high price of the monitor some may be seeking real strength in all areas and a pretty much faultless experience. That's not delivered, regardless of price. If you're after stronger responsiveness with the same screen size and resolution, perhaps consider something like the Gigabyte AORUS FI32U. But when it comes to delivering an exceptional HDR experience, highly effective local dimming for both HDR and SDR and very generous colour gamut – the PG32UQX is the one you want. If you can afford it.
| | |
| --- | --- |
| Positives | Negatives |
| Strong colour consistency, generous gamut (for Adobe RGB and DCI-P3) and excellent sRGB emulation mode | Intermediate gamut setting such as DCI-P3 emulation mode could've been useful |
| Little layering and fairly direct light emission from screen surface, effective local dimming and exceptional HDR output | Some 'IPS glow' ate away at detail and atmosphere, largely eliminated using 'Variable Backlight'. Some 'halos' in places |
| G-SYNC module worked effectively, as did the 144Hz refresh rate – delivered with low input lag | Pixel responses were quite weak for some transitions and input lag was increased with 'Variable Backlight' feature (still reasonable) |
| Pleasing screen and resolution combination, a solid feel and reasonable ergonomics with distinctive styling elements some will appreciate | Undeniably expensive, lighting features and 'Live Dash' could be considered gimmicky and chunky and bold styling quite divisive |
The bottom line; an immersive and highly vibrant experience with exceptional HDR to boot – but very expensive with some niggling pixel response time weaknesses.PC Monitors

As an Amazon Associate I earn from qualifying purchases made using the below link. Where possible, you'll be redirected to your nearest store. Further information on supporting our work.



Donations are also greatly appreciated.