Samsung U24E590D and U28E590D – UHD Adaptive-Sync
April 14, 2015

Categories:
In this article and various reviews, we've explored how variable refresh rate technologies can help provide a smoother gaming experience than fixed refresh rates when the frame rate varies. We've also explored the 3840 x 2160 '4K' Ultra High Definition resolution and indeed how demanding it can be on modern games titles with detail settings turned up a bit. It goes without saying that combining these two technologies is something that really makes sense. The Samsung U24E590D (LU24E590DS long designation) and U28E590D (LU28E590DS long designation) do exactly that, aiming to deliver a smoother gaming experience when your frame rate dips below 60fps. Aesthetically both models feature a similar design to the U28D590D. This includes the tilt-only faux-metal T-shaped stand and JOG button (joystick) for intuitive control of the menu system. The stand neck has been redesigned to be a little sturdier (it isn't just black in place of silver).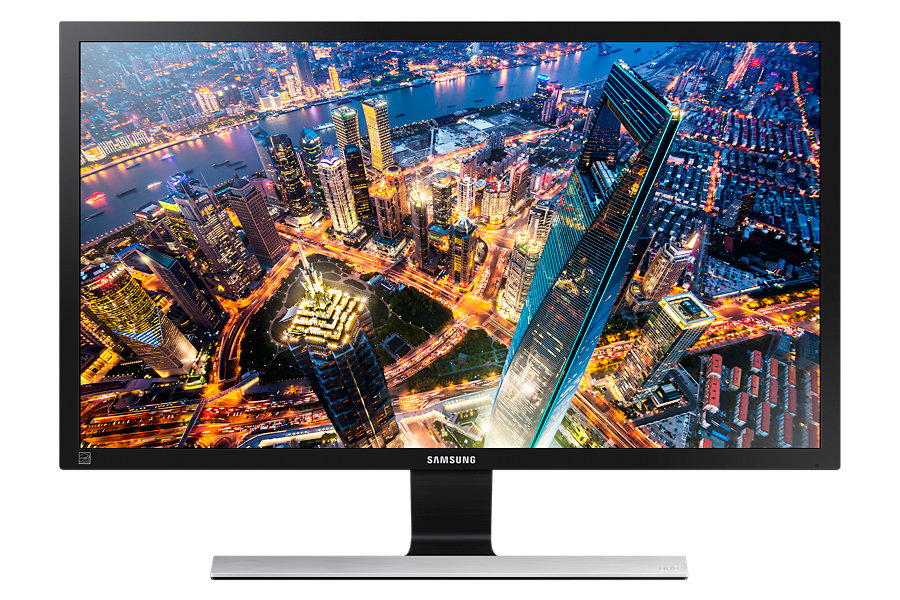 Both models share the same 60Hz (variable with Adaptive-Sync) refresh rate and 3840 x 2160 '4K' UHD native resolution. Matte anti-glare screen surfaces are also used, which should be fairly light (i.e. not overly grainy). The 28" (U28) model uses the same panel as Samsung's previous 28" UHD offering, the InnoLux M280DGJ-L30 which is a TN (Twisted Nematic) panel. This offers 170°/160° horizontal/vertical viewing angles and has a 370 cd/m² typical maximum brightness. The 23.6" (U24) model uses a Samsung PLS (Plane to Line Switching) panel with 178°/178° viewing angles and a typical maximum luminance of 300 cd/m². Static contrast is 1000:1 on both models and both use a flicker-free WLED backlight which offers ~sRGB colour space without wide colour gamut support. The U28 offers 10-bit colour support (8-bit + FRC dithering) whilst the colour support of the U24 is 8-bit without dithering. Regardless of these numbers, it is almost certain that the colour consistency and perceived accuracy of the smaller model will be superior.
The larger model has a specified 1ms response time whilst the smaller model has a 4ms specified response time. Our experience with monitors using the same panel as the U28 and a similar panel to the U24 safely suggests that you can ignore these figures, however. 'Game Mode' (a.k.a overly sharp and saturated mode) features on both models, as do some more useful features such as the 'Eye Saver Mode' Low Blue Light setting and PIP/PBP support. The ports include; HDMI 1.4, HDMI 2.0, 'DP 1.2a+' (with Adaptive-Sync support) and a 3.5mm headphone jack. The HDMI 2.0 port and DP 1.2a+ port support 3840 x 2160 @ 60Hz whilst the HDMI 1.4 port is restricted to 3840 x 2160 @ 30Hz. The 'DP 1.2a+' port has Adaptive-Sync support, meaning it can be used with AMD's FreeSync variable refresh rate technology. Both monitors are fully FreeSync certified. The operating range for the variable refresh rates is currently unknown but we'd expect 45-60Hz to avoid disappointment. Note that unlike the previous model, VESA holes are now included. These 75 x 75mm VESA holes are found at the rear of the monitor, around the Samsung logo near the top. The included stand has a sturdier neck which mounts slightly higher up, too, so it should be a little sturdier.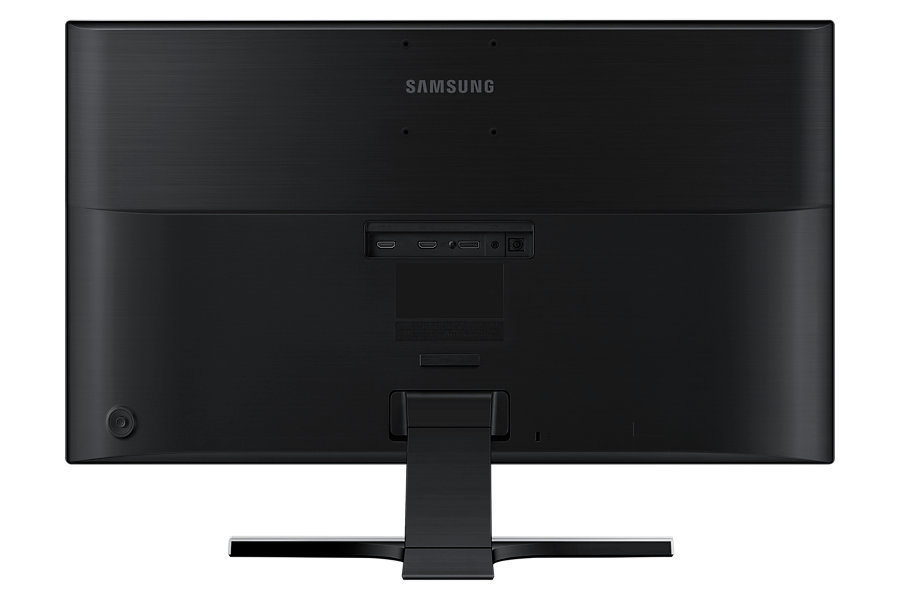 Further information can be found on certain regional Samsung websites, such as this one (in German). The monitors are available in limited quantities globally, with UK prices at around £360 inc. VAT ($400) for the smaller model. The availability certainly hasn't been as we'd hope for at this stage and neither has the review sample provision by Samsung. We hope to provide a review of at least one of these models if there is sufficient demand, but we're still waiting for the manufacturer to sort their samples out.