Samsung S24E390HL and S27E390H AD-PLS monitors
April 16, 2016

Categories:
Update: The 27″ model uses hybrid dimming, as below. Our review of the 23.6″ model is now online. News piece below initially published 1st January 2015.

Never one to shy away from bold and expressive styling, Samsung always seems to come out with something a little new and a little different. The S24E390HL and S27E390H are, as the model numbers suggest, evolutions of the impressive SD390 series of AD-PLS monitors. In fact it seems, aesthetically, to be something of a conglomeration of both the SD390 and SD590 series. There are 'ice-alcohol' Touch of Colour accents, which are essentially touches of a transparent dark-blue PVC-free plastic. This contrasts with the more turquoise colour used on the SD390 series. The bezels are very thin not just at the top and sides but also the bottom. A 'JOG button' (joystick) is included as an intuitive OSD (On Screen Display) controller.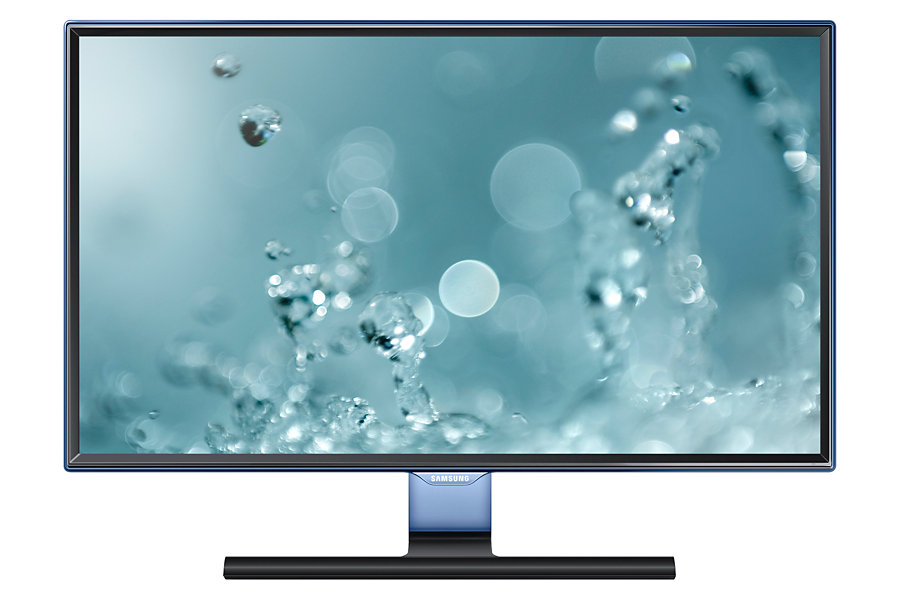 Of course there is more to a monitor than just an interesting face. These models use 23.6" (S24) and 27" (S27) AD-PLS (Advanced Plane to Line Switching) panels. These are essentially Samsung's take on LG's latest generation AH-IPS (Advanced High Performance In-Plane Switching) panels with similarly strong colour consistency and 178°/178° viewing angles. Both models are Full HD (1920 x 1080) with 60Hz refresh rates and 1000:1 typical static contrast. The typical maximum brightness of the 23.6" model is 250 cd/m² and for the 27" model is 300 cd/m². Both models feature a relatively light (i.e. not overly grainy) matte anti-glare screen surface and the usual 6-bit + FRC dithering colour processing. The backlights are flicker-free WLED, using DC (Direct Current) rather than PWM (Pulse Width Modulation) for brightness regulation. This applies at all brightness levels on the 23.6″ model, but only above a brightness of '30' on the 27″ model as this model uses hybrid dimming (PWM below '30', DC above). These backlights provide approximate coverage of the sRGB colour space.
There are a few additional features, most notably the 'Eye Saver Mode' Low Blue Light setting, which aims to lessen visual fatigue and improve evening viewing comfort by reducing blue light output from the monitor. The 'Game Mode' also makes a return, although that isn't a feature we've been too impressed with so far. A 4ms grey to grey response time is specified, which is an entire millisecond faster than the old model. Of course, as we explore in our reviews and elsewhere, this figure alone is completely meaningless – if Samsung does what they did with the SD390 series then there is nothing to worry about in terms of pixel responsiveness. Another new feature is the extremely catchy 'Eco Saving Plus Auto Mode', but it isn't entirely clear what that does other than dimming the screen a bit to save energy.
The SE390 models feature similar ports to the SD390 models. There is a DC power input (external 'power brick'), VGA port, HDMI port and 3.5mm headphone jack. The stand of the monitor is tilt-only and attaches to the rear of the monitor using a proprietary mount. There are no VESA holes, which is something that's all too common on modern Samsung models with their fixed stand designs. Further information on the S24E390HL and S27E390H can currently be found on Samsung's Chinese website. Variants with white rather than black glossy plastics and turqoise rather than dark blue accents, the S24E360HL and S27E360H, are also being produced. The SD390 models are now available in the US and are due for release in the UK at the end of May for ~£150 and ~£190, respectively. We also aim to review at least one of these models when we can.