As is said time and time again on this website, monitors are very subjective things. And no monitor is perfect. Put those things together and it can clearly be very difficult to give absolute recommendations that will apply to every user. We choose to review monitors in as much detail as we do because we feel that it is necessary, to paint an accurate and complete picture of performance. Having said that, we appreciate that users can sometimes be left feeling confused and perhaps overwhelmed, even after having a good read of some of our reviews. To help highlight the best models that we review, a select few are given a special "Recommended PC Monitor" badge as shown below.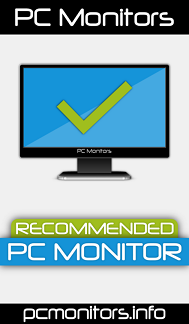 This badge is given to those monitors which we found particularly enjoyable to review and that we feel really stand out amongst other competitors for various reasons. The criteria for gaining the 'recommended badge' differs from the looser criteria used for the 'recommendations section' in the following ways:
– We must deem the product to be average or above in terms of 'quality control' for its segment, which will be based upon user feedback and not just our own experiences.
– Whilst models in the 'recommendations section' may be listed based on significant positive user experiences, the 'recommended badge' is more personal and is only awarded based on our own expectations and positive experiences when reviewing the monitor.
Gaining this accolade doesn't automatically make for a perfect monitor – there's no such thing. And if a model doesn't gain this badge, it doesn't make it a bad monitor – it may still be very well suited to certain users or excellent if you get a 'good unit'. The price may also fall to levels which makes the product more appealing in terms of value than when we reviewed it. This is just an extra seal of approval and an easy way for users to see which models we particularly liked during the review and think are worthy of special consideration.
We reserve the right to withdraw this badge from monitors which were initially given this merit. This may happen if user feedback suggests significantly poorer than average 'quality control' or a high prevalence of issues which did not affect our review sample. This accolade was introduced to our reviews from 2017 onwards and retrospectively added to select earlier reviews as far back as 2015.