Author: Adam Simmons
Date published: November 3rd 2019

Introduction
27" models with a 2560 x 1440 (WQHD) resolution and high refresh rate offer exactly the sort of experience many gamers are after. The ViewSonic XG270QG hits this sweet spot, sweetening the deal with a generous colour gamut, Nano IPS panel and support for Nvidia G-SYNC. The full fat version, that is, with the integrated G-SYNC module. We put this ELITE gaming monitor through its paces, seeing how it performs in our usual suite of tests. Gaming is naturally a key focus of ours, but we also look at the broader desktop experience and movie watching as well.


Specifications
The monitor uses an LG Display Nano IPS (In-Plane Switching) panel with support for a 165Hz refresh rate, 2560 x 1440 resolution and 10-bit colour (8-bit + FRC dithering). The 'Nano' designation for the IPS panel refers to an enhanced phosphor coating used to enrich the colour gamut. A 1ms grey to grey response time is specified, an aspect of the specification which as usual you shouldn't pay too much attention to. Some of the key 'talking points' for this monitor have been highlighted in blue below, for your reading convenience.


Panel:
LG Display LM270WQA variant Nano IPS (In-Plane Switching) LCD
Native resolution:
2560 x 1440
Typical maximum brightness: 350 cd/m²
Colour support:
1.07 billion (8-bits per subpixel plus dithering)*
Refresh rate:
165Hz (variable, with G-SYNC)
Weight: 7.7kg (including stand)
Contrast ratio: 1000:1
Viewing angle: 178º horizontal, 178º vertical
Power consumption: 90W (high brightness)
Backlight: WLED (White Light Emitting Diode)
Typical price as reviewed: Not available ($675.99 USD MSRP)

*The G-SYNC module doesn't support 10-bit colour output, although the panel supports internal processing (dithering). Dithering stages at the panel level are complex and can still be used regardless of the signal bit depth as a sort of 'enhancement'. Very few users should concern themselves with this, simply be aware that if you've got a 10-bit workflow you won't be able to use a 10-bit signal.
As an Amazon Associate I earn from qualifying purchases made using the below link. Where possible, you'll be redirected to your nearest store. Further information on supporting our work.


Features and aesthetics
The monitor offers a 'stealthy' appearance, a subdued aesthetic rather than an ostentatious 'gamery' aesthetic. This is shared with other models in the ELITE series. The stand base combines black powder coated metal for most of the upper surface with a brushed black metal front section. The design of the stand base is sleek – with the base components being broad but low to the desk. The monitor offers dual-stage bezels, including a reasonably slender panel border that's flush with the rest of the screen and a slim hard plastic outer component. Including both components, the bezels are ~8mm (0.31 inches) at the top and sides. The bottom bezel is thicker with the panel border almost entirely hidden by the matte black plastic bezel – ~25mm (1 inch). A set of detachable shading hood wings are included, referred to as 'Sight Shields'. These are designed for privacy during competitive gaming environments where other gamers are sitting beside you, making it far more difficult or impossible for them to see the action on your screen. It's easy to attach or detach these wings and adjust their angle.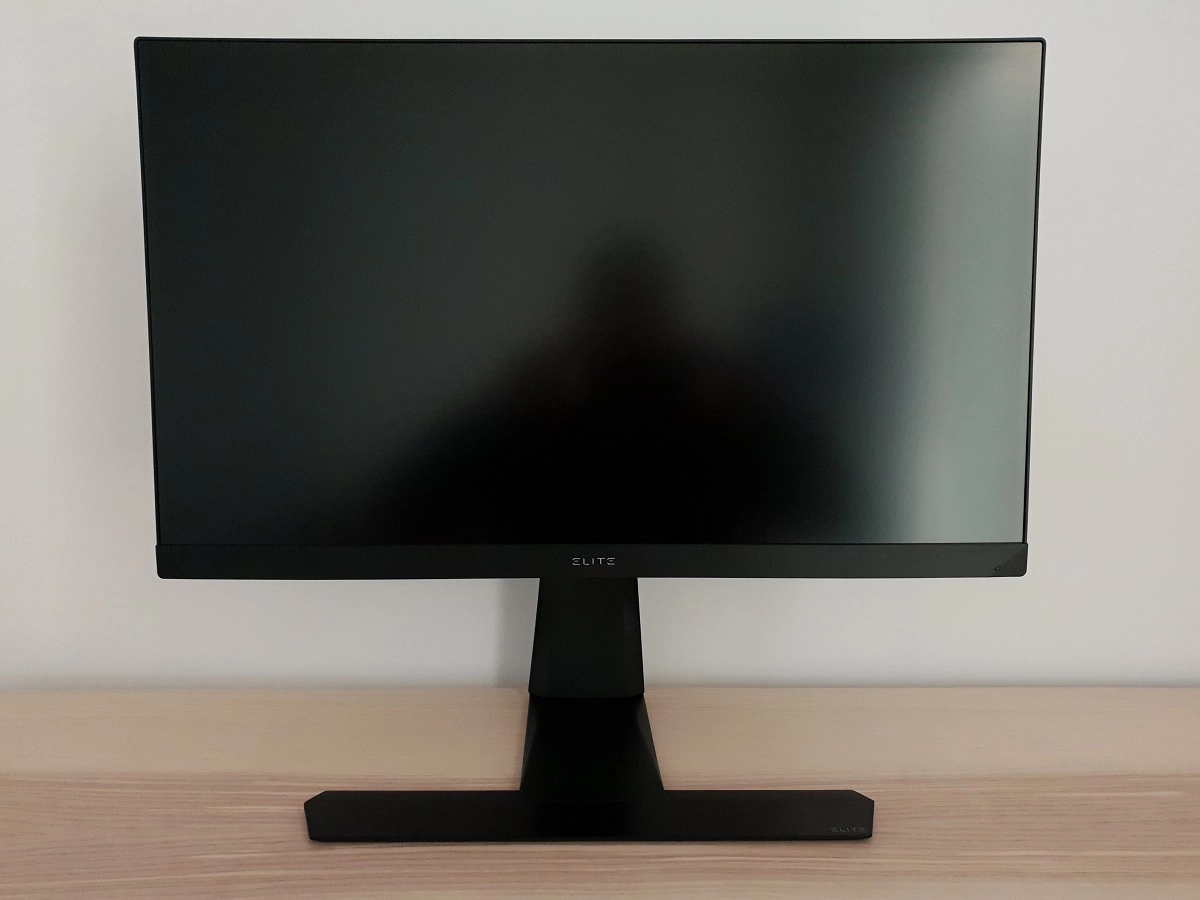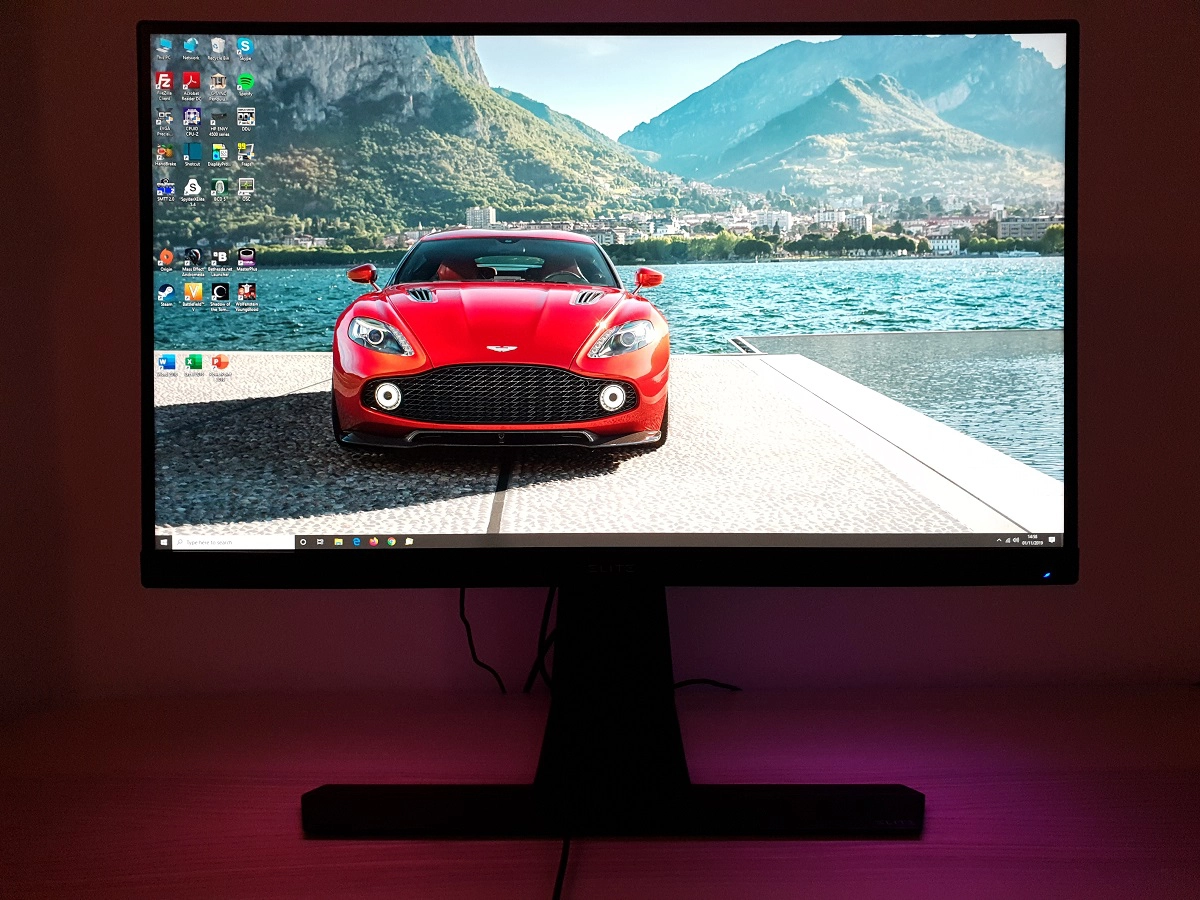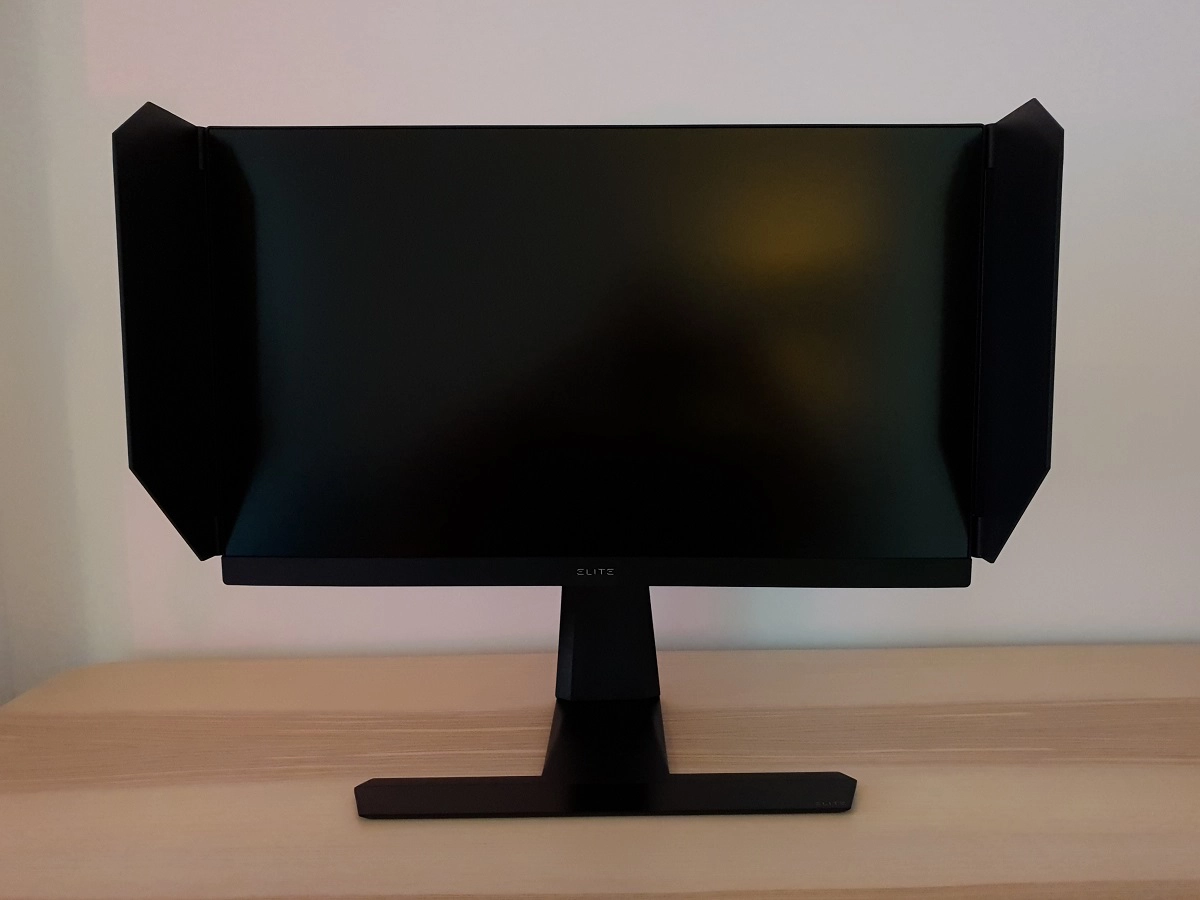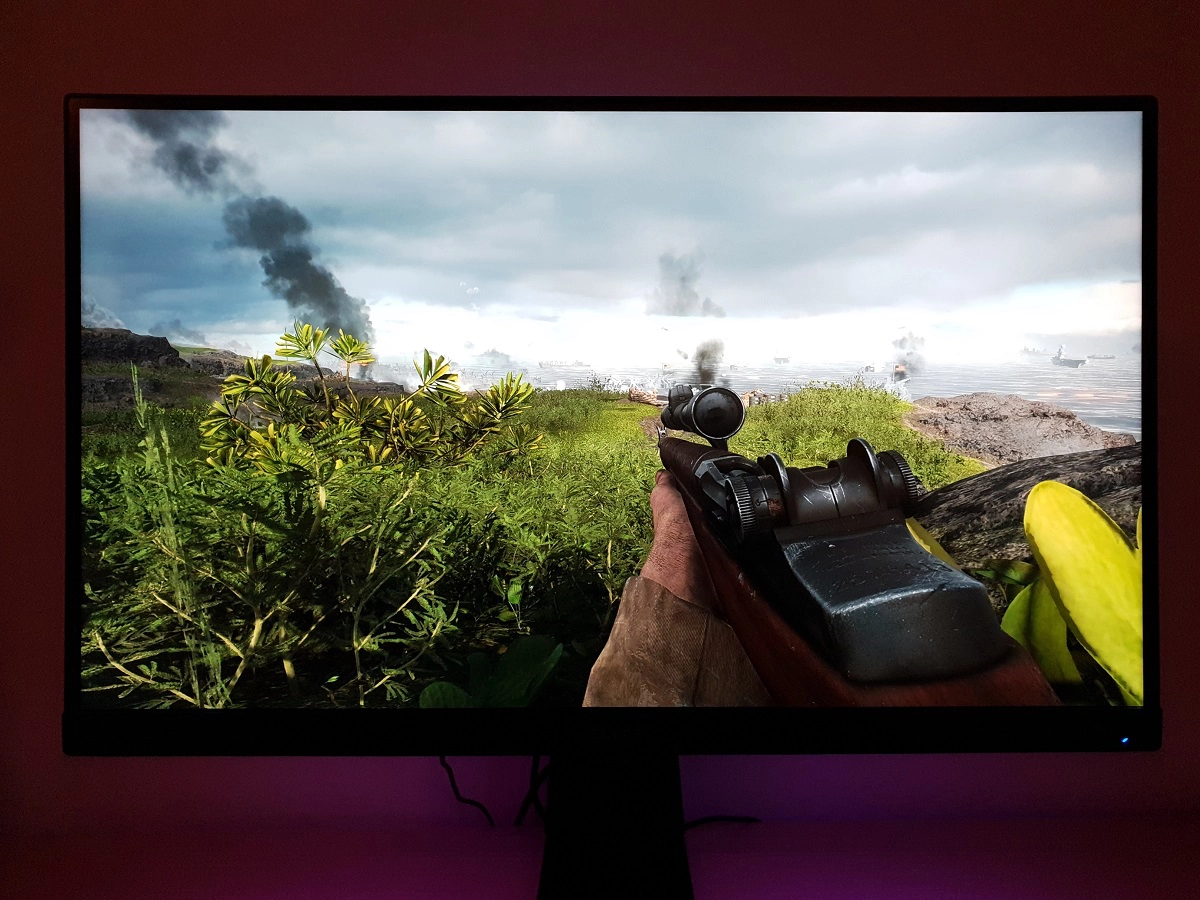 The OSD (On Screen Display) is controlled by a central joystick, facing downwards beneath the 'ELITE' logo on the bottom bezel. There's a small 'diagonal slit' style power LED towards the bottom right of the bottom bezel, running diagonally upwards. This glows blue when the monitor is on and amber when it enters a low power state (signal to the system is lost). The video below runs through the OSD and also shows the 'ELITE RGB' lighting feature of the monitor. This lighting feature includes a hexagonal ring of RGB LEDs at the rear and 10 RGB LEDs on the underside of the monitor. This can be controlled using various software utilities, as detailed on this page and in the video.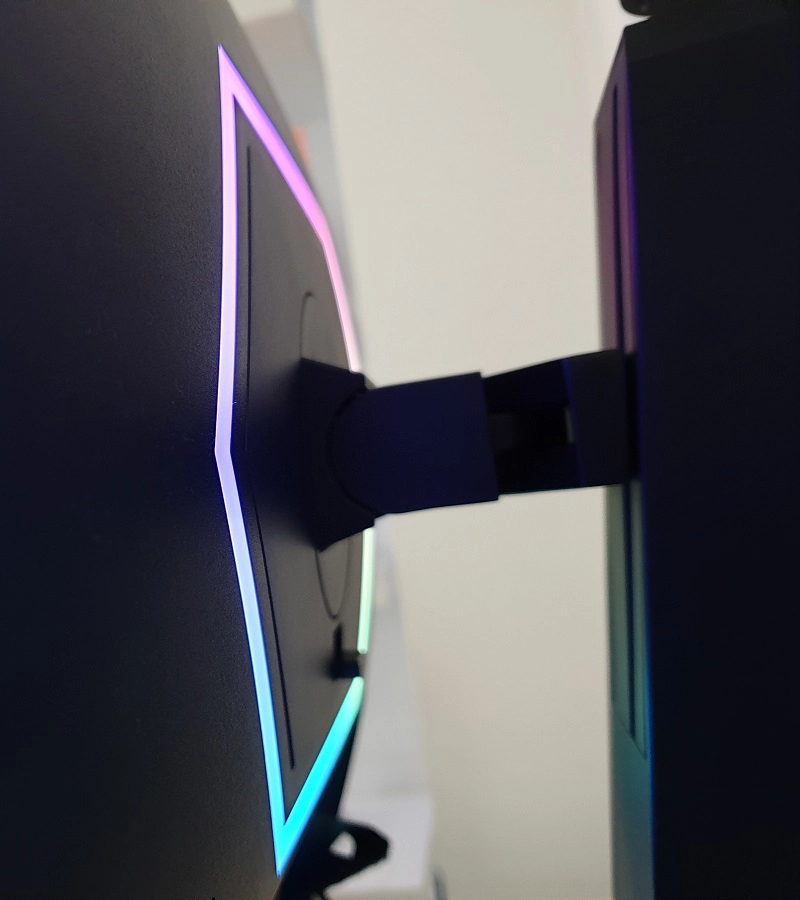 From the side the screen is reasonably slender, 21.5mm (0.85 inches) at thinnest point and lumping out towards the stand attachment point. The monitor has quite a robust stand neck, with this plus the stand base offering a solid footing. The stand offers good ergonomic flexibility with quite smooth adjustments; tilt (5° forwards, 20° backwards), height adjustment (120mm or 4.72 inches), swivel (45° left, 45° right) and pivot (90° clockwise or anti-clockwise rotation into portrait). At lowest height, the screen clears the desk surface by ~90mm (3.54 inches) with the top of the screen ~460mm (18.11 inches) above the desk. The total depth of the monitor including stand is ~265mm (10.43 inches) with the screen a little over an inch behind the front edge of the stand base.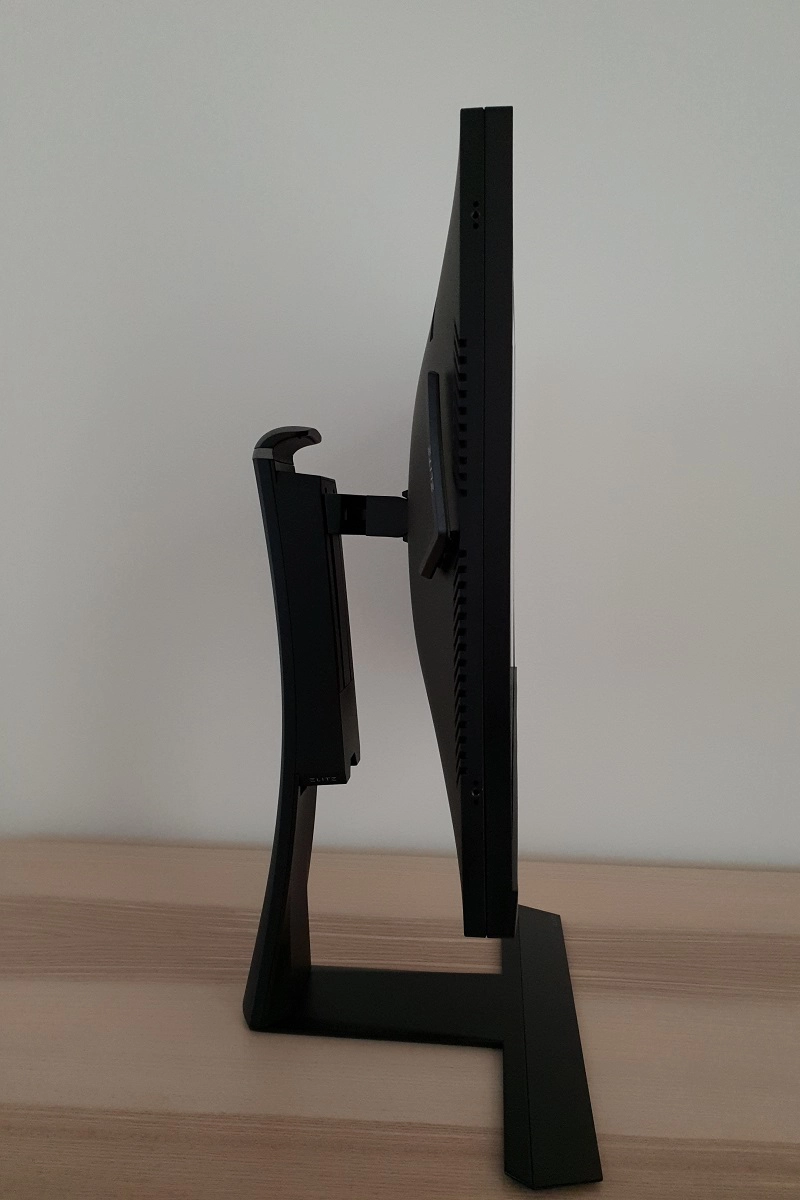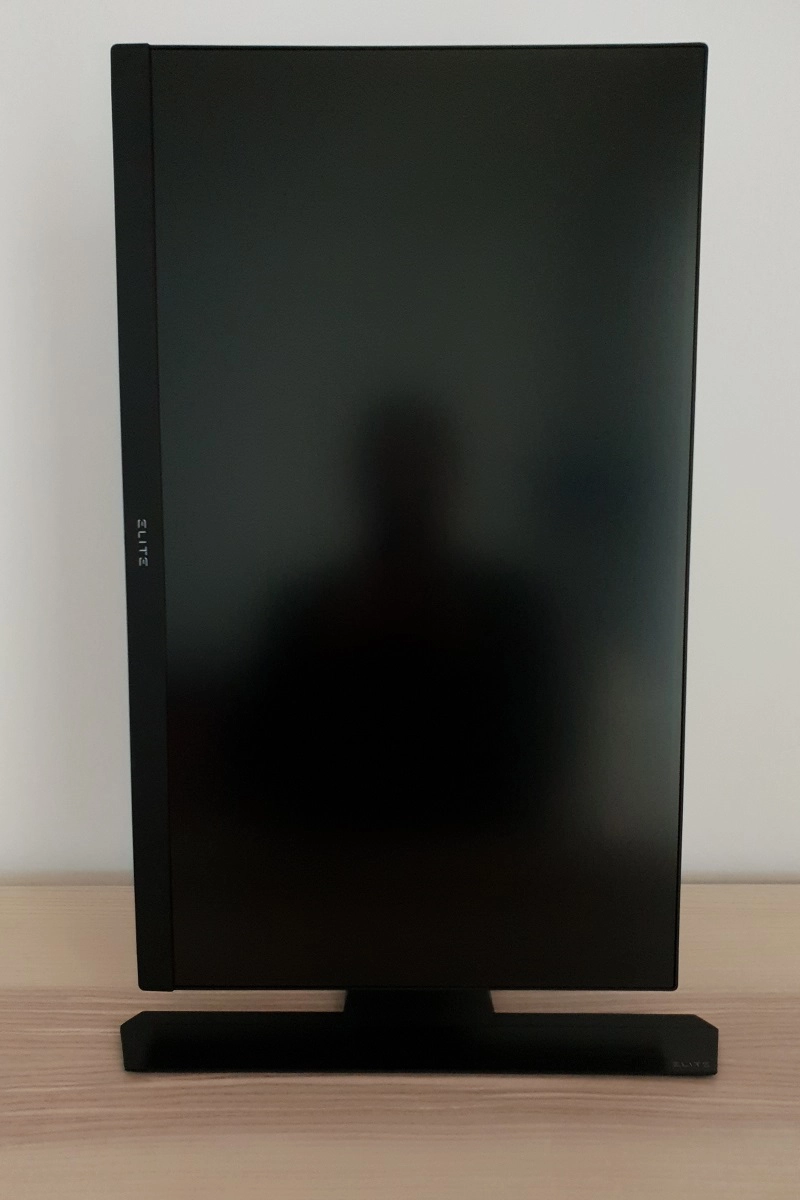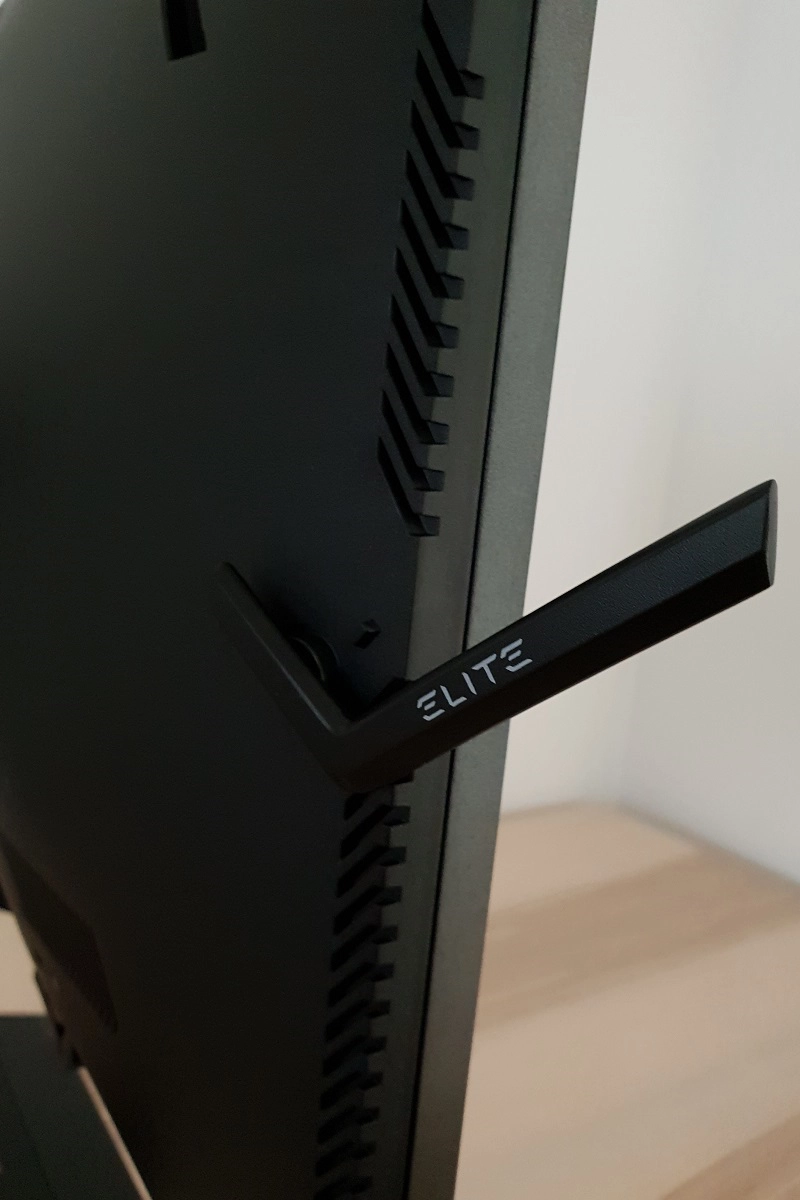 The rear of the monitor is mainly matte black plastic. Some key features to note here include a flip-out headphone hook towards the right (as viewed from the rear) and two further 'hooks' at the bottom of the screen, one either side of the stand neck. These are flip-down mouse anchors which keeps your mouse cable in place – if you like your mice with wires. They have a grippy rubber texture and small 'teeth' to grasp onto the mouse cable. The hexagonal 'ELITE RGB' ring as explored in the OSD video is another predominant feature at the rear, surrounding the stand attachment point. The stand attaches using a quick-release mechanism and can be easily detached to make room for an alternative 100 x 100mm VESA compatible solution. The stand neck has a cable-tidy loop towards the bottom, whilst there's a K-slot to the right of the stand neck. The ports face downwards and include; DP 1.2a, HDMI 1.4, a 3.5mm headphone jack, 3 USB 3.0 ports (plus upstream) and a DC power input (external 'power brick'). 2 x 2W integrated speakers are also included, with backwards-facing speaker grilles. These offer basic sound output. Better than quite a few integrated speakers and with decent volume, although some distortion at higher volumes and not the purest or most bass-rich sound. Quite usable and nice to have in a pinch.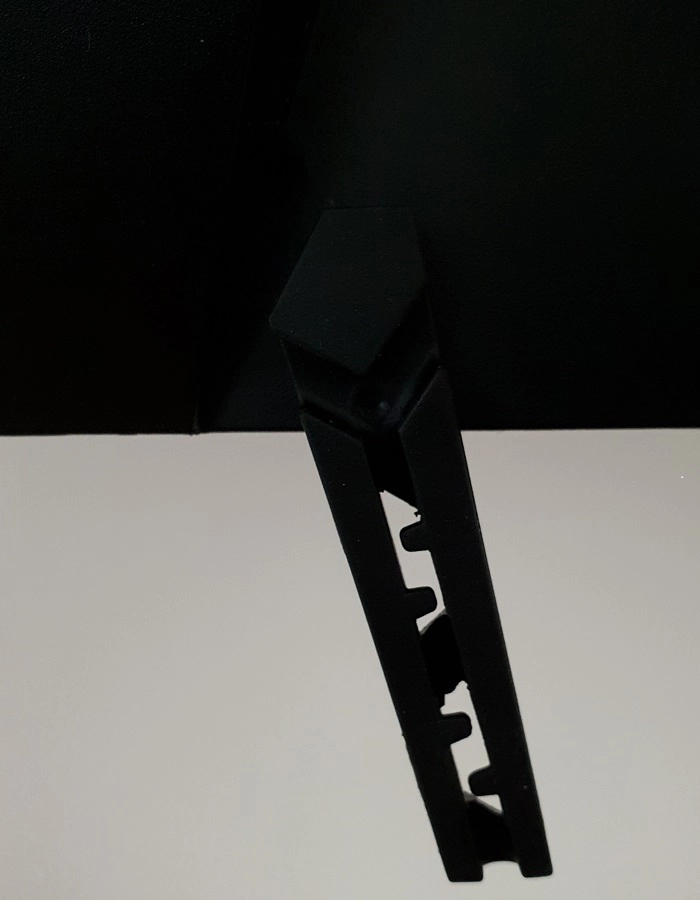 The full capabilities of the monitor including the 165Hz refresh rate and G-SYNC capability can be leveraged on compatible systems via DP 1.2. The HDMI 1.4 port is there for compatibility with devices such as games consoles and is limited to 60Hz at the native resolution.


Calibration
Subpixel layout and screen surface
The image below is a macro photograph taken on Notepad with ClearType disabled. The letters 'PCM' are typed out to help highlight any potential text rendering issues related to unusual subpixel structure, whilst the white space more clearly shows the actual subpixel layout alongside a rough indication of screen surface. This model uses a light matte anti-glare screen surface with a relatively smooth texture. This offers respectable glare handling, whilst diffusing light emitted from the monitor less than stronger matte screen surfaces. This offers better preservation of clarity and vibrancy, whilst avoiding an obvious grainy appearance to lighter shades such as white. There is just a very light misty grain to very light shades, avoiding anything close to a course grainy appearance or 'sandy' look.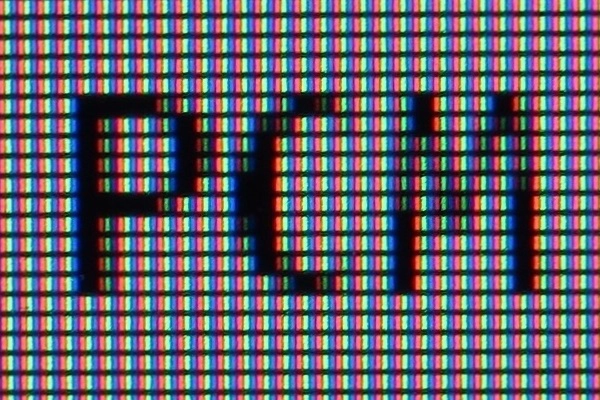 As shown above, the monitor uses the usual RGB (Red, Green and Blue) stripe subpixel layout. This is the typical layout expected by modern operating systems such as Microsoft Windows and Apple MacOS. You needn't worry about text fringing from non-standard subpixel layouts as a Mac user and don't need to run ClearType as a Windows user – although you may wish to run through the ClearType wizard and adjust according to preferences. The subpixel layout and arrangement is normal and we had no subpixel-related concerns related to sharpness or text clarity on this model.


Testing the presets
The XG270QG features various 'GameMode' presets; 'Standard', 'Custom 1', 'Custom 2', 'FPS', 'Battle Royale', 'MOBA', 'Console', 'Movie' and 'Web'. The first 3 modes are fully customisable, whilst the remaining presets simply set things in the OSD to various values and block off access to some of the key controls (including 'Dark Boost' and 'Response Time OD'). We'll therefore mainly focus on the 'Standard' setting and some manual adjustments for the purposes of this table, the other settings are briefly shown in the OSD video. The table below includes gamma readings taken using a Datacolor SpyderX Elite colorimeter alongside general observations. Our test system uses Windows 10 and an Nvidia GTX 1080 Ti, with the monitor connected using the supplied DP cable. The monitor is left in its default 'plug and play' state without additional drivers or ICC profiles specifically loaded and was left to run for over 2 hours before readings were taken for this table. Assume any setting not mentioned here was left at default. The refresh rate was also set to 165Hz, although the refresh rate did not affect observations in this table. When viewing the figures in this table, note that for most PC users '6500K' for white point and '2.2' for gamma are good targets to aim for.
Straight from the box the monitor provided a bright and vibrant image. There was a slight warm and green tint, but this was easily correctable with a few OSD adjustments. Gamma tracking was very good and remained so following the adjustments made to our 'Test Settings'. Various additional gamma modes are included and tracked appropriately to the given value. The gamma curve under our 'Test Settings' is shown below, sticking closely to the desired '2.2' curve. Given the strong performance with OSD adjustment alone, inter-unit variation and the intended uses of the monitor, we won't be providing any ICC profiles for this model or using them in the review.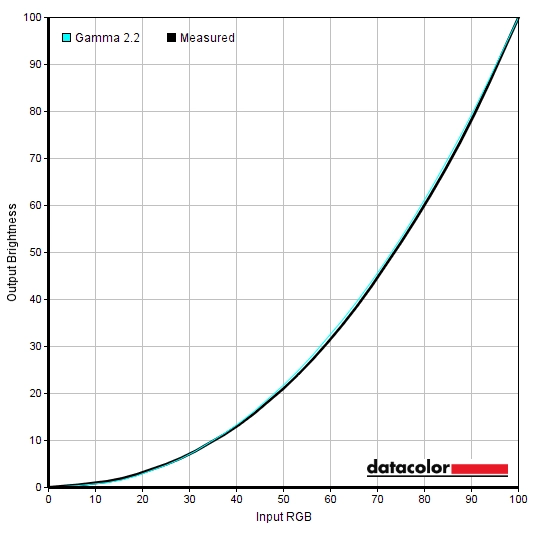 Gamma 'Test Settings'
The monitor also includes some Low Blue Light (LBL) settings. The most flexible of these is the 'Blue Light Filter' option, which can be set from '1' (very mild effect) to '100' (strongest effect) in single unit increments. Unlike some LBL settings, the green channel is weakened somewhat relative to the red channel – so the image appears warmer but doesn't have a green tint. The eyes generally adjust to the warm tint quite readily and things appear better balanced than under LBL settings with strong green tints. Minimising blue light exposure in the hours leading up to bed is important as blue light serves as an alertness signal and affects sleep hormones. We also appreciated how easy it was to activate or deactivate the setting using the 'Quick Access' button (button to the left or joystick, as covered in the OSD video). We used this setting for our own viewing comfort in the evenings, although not for specific testing beyond that involving the setting itself.


Test Settings
Our 'Test Settings' involved slight changes to colour channels and a significant brightness reduction using the default 'CUSTOM 1' preset as a base. The 'Standard' and 'CUSTOM 2' modes would work the same, provided everything is set up in the same way. For example, making sure 'Dark Boost' is disabled. Note that individual preferences and units of the same model vary, so these settings aren't going to be optimal in all cases and are just a suggestion. We also set the monitor to 165Hz in Windows using the integrated 'OverClocking' function of the display. We've also included our preferred 'Response Time OD' setting below, just for reference. Assume any setting not mentioned, including 'Contrast' and 'Gamma', was left at default.


Gaming Settings= CUSTOM 1
Response Time OD= Standard
OverClocking= 165 Hz
Brightness= 30 (according to preferences and lighting)
Color Temperature= User Color
R Gain= 98
G Gain= 97
B Gain= 100
Refresh rate (Windows setting)= 165Hz
Contrast and brightness
Contrast ratios
An X-Rite i1Display Pro was used to measure the luminance of white and black using various setting on the monitor, including those found in the calibration section. From these values, static contrast ratios were calculated. The table below shows these results, with bue highlights indicating the results under our 'Test Settings'. Black highlights indicate the highest white luminance, lowest black luminance and highest contrast ratio recorded (ULMB deactivated). Note that ULMB was tested here at '100' brightness and '70' contrast. The highest and lowest available Pulse Width (PW) settings were tested. Assume any setting not mentioned was left at default, with the exceptions already noted here or in the calibration section.
The average static contrast with only brightness adjusted was 833:1. This is a bit below the specified 1000:1, which wasn't reached with any setting on this table (outside of ULMB where the figures lack proper accuracy due to rounding). Although not documented on the table, the static contrast was not affected by refresh rate. We came straight from testing the AOC 24G2(U) to this. The AOC has the highest static contrast we've seen on an IPS-type model (~1400-1500:1) and has slightly lower than usual 'IPS glow' to boot. We did notice the drop in contrast coming from that to this – although comparing to a model with ~1000:1 static contrast (like the XG2703-GS under our 'Test Settings') would yield a far more subtle difference. Under our 'Test Settings' the contrast only dropped slightly, to 815:1. The highest white luminance recorded was 389 cd/m², whilst the minimum white luminance recorded (ULMB disabled) was 76 cd/m². This gives a luminance adjustment range of 313 cd/m² without loss of contrast, with a fairly bright maximum but a minimum that some sensitive users would find too high.
The monitor includes a Dynamic Contrast setting called 'Adaptive Contrast'. This allows the backlight to adjust (as one unit – no local dimming) to changes in scene brightness. The overall levels of dark and light on the screen. The luminance changes were subtle, with the user able to set brightness manually – the screen seemed to stick quite close to that level. There were some gamma changes with this mode active, too. Overall, we didn't feel it provided anything beneficial and didn't feel the gamma changes made were appropriate. The overall effect was quite subtle so most users wouldn't really notice if it was active or not – we'd recommend just leaving the setting off.


PWM (Pulse Width Modulation)
The monitor uses DC (Direct Current) to dim the backlight and does not use PWM (Pulse Width Modulation) at any brightness level. This is consistent with all G-SYNC models. The backlight is therefore considered 'flicker-free', which will be welcomed by users who are sensitive to flickering or worried about the side-effects of PWM usage.


Luminance uniformity
Whilst observing a black background in a dark room, using our 'Test Settings', we noticed some backlight bleed and clouding, towards the top and bottom left of the screen. clouding. It's important to remember that individual units vary when it comes to all aspects of uniformity, including backlight bleed and clouding. The following image was taken a few metres back to eliminate 'IPS glow'. This is a slightly warm golden or silver sheen which is most readily apparent from a normal viewing position towards the bottom corners of the screen. It 'blooms out' more noticeably from steeper angles, as demonstrated in the viewing angles video later on.




The SpyderX Elite was used to assess the uniformity of lighter shades, represented by 9 equally spaced white quadrants running from the top left to bottom right of the screen. The table below shows the luminance recorded at each quadrant as well as the percentage deviation between each quadrant and the brightest recorded point.



Luminance uniformity table
The luminance uniformity was reasonable overall. The maximum luminance was recorded at 'quadrant 5' at the centre of the screen (156.6 cd/m²). The greatest deviation from this occurred at 'quadrant 9' towards the bottom right of the screen (130.9 cd/m², which is 16% dimmer). The bottom region showed 13-16% deviation from the central point, whereas the remaining regions of the screen showed 4 – 9% deviation. The average deviation between each quadrant and the brightest recorded point was 9%, which is quite good. Note that individual units vary when it comes to uniformity and you can expect further deviation beyond the points measured. The contour map below shows these deviations graphically, with darker greys representing lower luminance (greater deviation from brightest point) than lighter greys. The percentage deviation between each quadrant and the brightest point recorded is also given.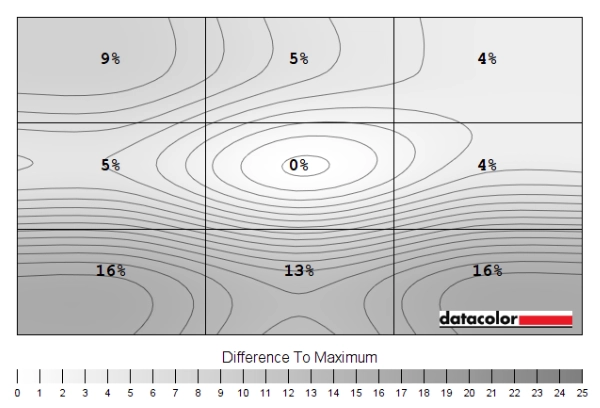 Luminance uniformity map
The SpyderX Elite was also used to analyse variation in the colour temperature (white point) for the same 9 quadrants. The deviation between each quadrant and the quadrant closest to the 6500K (D65) daylight white point target was analysed and a DeltaE value assigned. Darker shades are also used on this map to represent greater deviation from 6500K. A DeltaE >3 represents significant deviation that may be readily noticed by eye.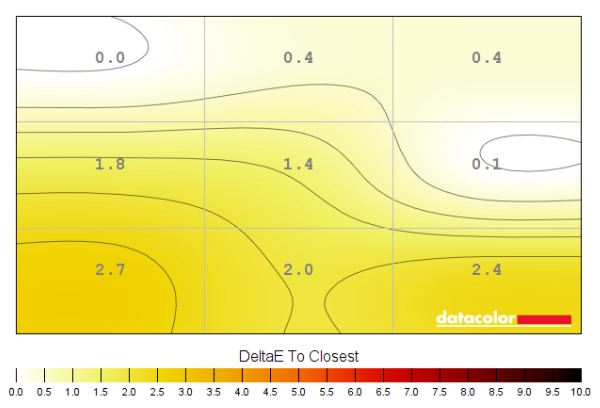 Color temperature uniformity map
Results here were good, with no significant deviations recorded. The maximum deviation was recorded towards the bottom left of the screen (DeltaE 2.7). As with other aspects of uniformity, it's important to remember that individual units vary and that you can expect deviation beyond the measured points.


Contrast in games and movies
The contrast performance on Battlefield V was reasonable. As we've explored, the static contrast on this model is hardly stellar – but it isn't awful, either. There wasn't a great depth or atmosphere to dark scenes in this title, especially when coupled with 'IPS glow'. Which ate away at some detail (and atmospheric look) towards the edges of the screen, particularly the bottom corners from a normal ergonomically correct viewing position. It was largely in-line with what you'd observe on your typical IPS-type panel with ~1000:1 static contrast, really, including the predecessor to this model. There were certainly benefits to the IPS-type panel. Gamma was very consistent and therefore detail levels ('IPS glow' aside) were much more consistent than on VA and moreover TN panels. Where some regions of the screen will bring out excessive detail and others might appear far too masked. The light matte anti-glare screen surface with relatively smooth finish aided the smooth appearance of lighter shades, with nothing more than a very light misty graininess. Good news for those who find grainier matte screen surfaces bothersome.
Shadow of the Tomb Raider is a title which demands a strong contrast performance to look its best. Lots of dark caves, dimly lit passageways and grim Tombs await on this game. The monitor provided a reasonable performance here, but again didn't deliver the sort of depth and atmosphere that a model with much stronger static contrast would provide. 'IPS glow' is also a feature, eating away at some detail peripherally. This was more noticeable towards the left side, where it had a cooler tint. The advice we'd give generally with LCD monitors, but more-so for IPS-type panels, is that viewing them under sensible room lighting (not too dim) is advisable. This makes such issues less noticeable. The gamma consistency again helped avoid the sort of detail level changes observable on VA and moreover TN models. And last but not least, light shades were again kept free from obvious graininess thanks to the fairly smooth and light matte screen surface.
We also observed the film Star Wars: The Last Jedi. The static contrast and 'IPS glow' being what they are, you won't be sitting in a dark room watching films and being greeted by a deep and fulfilling cinematic experience. But in brighter conditions (or with suitable lighting near the monitor) things were pretty reasonable in the contrast department. Light shades contrasted nicely with darker surroundings and the consistent gamma performance avoided a blocky or banded look from excessive detail levels. So-called compression artifacts for heavily compressed streamed content are perhaps a better example and they appear more masked on this model than models with gamma inconsistencies. And as observed elsewhere, the screen surface avoided obvious graininess where it's not wanted.


Lagom contrast tests
The Lagom tests for contrast allow specific weaknesses in contrast performance to be identified. The following observations were made.
The contrast gradients were displayed appropriately with distinct brightness steps in all cases.

Performance on the black level test was excellent. The first few blocks blended into the background well, appropriate for a monitor tracking the '2.2 gamma curve. The remaining blocks showed distinct steps up in brightness. There was no obvious dithering.

Performance in the white saturation test was very good. The final block was a little more blended than it could be, although still faintly visible against the very mild misty graininess of the screen surface. The remaining blocks were distinct and showed good brightness distinctions and neutral greys.

The greyscale gradient appeared smooth without obvious banding or dithering.
Colour reproduction
Colour gamut
The colour gamut of the ViewSonic XG270QG (red triangle) is compared with the sRGB (green triangle) and DCI-P3 RGB (blue triangle) colour spaces in the image below. The monitor offers full coverage of the sRGB colour space (100%) with a fair amount of extension beyond. We recorded 97% DCI-P3 colour space coverage with the colorimeter, very close to the 98% specified by the manufacturer. Although not shown for comparison on the graphic, the monitor also covered 89% of the Adobe RGB colour space. This colour gamut gives the monitor the potential to output all shades within the sRGB colour space, with quite a bit of extra vibrancy and saturation. To maximise colour accuracy within the sRGB colour space for colour-managed workflows, full calibration and profiling with your own colorimeter or similar device is advised. Whilst this is always the case, it's especially true here as there is no sRGB emulation mode.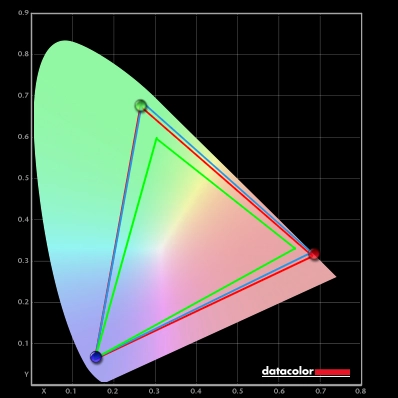 Colour gamut test settings
Colour in games and movies
On Battlefield V the monitor provided a saturated image; vibrant but varied. The environments in the game showcased a rich palette of greens and browns, including some more muted shades alongside some unmistakably lush and saturated ones. Plus a good deal in between. With the colour gamut being as generous as it is, content like this which is designed with the sRGB colour space in mind does show stronger than intended saturation. But this is a universal boost in saturation, without shade variety being affected. Very different to digital saturation enhancements such as 'Nvidia Digital Vibrance' or the 'Game Color' feature in the OSD, which simply pull shades closer to the edge of the gamut without expanding the gamut itself. Many users will appreciate this vibrant and varied look, something they might be quite used to from the extended gamuts now common on phones, TVs and other devices. Some will prefer a more muted look, however. The fires in this game were a good example of eye-catchingly vibrant elements, encompassing a rich array of strong oranges, yellows and reds. Some of the yellows verged on orange and some of the oranges appeared a bit too red, but the variety was maintained. The consistency of shades was also excellent thanks to the IPS panel, free from the gamma and saturation shifts associated with VA and moreover TN models.
Shadow of the Tomb Raider provided a similar colour reproduction experience. There were plenty of impressive vibrant elements – such as brightly painted artifacts, deep red and purple flowers and roaring flames. The environments showcased a good variety of shades, again with stronger than intended saturation but in even boost of this. There were some very luscious green shades, with some having too much of a bright yellow hue and appearing less muted than intended. Earthy browns with a slight red hue had that red hue exaggerated, too, appearing less neutral than they should. Skin tones (including that of Lara Croft herself) also showed somewhat stronger than intended saturation, but again showed good shade variety and consistency – and fell short of appearing unnecessarily sunburnt or garishly oversaturated. Again, many users will like this vibrant and varied look. Those who don't may find the 6-axis saturation controls useful, although undoubtedly an sRGB emulation mode would have gone down well as an alternative for some.
We also made some observations using the animated TV series Futurama. With large areas of individual shade, this is an excellent and unforgiving test for colour consistency. In-line with our testing elsewhere, the monitor offered strong performance in this area. This gave rise to an excellent variety of subtly different shades, with saturation levels being appropriately maintained throughout the screen. The generous colour gamut made for some very eye-catching vibrant shades, such as neon pinks and greens. Deep shades were also displayed strongly. More muted pastel shades were certainly muted relative to the more eye-catching shades and hence shade variety was well-maintained. Although overall saturation levels were certainly stronger than intended due to the generous extension beyond sRGB in the gamut.


Viewing angles
Lagom's tests for viewing angle were used to further explore colour consistency and viewing angle performance. The following observations were made from a normal viewing position, eyes around 70cm from the screen.


The purple block appeared a blueish purple throughout, without a readily shifting pink hue (as observed on other LCD panel types).

The red block appeared vibrant red throughout.

The green block appeared a saturated chartreuse green throughout.

The blue block appeared a strong royal blue throughout.

The Lagom text appeared a blended grey throughout, with only minor hints of green or red to the striping towards the far edges. There were no clear saturated green, red or orange elements or ready shifts between these. This indicates a low viewing angle dependency to the gamma curve of the monitor, indicative of an IPS panel with strong gamma consistency. The image below gives a rough idea of how the Lagom text test appeared on the monitor.


The following video shows the Lagom text test, a mixed desktop background and dark desktop background from various viewing angles. You can see some shifts in colour and contrast from sharper viewing angles, but they're minor compared to other panel types. There are no strong contrast or colour shifts nor colour inversion. The final section of the video highlights 'IPS glow', blooming out as a golden or silvery sheen from various viewing angles.




Interlace pattern artifacts
On some monitors, particularly but not exclusively those with high refresh rates, interlace patterns can be seen during certain transitions. We refer to these as 'interlace pattern artifacts' but some users refer to them as 'inversion artifacts' and others as 'scan lines'. They may appear as an interference pattern, mesh or interlaced lines which break up a given shade into a darker and lighter version of what is intended. They often catch the eye due to their dynamic nature, on models where they manifest themselves in this way. Alternatively, static interlace patterns may be seen with some shades appearing as faint horizontal or vertical bands of a slightly lighter and slightly darker version of the intended shade. We did not observe either artifact type on this monitor.


Responsiveness
Input lag
We used a small tool called SMTT 2.0 and a sensitive camera to compare the XG270QG's latency with a range of screens of known latency. To help maximise accuracy, over 30 repeat readings were taken. Using the method, we measured 3.77ms (~ 2/3rds of a frame @165Hz) of input lag. This value is influenced both by the element of input lag you 'feel' (signal delay) and the element you 'see' (pixel responsiveness). It indicates a low signal delay which shouldn't bother even sensitive users. We don't have the means to accurately measure input lag with G-SYNC active in a variable refresh rate environment.


Perceived blur (pursuit photography)
In our article on the topic, we explore the key factors affecting PC monitor responsiveness. Chief amongst these is the concept of perceived blur, which is contributed to not only by the monitor's pixel responsiveness, but also the movement of our eyes as we track motion on the screen. This second factor (eye movement) is the predominant contributor to perceived blur on modern monitors, although pixel responsiveness also plays an important role. A method of photography called pursuit photography is also explored. This uses a moving rather than static camera to capture motion on a monitor in a way that simulates both eye movement and pixel responsiveness. This allows both elements of perceived blur to be highlighted, rather than simply capturing pixel responsiveness.
The following images are pursuit photographs taken using the UFO Motion Test for ghosting. The test was set to run at its default speed of 960 pixels per second, which is a good practical speed for taking such photographs. The UFOs move across the screen from left to right at a frame rate matching the refresh rate of the display. All three rows of the test are analysed (dark, medium and light cyan background). This means that a range of pixel transitions are shown, helping highlight the effects of different shades (grey levels) on pixel response speeds. The monitor was tested at 60Hz (directly below), 120Hz, 144Hz and 165Hz using all 'Response Time OD' settings; 'Standard', 'Advanced' and 'Ultra Face'. Reference shots are provided for comparison purposes, where possible, with those monitors using what we deem to be their optimal response time settings. The first reference is the Gigabyte AORUS AD27QD, a fairly fast IPS-type model with aggressive pixel overdrive. The second reference is the AOC AG273QCG, a fast and well-tuned WQHD TN model. This shows how things look where pixel response times aren't really a limiting factor.


At 60Hz, shown above, the UFO appears relatively soft and unfocused, without clear internal detailing. You can also see varying degrees of trailing behind the object, due to some weaknesses in pixel responsiveness. This trailing is very slight, just a light and misty 'powdery' trailing using the 'Standard' setting. Less pronounced than the AD27QD reference. The 'Advanced' setting removes pretty much all of this and replaces it with some overshoot or inverse ghosting. You can see a bright 'halo' behind the object for all backgrounds but most notably the medium (middle row) and light (bottom row) backgrounds. A little 'dirty trailing' (slight dark shadow) can be seen behind the UFO cockpit for the light background as well. The 'Ultra Fast' setting ramps up the overshoot significantly, giving bright and colourful halo trailing in all cases but most notably for the medium and light backgrounds. We'd consider 'Standard' or 'Advanced' good choices for this refresh rate. Below you can see how things look with refresh rate doubled, to 120Hz.


At 120Hz, shown above, the object is much narrower, with better internal detailing. This reflects a marked decreased in perceived blur due to eye movement. There are again various degrees of trailing behind the object, generally more pronounced than at 60Hz due to the increased pixel response requirements following a doubling of the refresh rate. The 'Standard' setting shows a bit of 'powdery' trailing, more so for the dark background, a bit for the medium background and very little for the light background. It sticks quite close to the UFO and isn't extended or 'heavy' in its appearance. The 'Advanced' setting gets rid of this but replaces it with a moderate amount of overshoot, particularly for the medium and light backgrounds. Less noticeable than on the AD27QD reference, but certainly still there. The 'Ultra Fast' setting provides extreme overshoot which is extremely eye-catching. Both the 'Standard' and 'Advanced' settings are relatively well-tuned overall, but one biases slightly more towards a bit of 'powdery' trailing, the other towards some more noticeable overshoot. We feel the 'Standard' setting is better balanced and offers a very competent performance, without obvious overshoot but snappy overall pixel responses. Individual preferences and sensitivities vary, however. Below you can see how things look bumped up slightly to 144Hz.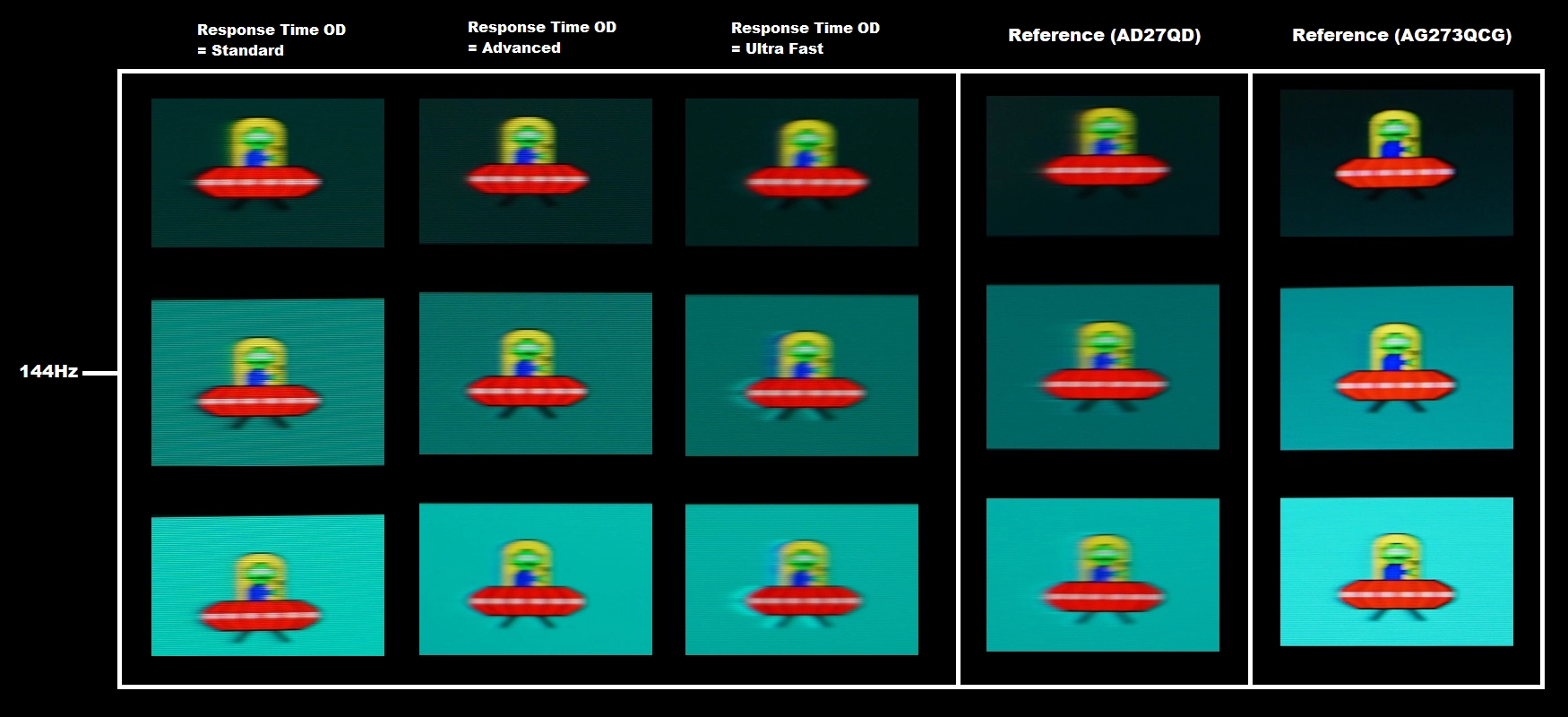 At 144Hz, shown above, there are only subtle changes from 120Hz – as you'd expect with only 24Hz extra being added. The UFO appears marginally more sharply focused with better internal detailing, indicating a slight decrease in perceived blur due to eye movement. The trailing behaviour is quite similar to 120Hz, although some of the 'powdery' trailing from slight weaknesses in pixel responsiveness extends a bit further back – so it's slightly more noticeable. The pixel response requirements for optimal performance are again bumped up along with the increase in refresh rate. The 'Advanced' setting again removes this 'powdery' trailing and replaces it with moderate overshoot. The 'Ultra Fast' setting ramps things up massively, again providing extreme overshoot. The 'Standard' or 'Advanced' setting will be optimal depending on your sensitivity to overshoot, but we again favour the former as we feel it's nicely balanced overall and find the overshoot from the 'Advanced' setting a bit much in some scenarios. The AD27QD provides an interesting point of reference, as it shows more 'powdery' trailing for the dark background than the ViewSonic using its 'Standard' setting. Some overshoot and 'powdery' trailing can be observed on this reference for the medium background and similar overshoot to the ViewSonic using its 'Advanced' setting for the light background. Unlike with the ViewSonic, you can't fall back to a comfortable setting with just a little extra 'powdery' trailing and much lower overshoot on the AD27QD. Below you can see how things look with a slight bump up to 165Hz.


At 165Hz, above, there are some further slight changes. The UFO appears a bit more sharply focused again, with clearer internal detailing. Again, a reflection of reduced perceived blur due to eye movement. The 'powdery' trailing using the 'Standard' setting extends somewhat further and is a bit heavier due to the increased pixel response requirements of the higher refresh rate. But we'd still describe this is 'light powdery' trailing, which is worlds away from the more pronounced weaknesses you'd see on even well-tuned VA models (reference). The 'Advanced' setting largely removes this but again puts moderate but not extreme overshoot in its place. The 'Ultra Fast' setting gives that extreme overshoot that only psychopaths enjoy. We'd again prefer the 'Standard' setting here, with 'Advanced' getting an honourable mention for those who don't mind a bit of overshoot. Note that some transitions show more noticeable overshoot using the 'Advanced' setting than those shown here, some examples are highlighted in our video review later on. The AD27QD has been dropped from the comparison as it doesn't support 165Hz. It's a good time to reflect on the AG273QCG's performance here, though. The ViewSonic's 'Advanced' setting achieves a similar result in terms of no real conventional trailing being visible in most cases. However; it comes at the expense of more noticeable overshoot than on the AOC, as the fast and well-tuned TN panel doesn't require the same aggressive pixel overdrive impulse to speed the transitions up.
You can see from the above analysis that increasing refresh rate with an accompanying rise in frame rate reduces perceived blur due to eye movement. The monitor provides an alternative method to (massively) reduce eye movement and that comes in the form of ULMB (Ultra Low Motion Blur). This is an Nvidia-specific strobe backlight feature that can be employed on G-SYNC compatible GPUs instead of G-SYNC. By the mechanisms explored in the linked responsiveness article, this massively reduces eye movement and hence massively reduces perceived blur. Using ULMB causes the backlight to flicker at a frequency matching the refresh rate – 85Hz, 100Hz or 120Hz can be selected. Note that individual tolerance to flickering varies, particularly at the upper end of selectable ULMB refresh rates it's sometimes a trade-off competitive gamers are willing to make. The image below shows the monitor with ULMB active at 85Hz and includes a few other screens using ULMB as references (Dell S2417DG and AOC AG273QCG). 'PW' refers to 'Pulse Width', with 2 settings tested; '10' (lowest) and '100' (maximum). A higher setting increases the length of time of the 'on' phase of the strobe, resulting in a brighter image at the expense of motion clarity. It can be changed in single unit increments according to preferences. Note that 'Response Time OD' can't be changed when ULMB is active.


With ULMB enabled, at 85Hz (above) you can see that the object is far narrower and more sharply focused even when compared to 165Hz with the technology disabled. Particularly with 'PW = 10', you can see excellent detail on the UFO itself – you can count the little white dots for example. At 'PW = 50' things are more blended together in that respect but still nicely detailed. And a setting of '100' loses the finer details, although things are still clearly more sharply focused than with ULMB disabled at any refresh rate. There is also significant trailing behind the UFOs, however. A faint repetition of the object. This is 'Strobe Crosstalk', which occurs due to the pixel responses not keeping up with the rigorous demands of the refresh cycle. Very much like conventional trailing, separated out into a distinct repetition by the strobe behaviour of the backlight. This contrasts with the reference image which shows overshoot instead. The image below shows how things look with ULMB set to 100Hz.


At 100Hz with ULMB active things look pretty similar, with some of the details coming through better at 'PW = 100' (again, things appear a bit more blended on the image than in reality here). The strobe crosstalk and overshoot is largely similar, although the second repetition is somewhat bolder due to the increase in refresh rate and even more rigorous demands of the refresh cycle. The image below shows things with ULMB set to 120Hz.


At 120Hz with ULMB active things appear narrower and more sharply focused, even compared to each respective 'PW' setting at lower refresh rates and ULMB active. This indicates a further reduction in perceived blur due to eye movement. What isn't reflected in these photos is the fact that increasing the refresh rate at suitable frame rate also improves the 'connected feel' and reduces flickering. The trailing and in particular that tracer-like red strobe crosstalk is still very much present, however. It's worth noting that strobe crosstalk varies at different areas of the screen. Not all areas of the screen refresh simultaneously, so its appearance differs depending on how high or low on the screen the object your observing is. The pursuit photo below shows the UFOs at various positions on the screen, with the monitor running ULMB at 120Hz and set to 'PW = 100'. You can see strobe crosstalk in front of the UFO at the very top of the screen. This then appears as a very slight red fringe, which displaces itself further and further back from the UFO lower down the screen. We found it quite visible centrally, in practice, particularly for specific transitions that aren't shown in this test – we explore this shortly. It's very noticeable lower down the screen even in this test. We made largely similar observations at 100Hz and 85Hz and adjusting 'PW', so didn't feel it was worthwhile documenting these observations.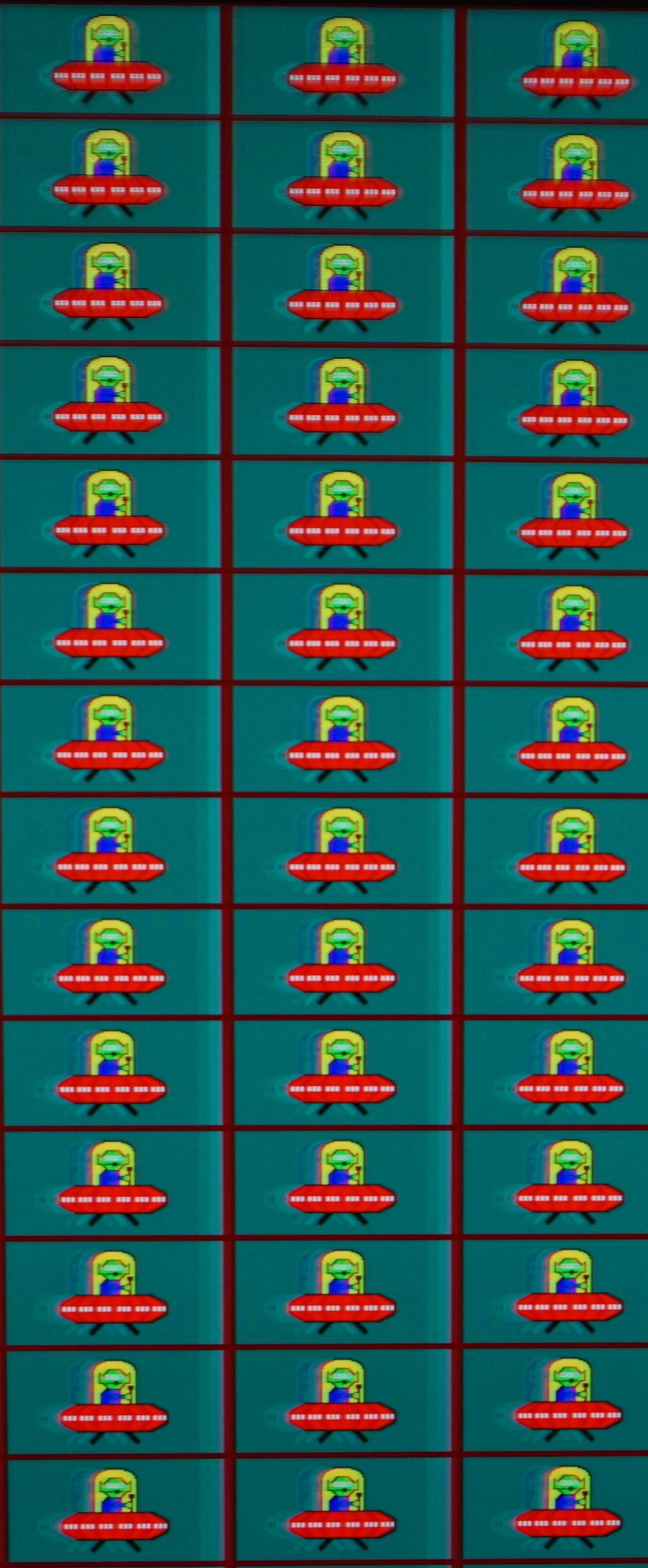 Responsiveness in games and movies
On Battlefield V the monitor provided a fluid experience at 165Hz, where the frame rate kept up with this. With the monitor outputting up to 2.75 times as much visual information every second as a 60Hz screen (or this model running at 60Hz, or 60fps), there were two key advantages. One was a significant improvement in 'connected feel', describing the precision and fluidity as you interact with your character and the game world. The low input lag aided this feeling, but the high refresh rate and frame rate combination was also vital. There was also a significant decrease in perceived blur due to the high frame rate and refresh rate, due to a significant reduction in eye movement. Much as we demonstrated earlier, using Test UFO. This gave a nice competitive edge, with the game world remaining more sharply focused during rapid motion. The bump up from 144Hz (at 144fps) to 165Hz (at 165fps) was much less impressive, although there was just a slight decrease in overall perceived blur as shown earlier. And a bit of an edge in 'connected feel'.
Another important aspect of perceived blur is pixel responsiveness. Overall, the monitor provided a pretty convincing 165Hz experience with plenty of very rapid pixel responses. There was a bit of extra 'powdery' trailing in places which added a touch of extra perceived blur. The most significant 'powdery trailing' occurred where light shades and significantly darker shades intertwined. For example, a bright light inside a dimly lit building. The predecessor to this model (XG2703-GS) exhibited similar minor weaknesses and had more pronounced 'powdery' trailing in places. More extended than what we observed here (both models using what we consider their optimal overdrive settings). This is a model many gamers, even those who are quite competitive, find enjoyable to use. So we don't see these minor weaknesses being problematic or necessarily even noticeable to most users.
Switching to the 'Advanced' setting cut down on this slight 'powdery trailing' and therefore slightly decreased perceived blur, but it also introduced a moderate and in places quite strong overshoot. Including bright 'halo' trailing that's significantly brighter than object or background and 'dirty' trailing that's significantly darker. As mentioned earlier, we preferred the 'Standard' setting and we feel most users would be very happy with this setting and how the pixel responses are optimised using it. It's very subjective and some may prefer the 'Advanced' setting, so that flexibility is there. There was a little overshoot in places with the 'Standard' setting, but it was very subdued and well-blended overall and worlds away from the overshoot observed using the stronger 'Advanced' setting. If you compare to a well-tuned fast 165Hz TN model like the AOC AG273QCG, as we did with Test UFO earlier, the TN model does have a bit of an edge with its snappy pixel transitions without obvious overshoot. But the ViewSonic put in a performance that's about as good as we've seen from an IPS-type model. The weaknesses are far more minor and easier to ignore than some of the peskier weaknesses that you'd observe on high refresh rate VA models. Even well-tuned ones like the LG 32GK850G, where there are some examples of 'heavy powdery' trailing and some isolated 'smeary' trailing.
We also made observations using Shadow of the Tomb Raider. A generally slower-paced title, but one with plenty of high contrast scenes. Again, there was a little 'powdery trailing' here and there but we felt the overall 165Hz experience at suitable frame rates was solid. We found the title no less enjoyable to play than on a very well-tuned TN model – the positive difference in colour reproduction was more noticeable, however. We had the model side by side with the Dell S2716DG, our long-standing gaming reference screen. It's fast, if you can stomach a bit of overshoot, but even when calibrated fully the colour consistency and vibrancy simply doesn't compare to that of the ViewSonic. We also made observations using movie content at a variety of frame rates, including 24 – 30fps content and 60fps content. There were no clear weaknesses from the monitors pixel responses, including clear overshoot or trailing from slower than optimal pixel responses. The frame rate itself was the main limit to fluidity of this content and reduced the pixel response requirements significantly compared to 165fps content.
As an Amazon Associate I earn from qualifying purchases made using the below link. Where possible, you'll be redirected to your nearest store. Further information on supporting our work.


G-SYNC – the technology and activating it
Nvidia G-SYNC is a variable refresh rate technology that can be activated when a compatible Nvidia GPU is connected to a compatible monitor (such as the ViewSonic XG270QG). Our article on the technology explores the principles behind the technology and its benefits, so we won't be repeating too much of that. Essentially the technology allows the monitor to dynamically adjust its refresh rate to match, where possible, the frame rate outputted by the GPU. When the two are in sync it gets rid of the tearing (VSync off) and stuttering (VSync on) that occurs when the two are unsynchronised. An additional benefit for those who hate tearing and usually like to use VSync is a reduction in latency compared to 'VSync on' in the variable frame rate environment. As noted in the responsiveness section, though, we don't have a way to accurately measure this.
This monitor supports G-SYNC via DP 1.2 (DisplayPort), once connected to a compatible Nvidia GPU such as the GTX 1080 Ti used by our test system. Once connected up, G-SYNC should be automatically configured and ready to use. There's usually even a little notification icon in the system tray telling you that a G-SYNC compatible display is detected. To check everything is configured correctly, open Nvidia Control Panel and navigate to 'Display – Set Up G-SYNC'. Ensure that the checkbox for 'Enable G-SYNC' is checked, then select your preferred operating mode. As the image below shows, this technology works in both 'Full Screen' and 'Window' modes, provided the correct option is selected for this. If the G-SYNC options seem to be missing from Nvidia Control Panel, this may be remedied by reconnecting the GPU or possibly connecting the monitor to a different DP output if there's one available. If the options are still missing, reinstalling the GPU driver or updating this is recommended.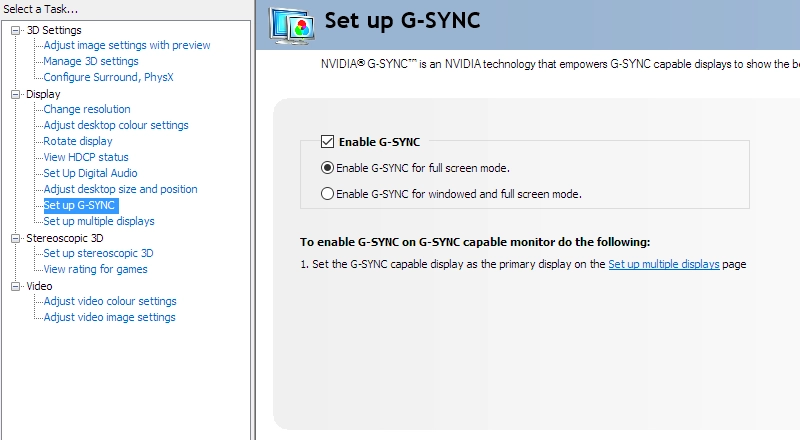 Enable G-SYNC
Next you should navigate to 'Manage 3D settings'. Here there are a few settings of interest, the first of which is 'Monitor Technology'. This should be set to 'G-SYNC' as shown below. Assuming this is all set up correctly, you should see 'G-SYNC ON' listed towards the top of the OSD. The refresh rate listed there and elsewhere in the OSD just corresponds to the static refresh rate you've selected in Windows or your game. It's correctly referred to as 'Max Refresh Rate' – this monitor doesn't include an on-screen refresh rate display or similar that would act as a frame rate counter with G-SYNC enabled.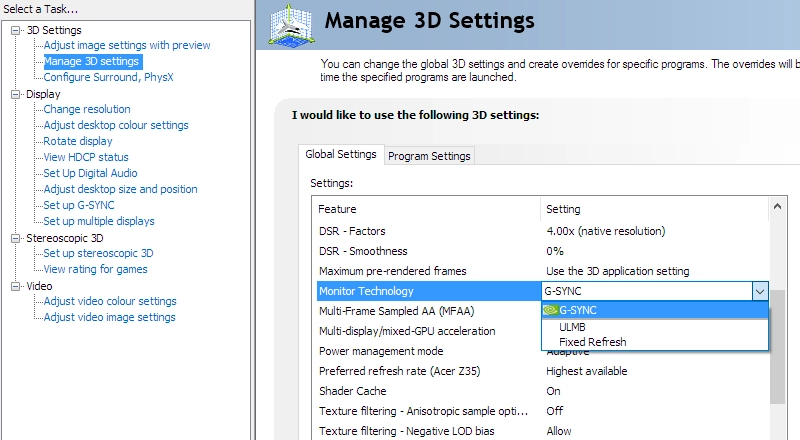 Set Monitor Technology to G-SYNC
The second setting of interest is VSync, which can be set to one of the following; 'On', 'Use the 3D application setting', 'Off' or 'Fast' (GPU dependent). The ViewSonic supports a variable refresh rate range of 30 – 165Hz, with the maximum value (ceiling) corresponding to the refresh rate you've selected for the monitor in Windows. That means that if the game is running between 30fps and 165fps, the monitor will adjust its refresh rate to match. When the frame rate rises above 165fps, the monitor will stay at 165Hz and the GPU will respect your VSync setting in the graphics driver. If you select 'On', VSync activates if the frame rate exceeds the static refresh rate that you've selected (e.g. 165Hz / 165fps) and the usual VSync latency penalty applies. If you select 'Off' then the frame rate is free to rise in an unrestricted way, but the monitor will only go as high as 165Hz – tearing and juddering will ensue if the frame rate rises above this. The 'Use the 3D application setting' largely works as you'd expect, but the general recommendation is to set VSync in the graphics driver if you wish to use it as in-game implementations can interfere with the smooth operation of G-SYNC. Some users prefer to leave VSync disabled and use a frame rate limiter set several frames below the maximum supported (e.g. 161fps) instead, avoiding any VSync latency penalty at frame rates near the ceiling of operation or tearing from frame rates rising above the refresh rate.
The 'Fast' option is available on some newer GPUs, such as the GTX 1080 Ti used in our test system. This enables a technology called 'Fast Sync', which only applies above the refresh rate and frame rate ceiling (>165Hz / 165fps). Below this G-SYNC operates as normal, whereas above this a special version of VSync called 'Fast Sync' is activated. This is a GPU rather than monitor feature so isn't something we will explain in detail, but it is designed to reduce tearing at frame rates well above the refresh rate of the monitor. If you're interested in this technology, which may be the case if you play older or less graphically demanding games at very high frame rates, you should watch this section of a video by Tom Petersen.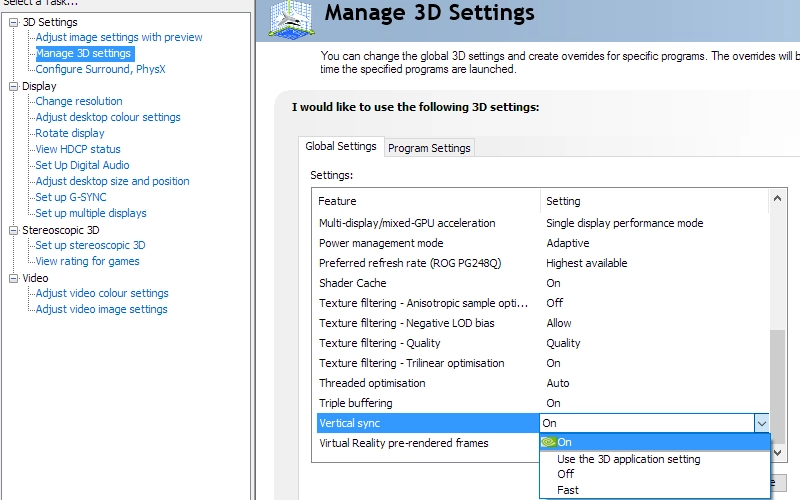 Set VSync according to preferences
If the frame rate drops below the lowest refresh rate supported by the monitor (i.e. the G-SYNC floor of 30Hz / 30fps) then the monitor sets its refresh rate to a multiple of the frame rate. This occurs regardless of VSync setting. If for example the game ran at 22fps, the monitor would set itself to 44Hz. This keeps stuttering and tearing from the usual frame and refresh rate mismatches at bay. As we explore shortly, though, low frame rates are low frame rates regardless of the technology. So whilst it is always beneficial to have stuttering and tearing removed, it's also beneficial to have an elevated frame rate where possible. It's also worth remembering that G-SYNC can't eliminate stuttering caused by other issues on the system or game environment such as insufficient RAM or network latency. And finally, you can't activate ULMB and G-SYNC at the same time – both technologies will work on compatible Nvidia GPUs, but can't be used simultaneously.


G-SYNC – the experience
We used G-SYNC on this monitor using a variety of game titles and found the experience consistent across all of them. If any issues were unearthed on some titles but not others it would suggest an issue with the game or graphics driver rather than the monitor itself. We'll therefore just focus on Battlefield V in this section. This title offers good flexibility with graphics options, allowing the full range of refresh rate supported by the monitor to be assessed. Using fairly modest settings, the frame rate sometimes reached 165fps but often fell a bit short of that. Especially if action intensified. Without G-SYNC active, even slight dips below this caused issues with tearing (VSync disabled) or stuttering (VSync enabled) which we found jarring. Sensitivity to such issues varies, but to us it was very pleasant indeed having these mismatches in frame rate and refresh rate removed. Ramping up the graphics settings so that the frame rate stayed closer to ~100fps, or the low triple digits and significantly shy of the 165fps (165Hz) ceiling of operation, we noticed a drop off in 'connected feel' and increase in perceived blur. This is purely down to the frame rate reducing and isn't something G-SYNC can help – but the removal of tearing and stuttering from frame and refresh rate mismatches was very welcome.
Following a further increase in graphical fidelity, and particularly in more graphically demanding scenes, further drops in frame rate were observed. The 'connected feel' and perceived blur levels were again affected by the reduction in frame rate, but the technology did its thing across the range to keep tearing and stuttering from mismatches at bay. As a monitor with a G-SYNC module (a 'proper' G-SYNC display, if you like), variable overdrive is supported. This means the pixel overdrive impulse is adjusted to a broad range of refresh rates, in contrast to Adaptive-Sync models where things are generally tuned to the maximum refresh rate (e.g. 165Hz). And as refresh rate drops (due to a drop in frame rate), you'd need to reduce the overdrive setting yourself to avoid increasingly obvious overshoot creeping in. This is the case with the LG 27GL850, for example, where the optimal setting for high refresh rates provides increasingly obvious overshoot as refresh rate dips. On some models you're left with a setting that provides moderate overshoot for high refresh rates and extreme overshoot for lower refresh rates. Or a significantly weaker setting which is far from optimal for any refresh rate, although generally better for lower refresh rates. Such as the Gigabyte AORUS AD27QD and its more recent variants. The ViewSonic instead provides a nice pixel overdrive setting ('Standard') that's suitable for a wide range of refresh rates, with variable overdrive retuning things on the fly.
G-SYNC also ensured that tearing and stuttering was kept at bay at frame rates below the 30fps floor of operation. The refresh rate here stuck to a multiple of the frame rate in order to achieve this. However; the 'connected feel' was very poor and perceived blur due to eye movement very high indeed at such low frame rates. Making them very uncomfortable to use for gaming. Especially if you'd just come from much higher frame rate gaming. Still, it's nicer to have the technology there than not at any frame rate. Any stuttering or juddering from mismatches between frame rate and refresh rate are also more noticeable at relatively low frame rates. As mentioned before, sensitivity to such things varies, but most users will find G-SYNC a welcome addition.


ULMB (Ultra Low Motion Blur)
Earlier in the review we introduced ULMB, including its principles of operation and its effect on perceived blur using the UFO Motion Test for ghosting. This section explores activation of the technology and provides some subjective analysis of the ULMB gaming experience. ULMB can be enabled by first setting the monitor to a supported refresh rate (85Hz, 100Hz or 120Hz). The next step is to navigate to 'Manage 3D settings' in the Nvidia Control Panel and select 'ULMB' for 'Monitor Technology' as shown in the image below. There is also a 'ULMB' setting in the 'Game Mode' section of the OSD for the monitor, which should be enabled – this generally happens automatically if the monitor is set to an appropriate refresh rate and driver option anyway. An additional setting called 'ULMB Pulse width' can be configured in the OSD, which adjusts the length of the 'on phase'. A lower setting reduces the length of the 'on phase', resulting in a dimmer image but potentially improved motion clarity. Most users will find that lowering the 'Pulse Width' is useful only as a means of reducing brightness, less so to give any appreciate advantage in terms of perceived blur.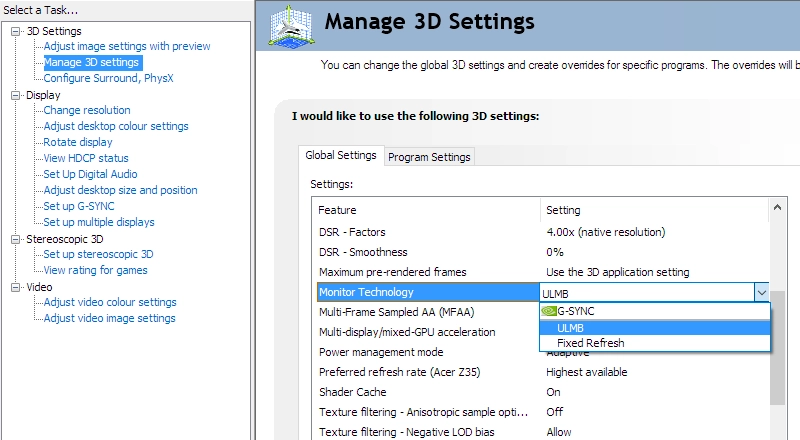 Set Monitor Technology to ULMB
You should notice a change in the image brightness and perhaps notice a mild flickering with ULMB enabled, especially when you first activate it. Because the monitor's backlight is now strobing at a frequency matching the refresh rate you've set, the flickering is most noticeable at 85Hz. Sensitivity to flickering varies and some will find strobe backlight settings like ULMB accelerates visual fatigue even if they don't actively notice the flickering. You can also confirm that the technology is activated by navigating to the 'Setup Menu' – 'Information' in the OSD and seeing whether 'Mode' is listed as 'ULMB'. It's very important to understand that ULMB or indeed any strobe backlight feature will only work properly if your frame rate is able to consistently match the refresh rate of the display. Without this, you've got very little perceived blur (due to eye movement) to mask stuttering or juddering. This becomes painfully obvious and it just doesn't look pleasant at all. We tested a range of game titles using the technology, but will simply be focusing on Battlefield V for this section. With the monitor set to 120Hz and the game running a solid 120fps, we certainly noticed an overall decrease in perceived blur using ULMB. Rapid manoeuvres, including turning the character quickly, resulted in the game world appearing sharper with clearer details than with the technology disabled. So the potential for a nice competitive edge there.
In many respects we found the overall experience of running ULMB on this monitor sub-par, however. As demonstrated with 'Test UFO' earlier, there was a fair degree of overshoot. Generally, this this was a light and bright 'halo' trailing that was by no means as solid as the object in question. Although unsightly to some users, it didn't really impact perceived blur or detract from the edge in this respect from ULMB. However; there was also the issue of strobe crosstalk which we introduced earlier. This was visible centrally and in various other regions of the screen, tending to be strongest lower down. It had a more noticeable detrimental impact to perceived blur, causing repetitions of objects. It was particularly noticeable where lighter shades were involved in the transition – plenty of daylight scenes commonly exhibited such issues. And also, at the opposite end, where very dark and medium-dark shades combined. To make matters worse, we noticed some magenta (and at times green or cyan) fringing combined with this crosstalk for some transitions. A bit like what was shown with 'Test UFO', but more eye-catching and significantly more colourful than the shades in the transition. Furthermore, we observed flashes of magenta and cyan, particularly when moving our eyes or observing motion where slender white objects were present. This sort of 'flashing' is quite common for strobe backlight technologies where wide gamut backlights are used, but we found it particularly noticeable in this case.
Given the above, this certainly wasn't the best or most comfortable strobe backlight implementation, quite disappointing for ULMB as this is usually quite well-implemented. We also noticed some dynamic interlace pattern artifacts with ULMB active, whereby some shades appeared to break up into vertical 'pinstripes' of a slightly lighter and darker variant of the intended shade. This was not something we observed at all with ULMB disabled on this monitor (thankfully). Given these issues plus the extra flexibility with frame rate drops afforded by G-SYNC, we much preferred leaving this technology disabled. Some users may quite like the technology, even with the limitations outlined above. But most will undoubtedly prefer the normal G-SYNC operation of the monitor.


Interpolation and upscaling
Some users will want to use the monitor at a lower resolution than the native 2560 x 1440 (WQHD). This may be to eke out extra performance, or because the system is limited to lower resolutions (some games consoles, for example). As usual for a G-SYNC monitor, there is no scaling functionality from the monitor itself when connected via DP – although the GPU can handle this instead if you're a PC user. The monitor provides some basic scaling functionality via HDMI, however. The monitor can use an interpolation process to display a non-native resolution (such as 1920 x 1080 Full HD) using all 2560 x 1440 pixels of the screen. This is primarily designed for connecting devices such as games consoles or Blu-ray players that are limited to resolutions such as 1920 x 1080 (Full HD or '1080p') at a select few refresh rates including 50Hz and 60Hz. If you wish to make use of the monitor's scaling rather than the GPU scaling, via HDMI, you need to ensure the GPU driver is correctly configured so that the GPU doesn't take over the scaling process. If you're one of those rare AMD users that are using this monitor, the driver is set up correctly by default to allow the monitor to interpolate where possible. Nvidia users should open Nvidia Control Panel and navigate to 'Display – Adjust desktop size and position'. Ensure that 'No Scaling' is selected and 'Perform scaling on:' is set to 'Display' as shown in the following image.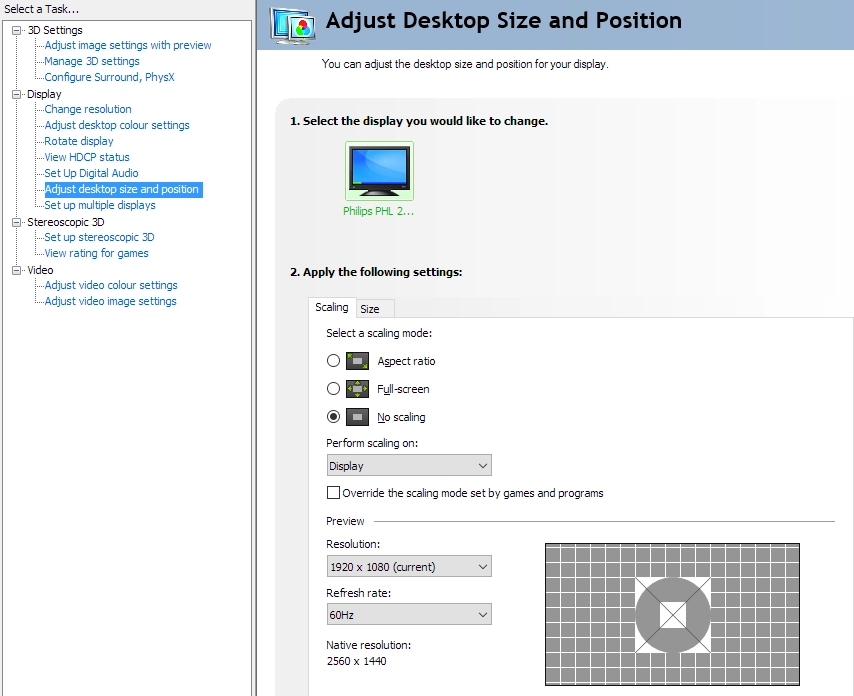 The monitor offers 3 different scaling mode options in the OSD under 'Display' – 'Scaling Mode'; '1:1', 'Fix Aspect Ratio' and 'Full Screen'. The first is a 1:1 pixel mapping mode, which will only use the pixels called for in the source resolution with a black border for the rest. The second will respect the aspect ratio of the source resolution, but can use some interpolation (for example vertically) to fill up the screen as much as possible. The final setting uses all pixels of the monitor using an interpolation process. Observing the 1920 x 1080 (Full HD) resolution with this setting gave a slightly softer look to the image compared to a native 27" Full HD monitor. But the softening was not extreme and much less noticeable than with many interpolation processes. Effective but in view not excessive sharpness filtering was used, so the image retained better sharpness and detail than many interpolated Full HD outputs.
As usual, if you're running the monitor at 2560 x 1440 and viewing 1920 x 1080 content (for example a video over the internet or a Blu-ray, using movie software) then it is the GPU and software that handles the upscaling. That's got nothing to do with the monitor itself – there is a little bit of softening to the image compared to viewing such content on a native Full HD monitor, but it's not extreme and shouldn't bother most users.


Video review
The video below summarises some of the key points raised in this written review and shows the monitor in action. The video review is designed to complement the written piece and is not nearly as comprehensive.





Timestamps:
Features & Aesthetics
Contrast
Colour reproduction
Responsiveness


Conclusion
There are a fair number of high refresh rate 2560 x 1440 monitors available, using various panel types and offering various attractive gaming features such as variable refresh rate technology. The ViewSonic XG270QG is the first to combine a wide gamut IPS panel with full-fat Nvidia G-SYNC. The monitor manages to look distinctive without an in-your-face 'gamery' aesthetic. A combination of matte black plastic, brushed and powder-coated black-coloured metal and a unique low-profile stand design gives it a unique look. With a software controllable RGB lighting feature ('ELITE RGB') for users who want to add a dash of colour. It certainly isn't a case of form over function, either, as full ergonomic flexibility is included with smooth adjustment. The 2560 x 1440 resolution and 27" screen size is a comfortable combination for many users, too, delivering a respectable pixel density and offering good detail, clarity and 'desktop real-estate'.
When it comes to contrast, IPS-type panels are not known for their breathtaking performance. Although some are stronger than others in this respect. This model fell shy of the specified 1000:1 static contrast ratio, although not alarmingly so. The static contrast performance was largely as you'd expect from a monitor with ~1000:1 static contrast, but noticeably weaker than IPS-type models which comfortably clear that. 'IPS glow' was also a feature, eating away at detail peripherally. In a well-lit room the overall representation of darker shades was just fine, but in dimmer lighting environments the experience is far from deep and atmospheric. On the plus side, the screen surface was light with a smooth finish, avoiding obvious graininess when observing lighter shades. Gamma consistency was excellent – avoiding the differential detail levels you get on VA and moreover TN models simply due to perceived gamma changes. The gamma tracking was also strong, with a range of gamma settings in the OSD that tracked the specified values well.
Colour reproduction is where this monitor shines, especially if you like a vibrant and varied palette of colours. With generous extension beyond sRGB and coming close to fully covering DCI-P3, there was a definite injection of extra vibrancy and saturation for sRGB content. But because this was achieved with a generous gamut, shade variety was maintained well. The colour consistency was excellent, too, meaning that saturation was well-maintained throughout the screen. The screen clearly distances itself from VA and moreover TN panels in this regard, but also offers slight improvement over some IPS-type panels. The monitor doesn't offer an sRGB emulation mode, which is only found on a very slim selection of G-SYNC models (e.g. Acer XB273K and 'G-SYNC Ultimate' models). For colour-critical work users will want to use their own calibration device, profile the monitor and stick to colour-aware applications. For general usage most users will like the vibrant and varied output that the monitor gives, natively. But an sRGB emulation mode would've been nice for extra flexibility and to appease users who prefer lower saturation levels. A bit of an edge can be taken off the saturation using the controls in the OSD, at least, but it's not equivalent to an sRGB emulation setting.
The monitor provided a pretty solid experience when it came to responsiveness, too. Low input lag, a 165Hz refresh rate and fast pixel responses overall without strong overshoot using our preferred settings. There were some weaknesses in places, a bit of 'powdery trailing' that slightly increased perceived blur. But no standout weaknesses of the variety found on even the best-tuned VA models. Stronger pixel response settings were included for users who can stomach a bit of overshoot, but the fastest setting on the monitor ('Ultra Fast') was clearly just there so they for 1ms marketing purposes. It's really not fair to single this model out for such widespread practice, however. The monitor also provided G-SYNC, with a hardware G-SYNC module. This worked as we've come to expect from G-SYNC – a very polished variable refresh rate experience, with variable overdrive ensuring overshoot doesn't become increasingly obvious as refresh rate drops.
ULMB was supported as an alternative, although it wasn't the cleanest strobe backlight implementation we've seen and certainly not the best ULMB implementation. As with the contrast, strobe backlight capability is not a reason to add this one to your shopping list. Overall, though, the monitor combines an attractive feature-set and design with fairly competitive pricing. Whilst there are cheaper alternatives on the market, the unique combination of G-SYNC module (with variable overdrive) and wide colour gamut will tick two very important boxes for some users. It would've been nice to have a stronger contrast performance, but no monitor is perfect and users will need to compromise in other areas if they want a significant edge in that respect.
The bottom line; a monitor with an appealing combination of screen size, resolution, vibrant and varied colour output and responsiveness – lovers of strong contrast should look elsewhere.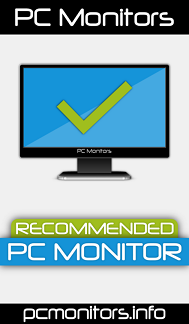 | | |
| --- | --- |
| Positives | Negatives |
| Strong gamma tracking from the box, a generous colour gamut and excellent colour consistency – yielding vibrant and varied colour output | No sRGB emulation setting |
| A smooth and light matte screen surface, keeping the image free from obvious graininess | 'IPS glow' ate away at some detail peripherally, static contrast lower than the specified 1000:1 |
| Low input lag and strong overall pixel responses delivered a pretty solid 165Hz experience – with G-SYNC rounding things off nicely | Slight weaknesses adding a little perceived blur or overshoot in places, depending on overdrive setting selected. ULMB implementation not great |
| A nice resolution and pixel density for work and play, a unique 'stealthy' design and good ergonomic flexibility | Priced a bit higher than Adaptive-Sync competitors, but the dedicated G-SYNC module has its advantages |

As an Amazon Associate I earn from qualifying purchases made using the below link. Where possible, you'll be redirected to your nearest store. Further information on supporting our work.



Donations are also greatly appreciated.