Dell U2715H – a slick WQHD model
November 6, 2014

Categories:
Update: Update on price and availability. News piece below initially published 30th September 2014.

The Dell U2713HM, launched back in 2012, has been Dell's WQHD workhorse ever since. The U2713H with its wide colour gamut was launched not too long after, sitting as something of a more expensive 'niche' product rather than something that appeals to most mainstream consumers. The Dell U2715H is a new addition to the UltraSharp range, set to replace the U2713HM and hoping to win over consumers with its unique style. Well, we say unique. You may notice that the very slender bezels employed here are very reminiscent of Dell's extremely popular U2414H, their new U2415, glossy S2415H and S2715H. That's no coincidence – this is a design that many consumers crave and it lends itself well to multi-monitor setups. This time they are just marginally thicker, at a still very slender 8mm. As usual for their high resolution UltraSharp models, a fully adjustable stand is used; this offers tilt, height, swivel and pivot adjustment. Although not to everyone's taste, the OSD (On Screen Display) controls are touch sensitive on this model.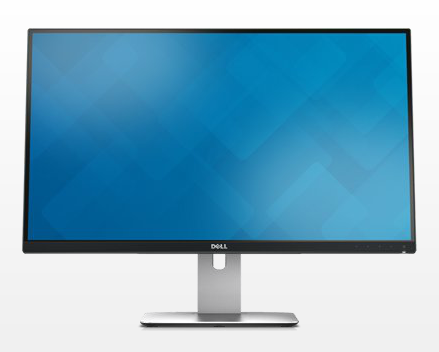 Minimal bezels
The monitor features a 27" AH-IPS panel with 2560 x 1440 resolution, 60Hz refresh rate and enhanced phosphor WLED backlight. This offers a typical maximum brightness output of 350 cd/m² and minimum white luminance of 50 cd/m². It also offers comprehensive coverage of the sRGB colour space. It is not a wide gamut backlight, however. The panel should feature a very light matte ('semi glossy') screen surface and support true 8-bit colour. It is factory calibrated to provide an average DeltaE or under 3. As we've seen on the S2415H, an adjustable pixel overdrive solution is employed – with an 8ms grey to grey response time specified for 'Normal' mode and 6ms for 'Fast' mode. As we've droned on about endlessly, you should take those figures with a pinch of salt and indeed not look favourably upon 60Hz monitors that boast 1ms or 2ms response times instead.
The array of inputs is fairly comprehensive, including; 2 HDMI 1.4 ports (with MHL), DP 1.2, MiniDP 1.2 input and MiniDP 1.2 output (for MST daisy-chaining), 5 USB 3.0 ports (one with fast charging) plus 1 upstream and a 3.5mm audio output jack. It's interesting to see that Dell didn't 'waste' any space including older standards such as VGA or DVI this time around. For those who like to use their own stand or mounting solution, the usual 100 x 100mm VESA holes are included as well.


A predictable look
The U2715H is currently listed on a few regional Dell websites, including their Hong Kong one. The monitor was initially released at $649.99 in the US and around £400 including VAT in the UK, with current retail prices lower than that.