Samsung C24F390FH and C27F390FH curved FreeSync models
March 28, 2016

Categories:
Update: Update on availability. News piece below initially published 2nd March 2016.

We recently brought you news of an interesting new model from Samsung with a steep curve and support for Adaptive-Sync (AMD FreeSync via HDMI); the C27F591FD. The C24F390FH (C24F390F) and C27F390FH (C24F390F) of the CF390 series compliment this model, with a different and perhaps more conventional look. The steep 1800R curve remains a definite feature of these models, but black glossy plastics are used rather than the matte silver and white colouration of the CF591. The bezels are also slightly thicker, although still very slender. Rather than the dual-stage design with hard outer component and slim panel border, these have one single hard component that covers pretty much all of the panel border. A JOG button (joystick) is found at the rear, for intuitive OSD (On Screen Display) navigation using your right hand. Or somewhat less intuitive navigation using your left hand, if you prefer.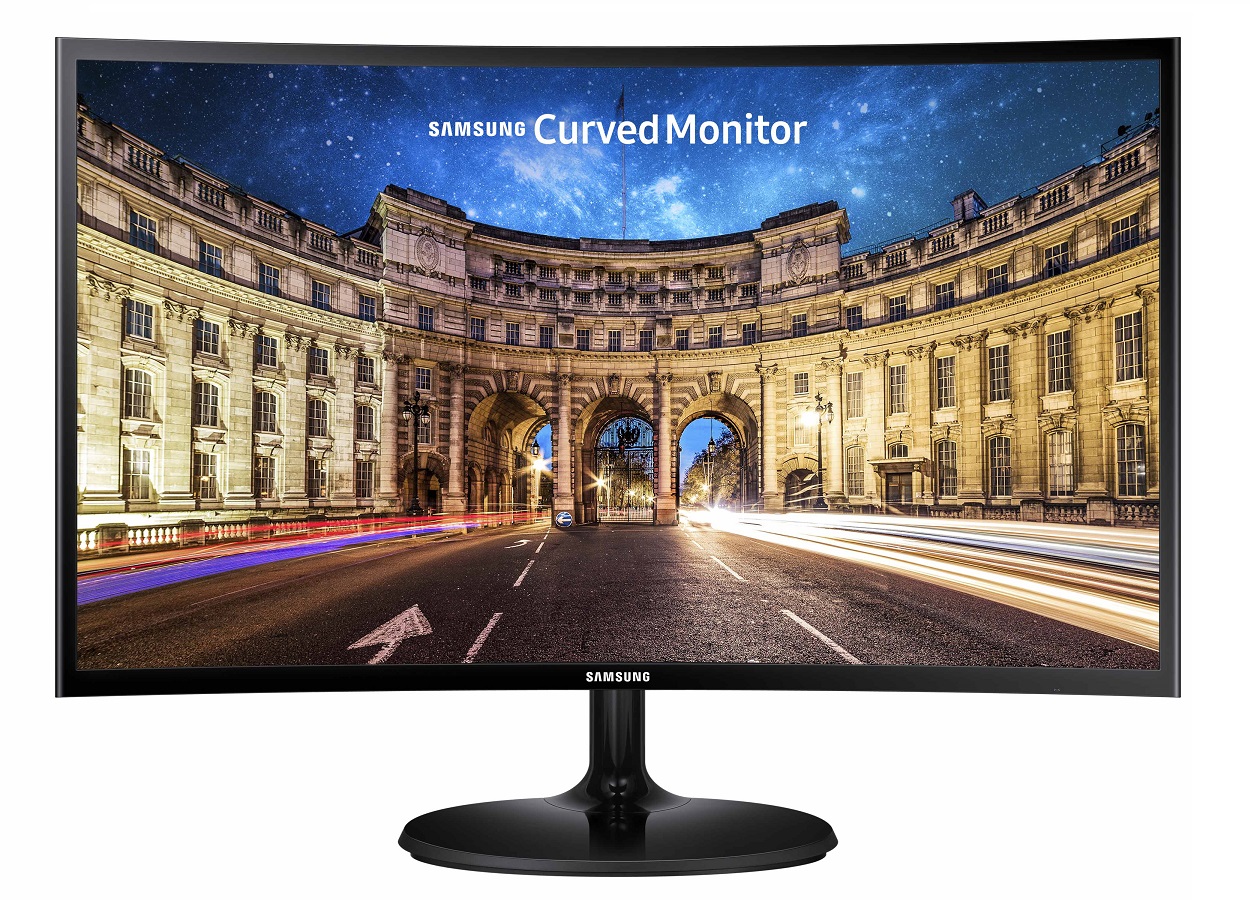 The monitors use 23.5″ (C24) and 27" (C27) Samsung curved SVA (Vertical Alignment) panels. These are steeply curved (1800R) with a Full HD (1920 x 1080) resolution, 60Hz refresh rate (variable with Adaptive-Sync) and 3000:1 static contrast ratio. It's likely that a light matte screen surface will be used to help provide a relatively 'clean' (non-grainy) image. It's also likely that true 8-bit colour will be supported, without dithering. A flicker-free WLED backlight is used with 250 cd/m² typical maximum luminance. Unlike on the CF591 the backlight doesn't use 'Active Color Crystals' (Quantum Dots?) to enhance the gamut. On the plus side these models are a bit tinner. Despite their highly curved designs, one marketing point for seems to be that they're only 11.9mm thick at thinnest point – so relatively slender.
A 4ms grey to grey response time is specified (salt at the ready) whilst FreeSync is supported for compatible GPUs via Adaptive-Sync. The variable refresh rate range for this is 48 – 72Hz. The 'Game Mode' will be making its unwelcome return, as will the more welcome 'Eye Saver Mode' Low Blue Light (LBL) setting. The alternative 'Warm2' setting will likely also feature, as usual, for those who like reduced blue light output without the same reduction in contrast. The rear of the screen uses textured black matte plastic. There are also 100 x 100mm VESA holes for those who don't like the included tilt-only stand. Ports include; HDMI 1.4a (with Adaptive-Sync), VGA and a 3.5mm headphone jack.


Further information on both monitors can be found on some regional Samsung websites (C24 and C27 – both in German). Note that additional suffixes on these models vary by region, for example 'U' being the European designation. Both models are now available globally. We'd like to review at least one of these models if possible. A model that is indentical apart from having an alternative Y-shaped stand design is also listed; the C27F396FH (C27F398FH in some regions).