Author: Adam Simmons
Date published: December 21st 2012

Introduction
Recently LG Display have been pushing out some new IPS (In-Plane Switching) panels dubbed 'AH-IPS'. Some of these offer a unique combination of 1920 x 1080 resolution and a 27" screen size – something not previously seen on IPS screens. This allows monitor manufacturers to produce 'Full HD' monitors that can be comfortably driven by PCs that might not have the graphical horsepower to push out 2560 x 1440 pixels in games and other graphics-intensive applications. This resolution is also 'friendly' for non-PC devices (Blu-ray players and games consoles) that can run resolutions they are natively designed to handle. Importantly, it also reduces the cost of the product for the end user.
The AOC i2757Fm (sometimes given the title of myPlay) is one such monitor to make use of this new affordable panel variety, from a small but up and coming manufacturer. Another trend that has come into play is the decreasing size of the bezel surrounding the screen. This model makes use of thin and shallow bezels to maximize apparent screen space. Whilst the whole concept looks good on paper it is the substance beneath that is also important. We will be investing this in the grueling gauntlet of game, movie and quantitative tests that follows.


Specifications
The basic specifications of the monitor centre on the fact that it uses a 27" LED-backlit IPS (AH-IPS to be precise) panel with 1920 x 1080 resolution. As with its smaller counterparts this makes use of 6-bit colour per subpixel with FRC (Frame Rate Control) temporal dithering to make it up to 8-bit. This helps reduce cost and is of no consequence to the majority of users if properly implemented. Since this model is designed for the home user it also includes grey to grey acceleration (5ms quoted) which is important for gamers in particular.
It is also worth pointing out that the i2757Fm is only available in certain regions. The AOC i2757Fh which is or soon will be available in other regions is very similar but lacks MHL (Mobile High-definition Link) support on the HDMI ports. Due to model availability we have only included a UK price for this model. The key 'talking points' of the specification have been highlighted in blue.


Screen size: 27 inches
Panel type:
LG Display LM270WF5-S2A2 AH-IPS (In-Plane Switching) LCD
Native resolution:
1920 x 1080
Colour support: 16.7 million (6-bits per subpixel plus dithering)
Refresh rate: 60Hz
Weight: 5.7kg (including stand)
Contrast ratio: 1,000:1 (20m:1 dynamic)
Viewing angle:
178º horizontal, 178º vertical
Power consumption: <29W
Backlight: WLED (White Light Emitting Diode)
Typical RRP as reviewed:
£230
Features and aesthetics
The front of the AOC i2757Fm is dominated by a large screen area with a reasonably light matte anti-glare surface. This isn't quite as light in texture as the surface seen on the Dell U2713HM but is lighter than your regular matte surface. The screen is flush at the top and sides – with the exception of a 2mm black plastic border. This is something we will dub the 'outer bezel component' because the screen itself does actually have a 10mm black (or very dark grey) border around it. This becomes obvious once the screen is switched on, as shown below.


Once the monitor is switched off it blends in with the rest of the screen quite nicely.


This 'invisible bezel design' was quite controversial and caused panel manufacturer LG and their partners to rightfully receive a fair bit of flak for their misleading marketing. In particular they angered consumers by showing images superimposed onto the screen so that the panel border is covered with the image and only the 'outer bezel component' is visible. Regardless of this controversy; the bezel is only 12mm at the top and sides (including both elements of the bezel) so is still on the slender side. The bottom of the monitor has a silver brushed metal effect lip which, like the stand, is actually made of plastic. It does look quite attractive and is apparently quite scratch resistant to help keep it that way.
At the right of the lip you will find capacitive touch-sensitive controls to control the OSD (On Screen Display) and power. A power LED is present to indicate the state of the monitor; blue, shown below, indicates the monitor is on and amber indicates a low-power state (i.e. standby).


The AOC i2757Fm is quite a slim monitor depending on how you measure it. It is around 18mm at the thinnest point and 21mm if you include the lip at the bottom. The slender WLED backlight and internal power converter are largely responsible for this slim appearance. The thickness roughly doubles to around 42mm if you include the 'bulge' at the back where the stand attaches, but doesn't really detract from the slender look overall.


The stand is quite nicely designed in that it appears to 'hook' into the top of the port area. This only allows you to tilt the monitor. If you prefer, though, you can use this little hook as a kickstand and have the monitor sit on the desk like a photo frame as shown below. The hook is made of metal but has a rubber plate at the bottom so that it doesn't scratch your desk.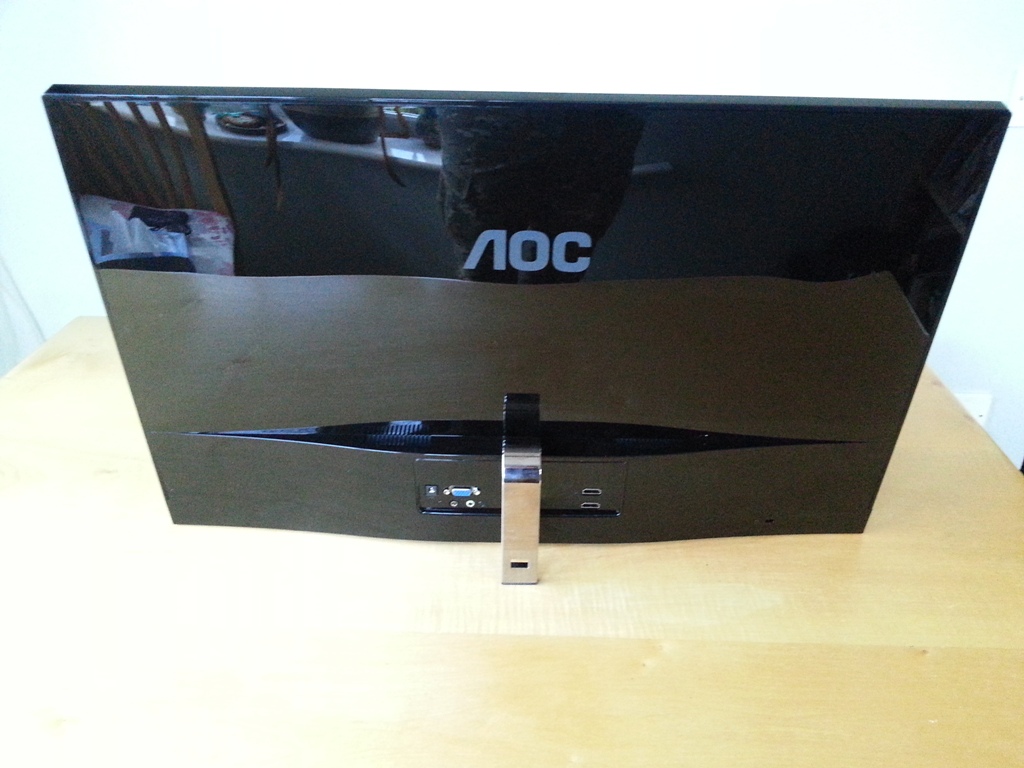 The rear of the monitor is very black and glossy, your typical 'piano black' look. There is no VESA housing; another factor contributing to its relatively svelte appearance. You get a set of low-power integrated stereo speakers at the bottom of the bulge, facing downwards. These aren't really comparable to a decent standalone set and deliver a fairly hollow sound which lacks bass and range. The volume output is reasonable, though, and can be easily controlled using the right arrow shortcut key and then both arrows of the OSD. You can set the volume between 0 and 100 in increments of '1' with a fair volume response between quiet and loud. The sound never becomes so loud that it is distorted. The speakers may not be exceptional but they are there if you need them and shut off completely if not.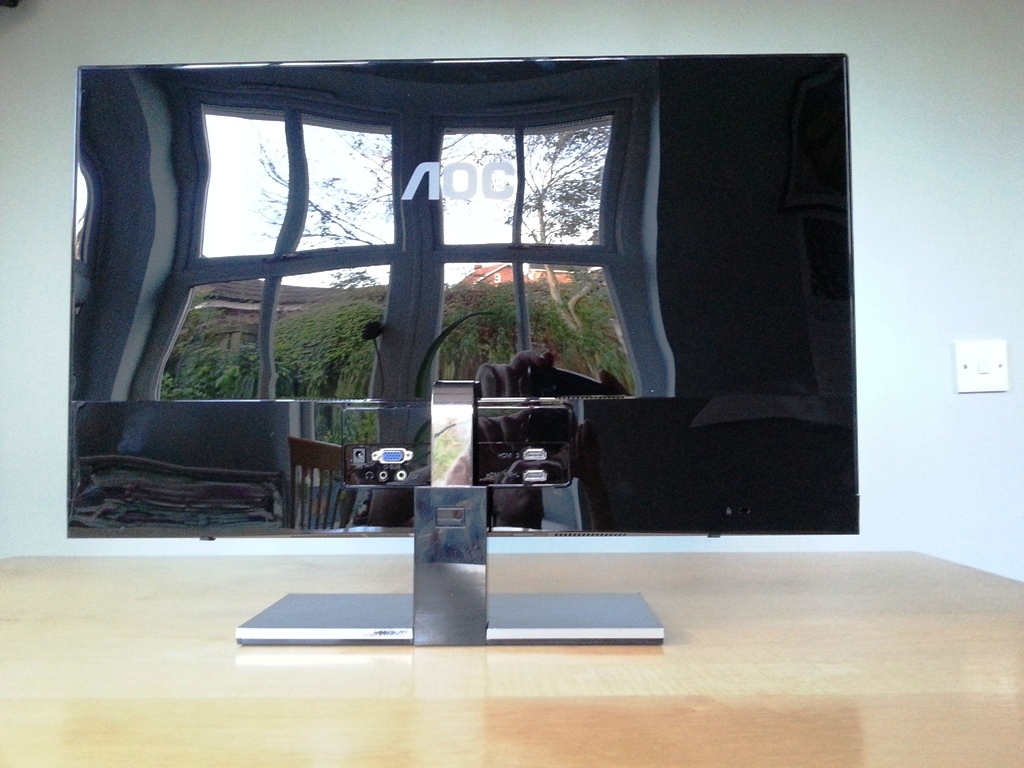 Also at the rear are a compliment of ports with quite a multimedia focus; DC power input, VGA, headphone jack (audio out), audio in and dual HDMI ports.


The lower HDMI port also features MHL (Mobile High-definition Link) which allows you to charge phone and on compatible models see the phone on the big screen. We tested this port with a Samsung Galaxy S3 and found it displayed a nice big version of the phone on the screen (centred with a black border so to be appropriately proportioned). We couldn't hear any audio on the monitor but it is probably up to the phone whether to play sounds itself or pass it through to the monitor.


The menu system follows a similar design to that used on other recent AOC monitors such as the i2353Fh. The menu is very clearly labelled and well spread out across the screen. The icons look a bit aliased and the overall look is not as polished as the OSDs of some other manufacturers but there are some useful features there. The presets come in two forms with 'Eco Mode' controlling brightness and 'DCB Mode' (Dynamic Colour Boost) selectively oversaturating certain colours. There are no presets in the traditional sense with simultaneous variations in contrast, brightness, sharpness colours and gamma, but that isn't something we miss.


Another interesting feature is 'Bright Frame' (above) which allows you to select a rectangular area of the screen with its own brightness and contrast settings. This is designed to allow the user to remain focussed on a particular video or graphic on the page by customising the rectangle's dimensions and position. The adjustments are not terribly precise, though, so it can be difficult to highlight exactly the correct area. The video below gives an overview of the settings available on the OSD.


Calibration
We connected the monitor by HDMI to our Radeon 7950 and observed some familiar images, played some familiar games and used the Lagom website alongside a Spyder4Elite colorimeter to assess and if necessary tweak the image. The monitor had respectable image balance using the default settings, although it was a little too bright and cool-looking. Turning down the brightness a touch and changing 'Color Temp' from 'Warm' to 'User' improved things. We adopted the following setting.


Brightness= 65 (depending preferences and lighting)
Contrast= 50
Gamma= Gamma 1
Color Temp= User
Red= 50
Green= 50
Blue= 50


Interestingly and confusingly this improved the colour balance by giving the image a warmer look than the 'warm' preset. It was very close to the 6500K target with any adjustments to the colour channels (even by one point) causing fairly pronounced changes to colour balance. Gamma was also quite well handled using the default 'Gamma1' setting, but averaged 2.3 on the grey ramp assessed by the Spyder4Elite on our setup. This was caused by a dip in output brightness for some of the darker shades, making them appear slightly deeper than they should. 'Gamma2' yielded an average gamma of 1.9 (and gave the image a washed out look) whereas 'Gamma3' gave 2.4 on average. The default gamma setting was therefore the preferred option and actually gave a nice depth to the image.


The overall image was now nicely balanced with a good variety of shades and quite a rich and vibrant look to it. We also tested these settings on our Nvidia GeForce GTX 670 to see if there were any vendor-specific differences in the image. Unsurprisingly, as the monitor was connected using HDMI, the Nvidia GPU decided to send out an incorrect colour signal leading to a bit of a washed-out look. Fortunately this was easy to rectify by setting a custom resolution in the Nvidia control panel, following which our test settings proved optimal on the Nvidia setup. There are several other ways to fix this issue including using a small tool which edits the graphics driver, but setting a custom resolution is simple and effective. The procedure is shown in the video below.


Contrast and brightness
Using a Konica Minolta CS-200 'Chroma Meter' we measured the luminance of pure white and black using a range of brightness settings and our test settings and calculated the resulting contrast ratio. The highest white luminance, lowest black luminance and highest contrast ratio recorded are highlighted in black with our test setting results highlighted in blue.



Monitor Profile

White luminance (cd/m2)

Black luminance (cd/m2

)

Contrast ratio (x:1)

'Custom', 100% brightness
254
0.24
1058
'Custom', 80% brightness
213
0.20
1065
'Custom', 60% brightness
175
0.16
1094
'Custom', 40% brightness
135
0.13
1038
'Custom', 20% brightness
96
0.09
1067
'Custom', 0% brightness
55
0.05
1100
Test settings, 65% brightness, 50% contrast (Color Temp 'User')
178
0.17
1047
The AOC i2757Fm put in a competent contrast performance, averaging 1070:1 using brightness-adjusted default settings. Because very little was changed for our test settings, the performance was also good, yielding a contrast ratio of 1047:1. The maximum luminance recorded was 254 cd/m2 (very close to the 250 cd/m2 specified for the panel) and the minimum luminance was a nice low 55 cd/m2. This gave a luminance adjustment range of 195 cd/m2 with suitable minimums and maximums. The Dynamic Contrast mode on the AOC was relatively gentle, changing in a gradual and not terribly distracting manner. There was certainly a general bias towards brighter output using this mode with even mixed scenes tending to be overly bright and commonly edging towards full brightness. The screen did dim for darker content but never seemed to get lower than around a third of full brightness. This mode also locks off any gamma or colour adjustments that you may wish to make through the OSD.
And now a small word of caution for users who are particularly sensitive to flickering on monitors. A very common method used to dim backlights on LCD monitors involves pulsing the backlight rapidly on and off to varying degrees, something called PWM (Pulse Width Modulation). This can cause some users to experience headaches, eyestrain or general discomfort even after relatively short periods of monitor use (under an hour). The AOC i2757Fm uses PWM (Pulse Width Modulation) to dim the backlight. This shouldn't be of concern to most users, but those who know they are sensitive to flickering or are looking to avoid monitors that use PWM should bear this in mind.
Whilst observing the monitor displaying a black screen in a darkened room we observed no noticeable backlight bleed. There was some mild clouding at the top left which manifested itself as small patches of 'dark grey' in the surrounding 'black' but this was minor. What could be readily observed was 'IPS glow', a kind of silver or golden sheen that increases as you move further off-centre in relation to the screen. With a screen of this size you can also observe this to some degree whilst sitting directly in front of the monitor from a normal viewing distance (anything under about 120cm or 47 inches from the screen). You can see how this manifests itself in the 'viewing angles' video later on in the review.
We also assessed the uniformity of lighter colours by using a Spyder4Elite to assess the luminance of 9 white 'quadrants' laid out across the screen from top left to bottom right. The table below gives the luminance recorded at each quadrant as well as the percentage difference between that value and the brightest quadrant.


Luminance uniformity table
Uniformity was mostly very good with a deviation of 12% between the brightest point (180.8 cd/m2 at 'quadrant 6', right of centre) and the dimmest point (156.7 cd/m2 at 'quadrant 7', bottom left). 11% deviation was recorded at 'quadrant 1' (top right) and 'quadrant 4' (left of centre) but elsewhere deviation was much lower at <5%. The central point ('quadrant 5') was essentially the same brightness as the brightest point to the right of it, being an imperceptible 0.5 cd/m2 dimmer under our test settings.

The contour map below gives a visual representation of these results, combined with a bit of extrapolation to fill in the gaps. A greyscale gradient is used here with the lightest greys indicating the highest luminance and progressively darker greys reflecting lower luminance readings.


Luminance uniformity map
To give you a better idea of what to expect from the AOC i2757Fm during normal use we also tested a number of games, movies and other applications to subjectively assess performance. The first game title used, Battlefield 3, was given a respectable contrast performance by the monitor. Some dark areas had a slightly 'flooded' look towards peripheral sections of the screen, causing some detail to be lost. This is due predominantly to the aforementioned IPS glow. Overall, though, there was a pleasing and appropriate level of detail in dark areas. Bright details such as lights, tracers and explosions pierced through the darkness nicely and formed a lively atmosphere. A mild grain could be seen on some of the lighter colours, particularly on lights. This was more like a mild mist than a dirty and grainy matte texture thanks to the relatively 'light' anti-glare screen surface.
We also tested the racing game Dirt 3 where IPS glow once again ate away at some of the detail in dark areas. This was particularly noticeable towards the corners of the screen. Overall the detail in shaded areas such as car interiors and the undersides of bridges was pretty decent, without any major issues. Bright elements were also fairly lively but didn't quite possess the piercing purity you get from a glossy screen.
The third title we tested was not a game but a movie – the Blu-ray of The Girl with the Dragon Tattoo. Contrast performance was good with no significant loss of detail. There was some relatively minor detail (often involving closely matched dark shades) that was drowned out close to the edges of the screen, however. Fortunately the strong contrasting bright colours held the atmosphere together.
We also assessed performance using some specific contrast tests, which are part of the Lagom LCD tests. The following observations were made.


The coloured contrast gradients were mostly very good. Distinct brightness steps could be seen quite clearly in all cases, except for the darkest blue band which blended into the background.

Performance on the black levels test was excellent with all blocks visible and showing good gamma consistency independent of on-screen position. There was no noticeable dithering, either.

The white saturation performance was very good with all but the final pattern visible.

The greyscale gradient appeared very smooth with no banding. Dithering was there but exceptionally well masked. There were smooth mid-tone transitions and the pure white appeared only 'lightly misted' from the screen surface rather than coarse and grainy.
Colour reproduction
The AOC i2757Fm's colour gamut was compared to the sRGB reference space under our testing settings using the Spyder4Elite. The image below shows the monitor's coverage as a red triangle and the sRGB space as a green triangle.


Colour gamut
From this view of the colour gamut it corresponds closely with sRGB. There is some very slight deviation in blue shades and extended coverage of some green shades. Overall though it's a close match which is good news as far as accurate colour representation goes.
In our subjective assessment of colour performance we used some familiar game and movie titles to compare representation with a number of other calibrated reference displays. In Battlefield 3 there was a nice variety of greens with a fairly rich quality to them. Overall colours within the environment were well-placed and appropriate with good earthy hues and appropriately saturated sky blues. Some of the vibrant elements within the game, such as marker text and roaring flames, had a good rich depth to them.
Dirt 3 is a great test for colour reproduction with an exceptional variety of shades on offer. The bright and flashy colours found on the cars themselves, around the track and on the in-game menus were displayed in a rich and vibrant way overall. Some eye-catching bright greens, rich golds and deep reds were perhaps the most impressive shades here. The colours didn't quite have the 'painted on the screen' smoothness and verve you see on some glossy monitors but still had plenty of bite. The more muted shades of the racing environments were also nicely represented with appropriate richness and excellent subtle variety. The greens of vegetation were particularly impressive in this respect, building up a very natural and pleasing aesthetic.
Colour performance in Blu-ray movies was also pleasing. Colours on The Girl with The Dragon Tattoo looked as they should. There was a pleasing array of greens and browns in some of the environments and a good range of appropriately saturated skin tones. Some good rich yellows, reds and greens were also present in some scenes. The colour performance in the second movie title we tested, Futurama: Into the Wild Green Yonder, was excellent. The bright neon shades had a good level of pizazz complemented nicely by good rich deep shades. The overall range of shades displayed was also impressive with even very similar shades having their own unique identity. This was certainly aided by strong colour consistency – a given shade appeared the same regardless of its position on the screen.


Viewing angles
The Lagom viewing angle tests reaffirmed the strong colour consistency of the display. Having colours displayed accurately regardless of position on the screen (or viewing angle relative to the screen) is an important consideration for many users, particularly those interested in colour-critical work. We observed the following.


The purple block appeared a strong lilac colour throughout with no obvious pink areas. A very mild pink hue could be seen at the extreme left edge.

The red block was a fairly rich red throughout with no obvious pink hues creeping in.

The green block appeared a nice solid and reasonably deep green without strong yellow pollution or yellow patches.

The blue block was a strong and deep blue throughout.

The Lagom text appeared a blended grey throughout with just the slightest red tint on either side of the screen. This indicates a low level of viewing angle dependency to the monitor's gamma curve and compares favourably to VA and TN matrices which show obvious red and green transitions.

The video below shows the effect of 'off-centre' viewing angles on the image. The first part shows the Lagom text, the second part shows a mixed desktop background and the third part shows a dark desktop background. The mixed desktop background demonstrates that the shifts manifest themselves as a slight change in contrast rather than a significant change in colour. The dark background highlights the aforementioned 'IPS glow' which becomes most apparent as a 'bloom' or sheen as viewing angle shifts.





Response times
To help analyse the pixel response performance of the AOC i2757Fm we used a small tool called PixPerAn (Pixel Persistence Analyser). This forces the monitor to perform a range of typical grey to grey transitions between one colour and another. For this test we set the tempo as high as it would go and used a sensitive camera to capture the results. We used a range of 'overdrive' settings on the monitor which is one of the nice flexibilities offered here by AOC. The following images are captured with the overdrive set to 'Off', 'Weak', 'Medium' and 'Strong', respectively.


Ghosting overdrive off
Ghosting overdrive weak
Ghosting overdrive medium
Ghosting overdrive strong
With overdrive disabled you can see a relatively bold first trail and a very faint second trail. Enabling 'Weak' overdrive doesn't appear offer much advantage in this particular test and the trailing seems quite comparable. In practice there are some slower transitions where the weak overdrive is of benefit but those can't be seen here. Bumping up the overdrive to 'Medium' improves things by making the first trail fainter and the second trail disappear. Importantly it makes a significant difference overall once you start gaming on the monitor. Given the strong and obvious overshoot (inverse ghosting) using the 'Strong' setting, 'Medium' is the optimal mode to use.
In practice the pixel responsiveness was about as good as you could hope for from a 60Hz IPS panel. Battlefield 3 demonstrated this well, with some reasonably light trailing evident whilst running around on foot. There were no prolonged 'smeary' trails and no artifacts from overly aggressive pixel overdrive, just a slight trail that looked like a sort of vibration around textures. This trailing became more palpable as the pace of action was increased, manifesting itself as a bit of a smeary blur when turning in a light vehicle such as a jeep. Overall we found the title quite playable and feel that AOC have provided an appropriate level of acceleration with the 'Medium' overdrive setting.
On the second game title tested, Dirt 3, there was a moderate blur evident when turning the car and even when cornering gently. This is typical of an IPS monitor with well-balanced grey to grey acceleration. The trailing was not excessive nor did it become a bothersome distraction as it might with no or very light overdrive. The Gymkhana mode on this title is perhaps one of the least forgiving scenarios in which to test a monitor – it can bring any 60Hz LCD to its knees. There was a strong blur-like trailing here with colours seeming to smear across the screen. There were no overdrive artifacts visible and obstacles around the track were still distinct enough to be seen and maneuvered around.
We also tested responsiveness on our two film test titles and found the monitor performed absolutely fine. Given the low frame rate of current Blu-ray film titles (which is around 24fps) they are not exactly the most stressful or useful test run at the limits of a monitor's pixel responsiveness. They do help to highlight any issues that film fans may experience specific to a monitor, such as overdrive artifacts – and in this case there were none of those.
Another important consideration for gamers is how responsive the monitor actually feels to user input. Refresh rate is one factor to consider as it dictates how much information the monitor can visually pump out and respond to every second. That is a fairly fixed and predictable 60Hz for this monitor as you would expect. Another important factor is input lag which dictates how rapidly the monitor processes the signal from the GPU (raw input lag) and shifts its pixels into the correct position (overall display latency) to output the image. Using a similar method to that used in our other recent monitor reviews we recorded an average input lag of roughly 4ms (quarter of a frame). Rather than getting hung up on a few milliseconds here and there it is best to accept that for all intents and purposes this monitor is free from input lag.


Conclusion
The AOC i2757Fm is one of several new monitors offering a 27" IPS panel with a 1920 x 1080 (Full HD) resolution. This new breed of AH-IPS panel includes a light matte screen surface that is a lot more forgiving in terms of preserving image clarity and vibrancy than the traditional stronger matt surfaces. Meanwhile the panel type itself offers some potentially very accurate and consistent colours. Whilst the panel itself may not be entirely unique, what AOC have done with the i2757Fm is to unlock all of this potential straight from the box.
Without even having to make specific adjustments to individual colour channels or tweak gamma modes the image produced was rich and lively. This was one of those monitors you can turn on, make some minor changes to on the OSD and then breathe a sigh of relief. If you are using an Nvidia graphics card then you'll have to make a small adjustment in the graphics driver to get the monitor to output a proper image when using HDMI – but that's not AOC's fault. On top of this came a pleasing contrast performance that is really as strong as you'll see on an IPS panel. Although there were some niggling issues inherent to the panel type, such as IPS glow, the overall distinction between light and dark was satisfying. Coupled with the excellent shade range outputted by the monitor the image was certainly diverse.
When it came to responsiveness AOC had once again unlocked a lot of potential from the panel. The monitor includes a configurable pixel overdrive with 4 distinct settings. This flexibility is certainly nice to have, but it seems that the default setting ('Medium') is already very well balanced for both games and movies. There wasn't any significant input lag to speak of, either, so that's another box ticked. Further complements can go towards the overall design of the monitor with thin and seamless bezels, a brushed-metal effect trim on the stand and the ability to support the monitor using just the stand neck as a kickstand. On the negative side, to maintain the relatively slender profile there is no option to use an alternative VESA mount which may disappoint some users. For simplicity sake it might also have been nice to see a DVI port or DisplayPort as a more Nvidia GPU friendly connection on the PC. The flexibility offered by the two HDMI ports (one with MHL functionality) and the audio input and output is good to see, though.
Overall the AOC i2757Fm is a well thought-out monitor that really does justice to the relatively new concept of affordable Full HD 27" IPS screens.


| | |
| --- | --- |
| Positives | Negatives |
| Pleasing contrast performance and a light grain to the matte surface much improved over previous IPS monitors | IPS glow causes loss of detail towards edges of screen and the screen surface could be even lighter without really impeding its anti-glare properties |
| Strong colour reproduction without endless tweaking. Excellent consistency, good sRGB coverage and some good deep and rich shades | Colours didn't have the smooth 'painted on' look you get from glossy displays |
| Very low input lag and well balanced and configurable pixel overdrive | Can't match the responsiveness of some monitors (particularly 120Hz models), but that's to be expected |
| A unique visual identity, attractive pricing and some nice extras such as MHL and a 'dual function' stand | What looks like brushed metal is actually plastic and without DVI or DP Nvidia GPU users will have to do a bit of driver tweaking for proper HDMI output |
Donations are greatly appreciated.