Philips BDM4037UW curved '4K' UHD VA monitor
Update: Update on price and availability. We'll be reviewing this model shortly.
News piece below initially published 29th August 2016.
The Philips BDM4065UC and BDM4350UC are screens for those who like them big, glossy and with plenty of pixels. Aside from the slight size difference, the panel type really sets these models apart with the older model being VA (Vertical Alignment) and the newer model having an IPS (In Plane Switching) type screen. The newer model also introduced a 'flicker-free' backlight, which many users welcomed. The Philips BDM4037UW is a new 'flicker-free' 40" UHD model, featuring a curved VA panel. The curve on this one is 3000R, which is fairly gentle. For the sake of comparison, it's closer to the curvature of the initial curved UltraWide screens (~3800R) than the newer models (~1800R). It should provide a more comfortable and slightly more engrossing viewing experience without feeling unnatural in any way. The large curved screen is housed by a rather stylish enclosure with what appears to be a brushed metal-effect light silver to white slender bezel around the screen. The stand has a crescent-like foot. It certainly looks less 'TV-like' than the previous BDM models.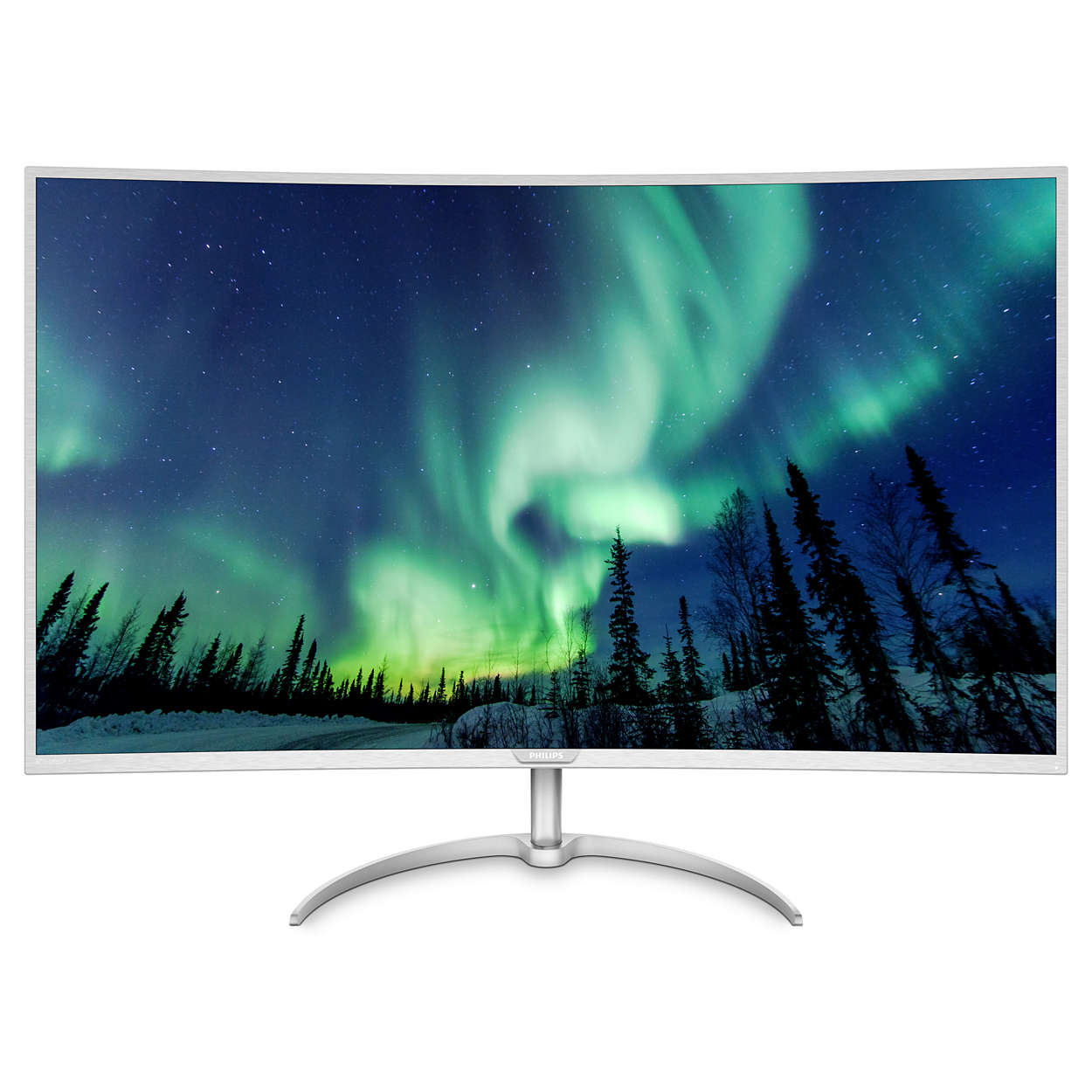 The monitor features a 40" '4K' UHD (3860 x 2160) VA panel, with a 3000R curve as mentioned previously. This will almost certainly be a TPV panel, one which we believe is purpose-built for monitors rather than TVs this time around. This is accompanied by a 60Hz refresh rate, 4000:1 static contrast ratio and specified viewing angles of 178°/178°. The screen surface is similar to the older models – very low haze (3-4%), essentially glossy. 10-bit colour is supported by way of 8-bits per subpixel plus 2-bit FRC dithering. A flicker-free (DC dimming not PWM) WLED backlight is employed which offers 85% NTSC gamut coverage. This means it is not a 'wide gamut' model in the traditional sense as it will only cover the sRGB colour space, but will do so comprehensively with some over-extension. This is an increase over the older models where a 68-72% NTSC gamut was specified, so you can expect a bit of extra vibrancy. Not that the older models were really lacking in that respect.
A 4ms grey to grey response time is specified, which should of course be taken with a pinch of salt given the panel type. PiP and PbP (4-way) also features. The rear of the monitor is equally smart and again looks more like a monitor than TV this time. It appears to have a brushed metal texture at the top and glossy white plastic at the bottom, with a range of ports and 100 x 100mm VESA holes for alternative mounting. The ports include; AC power input (internal power converter), 1 HDMI 2.0 port (with MHL), 1 HDMI 1.4 port (with MHL), 2 DP 1.2 inputs, VGA, 3.5mm audio input and 3.5mm headphone jack. There are also two integrated 5W speakers, with grills for these visible towards the bottom. From this angle you can also see a joystick (JOG button) that is used to control the OSD (On Screen Display) at the far left of the picture. There is a Kensington security slot at the far right.




Further information on this model can be found on the manufacturer's website. The monitor will be available in the UK very shortly, with initial availability at £599. Broader availability is expected in the UK and other regions in the coming weeks and months. We will be reviewing this model in the very near future.