IPS vs VA 100Hz+ UltraWides
As an Amazon Associate I earn from qualifying purchases made using the "Buy" button at the bottom of this post. Where possible, you'll be redirected to your nearest store. Further information on supporting our work.
We've recently reviewed a number of 100Hz+ UltraWide monitors with VA panels. Some users are also interested in the IPS alternatives (such as the Acer X34/X34A and ASUS PG348Q). This post is simply designed to highlight some of the advantages of the two distinct paths and is no means designed to be an exhaustive comparison. It is designed to reinforce some points made in more detail in our review of the AOC AG352UCG, which is the key VA model we'll be considering for the sake of this comparison. This model is used here in the comparison due to it having G-SYNC and it being a key competitor to the IPS models that we've had good hands-on experience with.

Advantages of the AOC AG352UCG (VA model):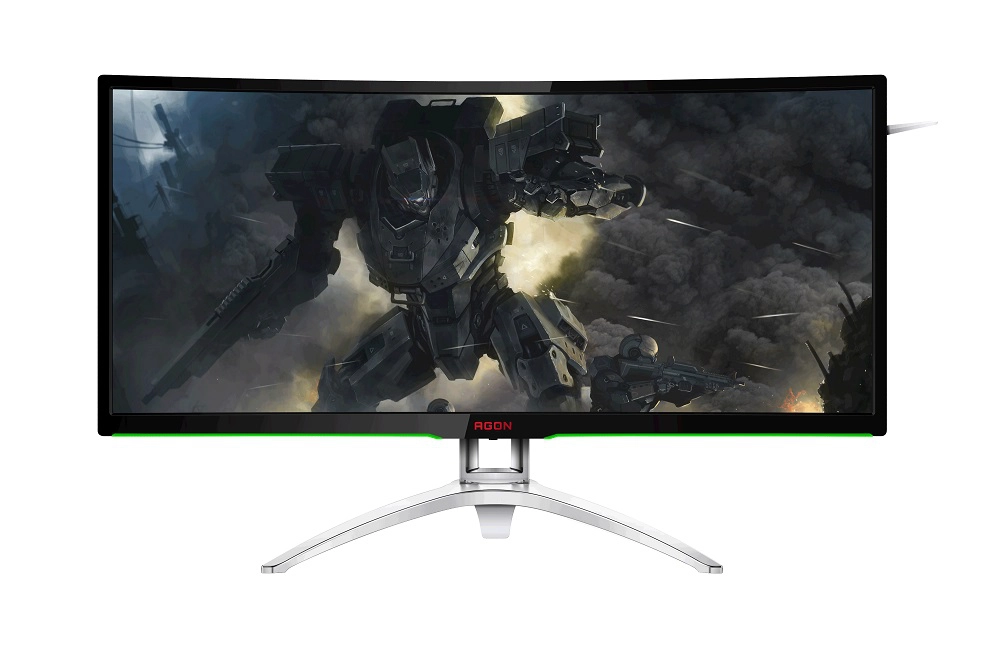 Stronger contrast and lack of 'IPS glow'. This is really a crucial advantage for some users, particularly those who like to enjoy a more atmospheric look to dark scenes. The static contrast is roughly twice as strong when comparing this to the IPS alternatives, bringing superior depth to blacks and dark shades. The lack of 'IPS glow' also helps with the atmosphere in dark scenes, as they aren't impeded by an obvious 'bloom' near the corners that eats away at detail. It also allows brighter shades to stand out nicely against darker surroundings – there's a definite 'pop' in such instances, for example an explosion lighting up the night sky in a game.

Lower price. Self-explanatory really, but a key selling point of the AOC.

Steeper curve. ~2000R for the AOC vs. 3800R for the IPS alternatives. As noted in the relevant section of the review ("The 35″ 3440 x 1440 Curved 'UltraWide' Experience"), the curve is something that many users fear because they think it might make things look unnatural or somehow uncomfortable. In practice, and as they soon come to realise when they actually use such monitors, it feels perfectly natural. You quickly adapt to it and almost forget it's there (in a good way – we're not saying it's pointless). It adds a certain extra depth and immersion to the gaming experience, and in this respect a steeper curve gives a more pronounced and noticeable effect. This is something you need to see for yourself to really appreciate, but short of that our review of the AOC will give you a decent impression.

Native 100Hz. The current IPS alternatives use a 60Hz panel overclocked to 100Hz, namely the LG Display LM340UW2-SSA1. This generally works 'fine' but isn't actually guaranteed to give a fault-free 100Hz performance. Some users have noticed more obvious interlace pattern artifacts (thin horizontal lines on the screen or mesh patterns, particularly for fast-moving lighter shades) at increased refresh rates. These aren't something most users seem to notice or find obvious and may vary between units. Other users can't actually quite reach 100Hz, although it seems with recent GPUs this is far less likely to happen. The AOC uses a native 100Hz panel and runs without any observable dynamic interlace pattern artifacts (refer to the review) or any specific weakness at 100Hz compared to 60Hz.
Advantages of the ASUS PG348Q and similar IPS models: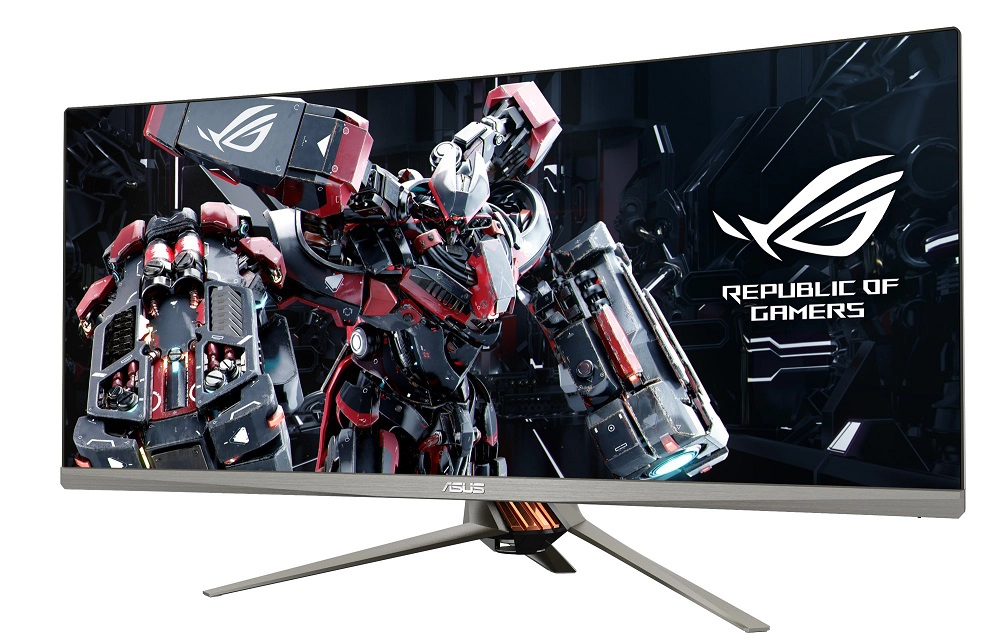 Superior pixel responsiveness. There are some weaknesses which lead to a bit of 'powdery' trailing here and there, that ideally wouldn't be there. But there aren't the same sluggish pixel transitions that are observed on the AOC, where dark shades are involved. There is also less noticeable overshoot (inverse ghosting). The weaknesses in responsiveness on the AG352UCG are highlighted very nicely by the video below and further explained in the review. The long and short of it is this; not everybody is sensitive enough to these weaknesses to let it distract them or put them off enjoying the monitor for gaming. In our experience most users, in fact, will find the AOC just fine even with these weaknesses in mind and will still find the low latency and high refresh rate experience working nicely for them.




Superior colour consistency. A better understanding of what this means can be gained in this article. It's also explored in detail, with specific examples, in the AOC review. Essentially, colours on the AOC lose some saturation towards the edges and bottom of the screen, even when viewed from a normal viewing position. This is related to viewing angle weaknesses and the gamma behaviour typical to VA models. If you're observing a forest in a game, for example, you might notice a really varied palette of pastel (lighter) and lush (deeper) greens on the IPS models. On the AOC, these shades might look appropriately rich and saturated in the central region of the screen but less so towards the edges or bottom of the screen. The lush greens might even start to look a bit pastel at the extreme edges or bottom. Your main focal point is indeed the centre of the screen when gaming, so not everyone notices this. It is important to note that the loss of saturation is greater on the AOC compared to recent UltraWide VA models with Samsung panels (like the Samsung C34F791 and ASUS MX34VQ) which are rather good but still not IPS-like in this area. For those who prefer visual examples of these differences, the video below considers the two panel types. Whilst the video looks at smaller 16:9 monitors, the same principles apply when considering UltraWides as well.




Smoother gradation performance and the ability to 'mask banding' better. A bit of a mouthful, but when comparing the IPS models to the AOC, you're comparing a 10-bit (8-bit + FRC dithering) IPS panel with an 8-bit VA panel. When coupled with the gamma weaknesses explored in the review and the fact there is no 'IPS glow' to mask anything, any banding in content becomes more pronounced. This is usually easiest to observe when considering smoke effects in games as these tend to be naturally banded rather than smoooth gradients, with more pronounced 'steps' on the AOC compared to ASUS and similar IPS models.

A slightly lighter matte screen surface. Or at least a marginally smoother surface texture. There is a very slight 'mist of grain' on the AOC, whereas the IPS alternatives have pretty much the smoothest-looking matte screen surface you'll come across. It's not a big issue on the AOC, as per the review, but it's just something to be aware of if you're wanting to point-score between the models.
Some closing thoughts:
Essentially these are models with distinct advantages and disadvantages. As with all monitors, things are very subjective and unfortunately no monitor is perfect. In our considerable experience as monitor reviewers and general users of monitors, who gather feedback from a broad range of users, we tend to favour the AOC over the IPS alternatives. The number of people bothered by 'IPS glow', 'backlight bleed' and that sort of thing tend to outnumber the number who would find the AOC's responsiveness or other issues to be problematic. But we need to stress, again, that everybody has their own opinion on this. Hopefully this post will give you a clearer understanding of the advantages of both VA and IPS panels when it comes to high refresh rate UltraWides. The decision on which is best for you ultimately relies on your own preferences and judgement.